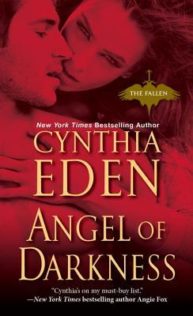 Angel of Darkness (The Fallen, #1)
by
Cynthia Eden

Series:
The Fallen #1
Published by
Kensington
on March 29th 2016
Genres:
Paranormal/Urban Fantasy
Pages:
352
Format:
Paperback



I received this book for free from in exchange for an honest review. This does not affect my opinion of the book or the content of my review.
This post contains affiliate links you can use to purchase the book. If you buy the book using that link, I will receive a small commission from the sale.
---
As an angel of death, Keenan's job is to collect the souls on his list. He's carried out his duty for two thousand years and never faltered once. Until he meets Nicole St. James. When the moment of death comes, Keenan hesitates, and instead of taking Nicole, Keenan touches the vampire who's attacking her.

Cast out of heaven for disobedience, Keenan plummets to earth. Six months later, he finally manages to track Nicole to a bar in Mexico. He's stunned to discover that the woman he remembers has undergone a dramatic change—she's become a vampire. And when he realizes that she's the target of all manner of enemies—other vampires, demons, even shifters—he'll do whatever it takes to protect her, even if all hell breaks loose…
---
Forget Vampires, Demons and Shifters – Angels Rule!!!
Angel of Darkness is the story of Keenan, an Angel of Death, who becomes a Fallen Angel one fateful night when he refused to take the soul of Nicole St. James the night she was attacked by a vampire.  Six months later, he's finally tracked her down only to learn that the night of her attack, she was Turned.  Now he must protect her from the humans, shifters and bounty hunters who want to see his vampire dead. But there is also another Angel of Death lurking who want to finish the job that Keenan failed to do.
Cynthia Eden writes wonderful characters.  You want them to win, not only because they are the main characters of the story, but because you like them; you suffer with them; and you love with them.  When you read a Cynthia Eden story, you get carried away from the first page.  This story is no exception.  There are so many bad guys, the action just doesn't stop and the question of who is your friend and who is your enemy doesn't get answered until the last few pages.  This story left me breathless.  This is the first book of the new series and I am looking forward to more. 
Received ARC from author.
---
Cynthia Eden blogs with us on Mon., November 21, 2011. Check it out.
---
Favorite Scene:
…as she watched, she saw the shadow of black wings stretch behind him.
The air seemed to rustle around her as the wings moved.  Her gasps filled the air, his fingers still cut into her hips, but as the pleasure faded, she could only stare at those wings.
Then she had to touch.
Slowly, her right hand eased down his shoulder.  Her hand drifted down his back, and her fingertips stretched out.
She felt the lightest, softest silk.  Just a whisper.  Just—
Keenan shuddered against her.  His head bent now, and his mouth pressed to her throat.  "What are you doing?"  He rumbled.  "Feels good."
It did.  Because her fingers were tingling.  "I'm…touching your wings."
He tore away from her—
No.
–as he stared at her with stunned eyes. "What?"
She could still see them—big, dark wings.  They seemed to come right from his back.  She tried to step forward but her knees were doing a jiggle.  "Your wings, I—"
"I don't have wings."
She hadn't thought so either, but she nodded.
He spun, showing her his back. "They were burned off when I fell."
Related Posts