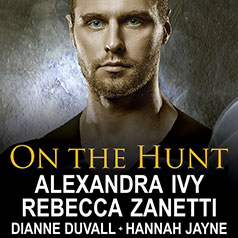 On the Hunt (The Sentinels, #2.5; Immortal Guardians, #5.5; Underworld Detection Agency, #6.5)
by
Alexandra Ivy
,
Rebecca Zanetti
,
Dianne Duvall
,
Hannah Jayne

Series:
The Scorpius Syndrome #0.5
,
Immortal Guardians #5.5
,
Published by
Zebra
on August 25th 2015
Genres:
Action
,
Dystopian
,
Paranormal/Urban Fantasy
Pages:
384
Format:
Audiobook
Narrator:
Arika Rapson
Length:
14 hrs 52 min


I received this book for free from in exchange for an honest review. This does not affect my opinion of the book or the content of my review.
This post contains affiliate links you can use to purchase the book. If you buy the book using that link, I will receive a small commission from the sale.
---
[box style="rounded" border="full"]How can I hate a book that features four of my favorite authors? Sorry, I can't. When I saw my first promo for this anthology, I knew it was a must have.  [/box]
I received an audio book from Tantor Audio and I had mixed feelings about this narrator.  Her male voices were actually better than her female voices. In the Rebecca Zanetti story, Deacon had a hint of a Scottish brogue which got thicker in areas and sounded great.  Yet in the Alexandra Ivy novella, Bailey's voice was a bit on whiny side almost to the point it that I wanted to dislike her.   This narrator needs to be careful in choosing her voices for characters.  No one wants their heroine to sound whiny, even if she is.  It gets to be too much.
On the Hunt by Alexandra Ivy – Alexandra Ivy gave us a novella out of her The Sentinel series. I am a fan of her Guardians of Eternity series, but after reading the first novella introduction into The Sentinel series, I wasn't interested in reading any more. I wasn't a fan of the world building in the new series. But On The Hunt was more a story about reconnecting with a lost love, who just happens to have healing magic and who gets kidnapped by the bad guy for her abilities. Mika Tanner is a sentinel and one of their best trackers. He is sent into the Bayou to find a missing acolyte from the monastery. His tracks the blood of the young acolyte right to the front door of his lost love Bailey Morrell. While Mika was all about follow the rules, Bailey was a free spirit, who believed she should heal anyone who needed her help. On the morning of their wedding, Bailey took off running. Mika tracked her but let her be since he thought she didn't want to be with him.   This time Bailey might be in danger from whatever the acolyte has become involved in. Mika is going to stay close to protect her and he has no plans of ever leaving her again.
Thoughts:
I liked these characters. Even though I still have some issues with the world building, I enjoyed the story of Mika and Bailey.
Scorpius Rising by Rebecca Zanetti – This is the first novella and introduction to her new Scorpius Syndrome series. College students are looking for meteors in the dessert and come across one that must have broken off the Scorpius Comet which passed closed to the Earth earlier this year. Those students came down with a mysterious fever. Several died and the survivors seem to now be psychotic, including the President's daughter. Deacon McDougall, an adviser to the President, is in charge of trying to contain any spread of whatever bacteria came off this meteor. He needs the help of the one person who doesn't want to see him, his ex-wife, Dr. Nora Medina. Nora is one of the leading researchers in biological infections. Together Deke and Nora will race to find a cure for the Scorpius bacteria before it can kill millions, but it might be too late already to stop a pandemic especially when the infected lose their humanity and feel compelled to spread the infection.
Thoughts:
I couldn't listen to this one fast enough and am looking forward to Mercury Striking. The characters were enjoyable and had a lot of passion, and the action stayed high throughout the story.  Rebecca stayed just on the edge of dark with this deadly bacteria pandemic so the story was edgy without being gruesome.  This is going to be a really good series.
Phantom Embrace by Dianne Duvall – Dianne brings us the story of Yuri Sokolov is an Immortal Guardian who has a gift of seeing and speaking with spirits. Yuri notices a young woman hanging around while he was hunting for vampires. He sees her again later at David's house. In fact, he has been watching this restless spirit for some time now. He can't image why David and Seth allowing this spirit to hang around the Guardians until he finds out she is the sister of Bastien Newcombe. Yuri has learned a long time ago not to encourage the spirits since once they realize you can hear them, they never leave you alone. But something about Catherine (Cat) Seddon draws Yuri. As the days go by, Yuri is spending more and more of his time with Cat and even though he knows the danger, he starts to fall in love with her. What can the future hold for an Immortal Guardian in love with a beautiful spirit?
THOUGHTS:
I love the Immortal Guardians. As lovely as this love story was, it still left me feeling a little sad. There was no good outcome to be had here. We already knew the sad story of Bastien's sister Cat who was pregnant when she was killed by her husband who had turned into a vampire. There was never going to be a HEA here so we have to be content where Dianne takes us this time.
If you are a fan of the series, make sure you check out my Fan Casting that I did over at HeroesandHeartbreakers.com. Let me know what you think.
Stake Out by Hannah Jayne – Vampire and fashionista Nina LaShay is back in New York for Fashion Week prepping her new line Drop Dead Fashions for the runway. She won last year's competition even though some of her competitors turned up dead.  Oops.  She is hoping that this year's competition is less bloody but when she finds one of her models, first dead and then undead, she needs to find out who is making baby vamps so she can get back to making awesome fashion.
THOUGHTS:
When I first checked out this story, I was confused. I thought it was a re-release of the short story from Predatory which came out two years ago. After I listened obviously it is a second story involving Nina at Fashion week. I miss the Underworld Detective Agency and especially Sophie and Nina, so I enjoyed spending a little more time with these characters.
Received an audiobook from Tantor Audio in exchange for an honest review.
Related Posts