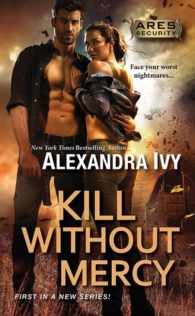 Kill Without Mercy (ARES Security, #1)
by
Alexandra Ivy

Series:
ARES Security #1
Published by
Zebra
on December 29th 2015
Genres:
Action
,
Military
Pages:
340
Format:
eBook


I received this book for free from in exchange for an honest review. This does not affect my opinion of the book or the content of my review.
This post contains affiliate links you can use to purchase the book. If you buy the book using that link, I will receive a small commission from the sale.
---
[box style="rounded" border="full"]This was a great beginning to a new series. This first story had mystery and intrigue, strong characters and a great introduction to the secondary characters who will be featured in the next few books. I am looking forward to more. [/box]
In this new series, Alexandra Ivy introduces us to five men, all former military. These men were all serving in Afghanistan when they were taken as prisoners and tortured. Together they escaped and their time together forged a bond stronger than any mere friendship. They are now brothers. Upon returning to the United States, they have agreed to put their specific skill sets together and created ARES Security.
They are still putting the finishing touches on what will be their headquarters, when Rafe Vargas gets a call. The realtor has a buyer for his grandfather's house and he needs to go the small town of Newton, Iowa, to clear it out. Rafe is having dinner at a local diner when he sees a young woman who is getting quite uncomfortable with the nosy waitress's harassing questions. He comes to her rescue and tries to distract the waitress. After a few more chance meetings about town, Rafe finally learns that the woman is the daughter of the man known as the "Newton Slayer." It has been fifteen years since her father was arrested for the murders and killed in prison. Is it luck that brought them both back to the same small town, or is it something more?
More than just Annie and Rafe have been drawn back to Newton. Someone has started where the Slayer has left off and women are again being abducted. Is that the same person who is leaving gifts for Annie? Rafe is by nature a protector.  Yet, he is drawn in by more than his desire to protect the lovely Annie. The more Rafe gets to know her, the more sure he is that he wants to take her home with him to Texas.
As Rafe and Annie hunt for the missing women, they start to unravel more and more of the mysteries from the past murders. There was more going on fifteen years ago and someone wants the truth to stay buried with all of the victims.   As the dangers to Rafe and Annie increases, Rafe's partners won't let him face them alone and are all coming to Newton to assist. But will they be too late?
THOUGHTS:
This was a great first book of the new series. The story itself drew you into the mystery of who is abducting women and does this have anything to do with the murders 15 years ago. Although there was a bit of insta-love between Annie and Rafe, we do get a bit of background on these characters and an understanding from Rafe's other partners that it would be very much Rafe's nature that once he fell in love, he would fall hard. Because of Annie and Rafe's natures, we can forgive the swiftness of the forever love and focus on their chemistry.
As a first book, it also does a great job introducing us to the other partners in ARES. We spend enough time with them in assisting Rafe that we come to know them and like them. We also get a brief peek into other happenings to peak our interest in future books: one partner has a lost love he won't discuss and another is receiving threatening letters that may or may not go back to what happened to them in Afghanistan. We also don't get any background of what exactly happened to them in their imprisonment. Whether Alexandra is saving that for another story or she has decided that we don't need to have explicit details of their torture, we'll have to wait to see.
Although I am a fan of Alexandra's Guardian's of Eternity series, I never got into the world building on her Sentinel series nor had a chance to check out her Bayou series which she co-writes. I like her writing and am looking forward to more on this series. In jumping to a contemporary story from her usual paranormal, I now have another group that I can share this author with.
If you like books such as Maya Banks's KGI series or Elle Kennedy's Killer Instincts, you should definitely give this a try.
Received an ARC from the publisher in exchange for an honest review.
---
"What's up, my man?"
He kept his gaze locked on Annie's pale face as he spoke to his friend. "Does Teagan have the feed from my house set up yet?"
"Give me a sec." The man's lack of surprise at the question assured Rafe that Teagan had already given a full report to the others. There was the sound of Max typing on the keyboard, then a low grunt. "Yep. I got a full view of your grandfather's house. Not much to see. Damn, my man, that kitchen is filled with junk food," he muttered. "You need to cut back. That shit will kill you."
Rafe gave a short laugh. He loved the forensics expert, but the man had a serious inability to let loose and enjoy life. Even his diet was a rigidly regulated to give maximum nutritious with zero pleasure.
"Not all of us can survive on grass and protein drink," he said dryly.
"Food is fuel." Max spouted his well-rehearsed line before returning to the reason for Rafe's call. "Looks like the cameras are working. What am I looking for?"
Rafe lowered the phone and put it on speaker. He wanted Annie to hear what Max had to say.
"I want you to assure my friend that if she comes to stay with me she'll be constantly monitored," he said.
There was a confused pause. "Why would she need to be monitored?"
"To be sure I'm not a crazed psychopath."
"Ah." Max gave a low chuckle. "Your potential roommate must be the lovely Annie White."
Annie made a sound of surprise even as Rafe rolled his eyes. "Teagan has a big mouth."
"He's worried."
"Yeah, yeah." Rafe shook his head in resignation. "Put your phone on video."
"You got it." It took a few seconds before Rafe's screen flickered and the sleek, modern furniture that Max preferred for his office came into focus.
"Show the camera feeds," Rafe ordered.
The video blurred as Max turned the phone toward the computer monitor on his desk.
"There." Rafe moved to stand beside Annie, pointing at the screen as it focused in on the monitor. "That's the kitchen and living room of my grandfather's house."
She studied the phone with a small frown. "Why do you have cameras running?"
"Because I have four friends who are overprotective pains in the ass who decided I need their protection."
The phone turned to reveal a man with short, dark blond hair, a bluntly chiseled face, and shrewd gray eyes. "You know you love us," he teased.
Rafe's lips twitched. He did love them. They were the brothers he'd always wanted.
For now, however, his only interest was easing Annie's very reasonable fears. "Once you're in my house, all you have to do is scream and one of all of my partners will hunt me down and shoot me," he told her.
Max nodded. "That's a promise, ma'am."
"See?" he murmured, lifting his hand to gently tug the end of her braid. "You'll be perfectly safe with me."
She sent him a wry glance. "So I'm supposed to feel better because I'm being watched guy five strange men instead of just one?"
"She does have a point, Rafe," Max said.
"You're not helping," he informed his friend.
Max chuckled before his expression was suddenly somber. "You want me to tell her that you save my life more than once?" he asked, his voice laced with an unmistakable in sincerity. "And that you're one of the few truly good guys I've ever met?"
"Now you're just embarrassing me," he muttered. "Later." He disconnected the phone, feeling a ridiculous blush stain his cheeks. The five of them might be a tight-knit group, but none of them were comfortable with the mushy stuff. Shoving the phone in his pocket, he placed his hands on Annie's shoulders and gazed down at her. "Come with me."
Related Posts