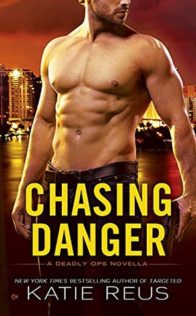 Chasing Danger (Deadly Ops, #2.5)
by
Katie Reus

Series:
Deadly Ops #2.5
Published by
Intermix
on April 21st 2015
Genres:
Action
,
Military
Pages:
90
Format:
eBook



I received this book for free from in exchange for an honest review. This does not affect my opinion of the book or the content of my review.
This post contains affiliate links you can use to purchase the book. If you buy the book using that link, I will receive a small commission from the sale.
---
[box style="rounded" border="full"]This novella is basically a fill-in between between book 2 and 3. The characters were very likable, but the story wasn't all that exciting. If you need something to fill in the time between the other stories, it certainly was enjoyable.  But overall, nothing happened that pushed the series forward. It's not a must read as part of the series. [/box]
Hannah Young considers the week she spent with NSA analyst, Dax Costas, the best sex of her life. Actually, it was more like life-altering sex. But apparently she was the only one who had their world rocked by it. Dax walked out of her home two weeks ago and she hasn't heard from him since.
What Hannah doesn't know is that Dax isn't an analyst for the NSA, he's an agent, and immediately after he walked out of Hannah's house, he was sent on a mission.  A mission which was communication dark. If Hannah was Dax's wife, he would have been allowed a quick call to her, but since they only just started dating, he had no choice but to follow orders and hop on the plane without his cell phone.
Now that Dax was back in town, he had two missions of his own. One, find Hannah and apologize (and get her back into bed, if possible), and two, get his boss's permission to tell Hannah who he is so he will never leave her wondering what happened to him again.
Dax might have rocked her world, but Hannah isn't so inclined to trust Dax not to break her heart again. When Hannah is attacked by an unknown attacker, Dax is going to keep close whether she wants him to or not. An agent trained to think on his feet, Dax has no problem using the need to protect Hannah as a way to worm his way into her heart.
THOUGHTS:
Dax and Hannah are great characters, very likable, and totally wasted in this novella.
The story was short and not very complex. If you missed your Deadly Ops fix, you should certainly pick up a copy. Just keep in mind that the story wasn't overly exciting and nothing happening here that moved the series forward, so unless Dax or Hannah are particular favorite characters, you can pass this one by without feeling like you missed out.
Received an ARC from the publisher in exchange for an honest review.
Related Posts