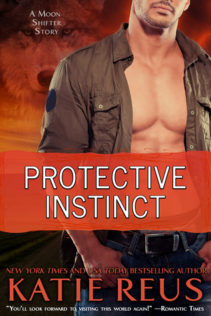 Protective Instinct (Moon Shifter, #5.5)
by
Katie Reus

Series:
Moon Shifters #5.5
on May 19th 2015
Genres:
Paranormal/Urban Fantasy
Pages:
158
Format:
eBook



I received this book for free from in exchange for an honest review. This does not affect my opinion of the book or the content of my review.
This post contains affiliate links you can use to purchase the book. If you buy the book using that link, I will receive a small commission from the sale.
---
[box style="rounded" border="full"]When I reviewed Hunter Reborn back in February, I mentioned that although the H/H in Hunter Reborn didn't excite me, there were two couples I was looking forward to reading. This is the first of those stories involving Ryan and Teresa. As with many series, you will understand more of these characters if you have read the series.  Katie Reus laid down the foundation for this story in Hunter Reborn. This novella also adds more into the (hopefully) next story involving Natalia and Aldric. [/box]
Warning:  Some slight spoilers from Hunter Reborn.
Ryan and Teresa have been throwing off sexual tension for some time. Teresa had made it known that she was interested in Ryan but until recently, Ryan has not openly made a claim on Teresa.   We find out in Hunter Reborn that Ryan wants to mate with Teresa, but he fears following in the footsteps of the unhappy mating of his parents. Ryan is an empath like his father. Due to his ability, his father activated the mating bond with Ryan's mother without her consent. His mother and father were never happy with each other and those feelings spilled out onto their young son. Ryan fears that if he takes things further with Teresa that he will also activate the mating bond without her consent.
Although he has finally declared his intention towards Teresa, Ryan is still keeping Teresa at arms length until he is certain that she truly wants to mate with him. Now Teresa's frustration with Ryan has moved on from commitment to sexual since she can't get Ryan to consummate their relationship. She also can't get Ryan to understand that she has made up her mind, and it is time to solidify their bond.
Teresa's inner wolf is frustrated.  To get some breathing room from Ryan, Teresa goes with one of her pack mates to look at some property for the pack. What no one knows is that a vampire is waiting outside of the pack's compound waiting for an opportunity for some retribution.
It was her maker that Teresa's sister, Natalia, killed during the stake out in the vamp bar. The ruling vampires declared it self-defense on Natalia's part, but his prodigy is more than willing to take out her pain on one of Natalia's three sisters.
While Ryan frets at the compound worrying between forcing Teresa into a bond or losing her because of his fear, Teresa has left the safety of the compound and is about to become a vengeful vampire's prey.
THOUGHTS:
I was looking forward to more of Teresa and Ryan since Hunter Reborn, I was slightly frustrated along with Teresa because Ryan was still dragging his feet in the whole mating bond. Understandably, he doesn't want to trap Teresa, but it was easy to see that she was getting frustrated and angry each time she told him she was certain about moving their relationship forward and he kept treating her as if she couldn't possibly know her own feelings. In protecting her, he was pushing her away.
We also got a little more of Aldric and Natalia. Their relationship is starting to tip from friendship to something more but Aldric seems to be a bit uncomfortable with his own feelings. Whether it is an age issue or his lost love, or a combination of both, we will need to wait and see.
This novella was just long enough to be the perfect completion of Ryan and Teresa's story. Since they were already an established couple, I think a longer story would have just dragged it out the will they/won't they bond too much.
Received an ARC from the publisher in exchange for an honest review.
---
Favorite Scene:
"So what's up?" Natalia asked, collapsing on one of the leather couches closest to Adric. She crossed her legs and took a sip of her beer as she watched him with an almost amused expression.
As if she didn't know why he was here. "Where's your sister?"
"Which one? I've got three."
He gritted his teeth, but forced himself to remain clam. He knew she was just messing with him. "The one I plan to mate."
"Mate? Hmmm, doesn't ring any bells. Can you be more specific?"
"She's gone with Rafael to look at some property a couple hours north. They left not too long ago," Aldric said without looking up from the fire.
"Damn it, Aldric." Natalia nudged his back with a sock-clad foot. "Thanks for ruining my fun," she muttered sulkily.
Ryan ignored her and pinned Aldric with his gaze. His wolf swiped at him as he tried to digest what Aldric had just said. Teresa was off site with an unmated male? She hadn't called or texted him to tell him either. What the hell?
The male glanced over as a small fire started, then stood. "He's a good male," Aldric said. "She'll be safe."
Rafael was also a single, alpha male, and according to some of the females in the pack, 'so pretty to look at'. Not to mention he'd seen the way Rafael had been sniffing around the sisters' house lately Maybe that fucker thought Teresa was free and now planned to make his move. Over Ryan's dead body. His jaw tightened as he tried to find his voice. "Does Ana now about this?"
Natalia snorted. "It was her idea."
His gaze snapped to hers and he knew his wolf must be in his eyes because a wave of tension rolled off her, the sensation sharp and stinging. As an empath he sensed emotions even when he didn't want to. Normally he could lock it down pretty tight, but right now he was grasping at his control, trying to get his shit together.
Instead all he could do was picture that GQ-looking bastard with his female.
Related Posts