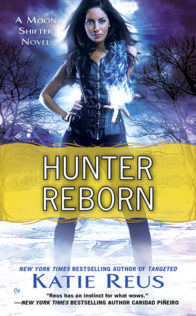 Hunter Reborn (Moon Shifter, #5)
by
Katie Reus

Series:
Moon Shifters #5
Published by
Signet
on February 3rd 2015
Genres:
Paranormal/Urban Fantasy
Pages:
368
Format:
eBook



I received this book for free from in exchange for an honest review. This does not affect my opinion of the book or the content of my review.
This post contains affiliate links you can use to purchase the book. If you buy the book using that link, I will receive a small commission from the sale.
---
[box style="rounded" border="full"]Katie Reus did a wonderful job and a not so wonderful job with this story. This might have been the first time that an author had me so excited about secondary characters that I had no real interest in reading the story in front of me.[/box]
Aiden is one of the most laid back members of the pack. So everyone in the pack is concerned when he goes nuts over a vampire while the pack is staking out the local club looking for someone selling vampire blood. This isn't just any beautiful vampire. It is Larissa, Aiden's mate. The same mate he thought died about 60 years ago.
It takes everyone a while before they agree that Aiden hasn't gone psycho, since Larissa doesn't seem to know him or what he's raving about, but then the pack allows Aiden takes her away from the nightclub and to a safe house so he can get some answers where she has been all this time and why she doesn't remember him. Through flashbacks as Larissa regains her memory, we learn Aiden and Larissa's backstory and what happened when they met.
I thought it became quite clear from the beginning who was involved and as the story unfolds it becomes really clear to me and frustrating that these two weren't more leery of an olive branch being offered by someone who was 100 percent against them getting together in the first place. So a month after a vampire and a werewolf mate, which at the time was as welcome as a mixed race couple after the Civil War, you accept an invitation to come visit and let bygones be bygones, and it doesn't seem really suspicious at all that she suddenly "died" as soon as she got there while assassins try to kill you.  Okay?  Aiden isn't completely stupid and he tried to get more information, but he did seem to give up a little too quickly, left the country, and never tried to go back or hire people to spy on them, etc., maybe hire a witch to scry or something.
As their story unfolded, I was going blah, blah, blah in my head wanting more information being set up on secondary stories which I hope we will be getting much more of in the next books.
Because it is much more intriguing that a stranger shows up also investigating the vampire blood that looks very much like Enforcer Jayce Kazan enough to be his brother. Oh wait, he is Jayce's brother and they haven't seen each other in decades, not since Aldric gave Jayce those scars on his face. What??? Aldric is spending a lot of time hanging around the ranch wanting to talk to Jayce and also it seems to stay close to Natalia. He met Natalia at the nightclub when she goes "you look an awful lot like my friend" and he brushes her off like a bad pick up. His pompous attitude sets Natalia off and she let's him have it, knocking him down a peg and suddenly it's "Hmm…" from Aldric and a lot of Hmm… from me.
Meanwhile, back at the ranch, I.T. wizard Ryan has suddenly starting going all Alpha wolf on Teresa after months of pretending he's not interested. He is chasing off all the other males who want to take her out and absolutely staking a claim. Teresa is floored by the sudden turn around in his attitude after she finally decided he wasn't interested and gave up. Ryan adopted an orphaned cub, but he gets along wonderfully with Teresa so that couldn't have been the problem. Since there was no question that Ryan was suddenly staking his claim, we wanna know what's up with that?
THOUGHTS:
So in giving us a wonderfully intriguing background information on some of the secondary characters in this novel, Katie has absolutely drawn my interest for future novels and I can only hope that Ryan/Teresa or Aldric/Natalia are featured in the next book.
But unfortunately by getting me so intrigued by what was happening in the background, I was almost skipping through what was happening in the main storyline. Aiden and Larissa's story seemed so obvious that there was nothing interesting about them. Larissa was oddly drawn to Aiden so there isn't even any attempt by her to leave after her initial "kidnapping" by werewolves. It was just more of a sit around and wait for her to remember things.
There was a resolution to the whole "who's selling vampire blood" case and that held some interest.
Except for re-reading the set ups for the future novels, I felt that this one was a toss away in the series.
Received an ARC in exchange for an honest review.
Related Posts