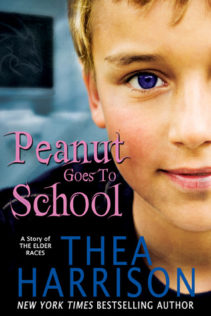 Peanut Goes to School (Elder Races, #6.7)
by
Thea Harrison

Series:
Elder Races #6.7
Published by
Self-Published
on June 30th 2014
Genres:
Paranormal/Urban Fantasy
Pages:
55
Format:
eBook



I received this book for free from in exchange for an honest review. This does not affect my opinion of the book or the content of my review.
This post contains affiliate links you can use to purchase the book. If you buy the book using that link, I will receive a small commission from the sale.
---
Dragos Cuelebre is no longer the only dragon.

Dragos's son Liam Cuelebre (a.k.a. Peanut) is springing into existence, reminiscent of the first of the Elder Races who were born at the beginning of the world. At just six months of age, he has already grown to the size of a large five-year-old boy. He can read, write in complete sentences, and his math skills are off the chart.

A white dragon in his Wyr form, Liam also holds more Power than almost anyone else. In an effort to give him a taste of normality, no matter how fleeting, his parents Pia and Dragos enroll him in first grade.

They hope school will help teach Liam how to relate to others, a vital skill that will help him control his growing Power. But school has a surprising number of pitfalls, and relating to others can be a tricky business.

When a classmate is threatened, Liam must quickly learn self-control, how to rein in his instincts, and govern his temper, because there's no doubt about it—he is fast becoming one of the most dangerous creatures in all of the Elder Races.
---
Peanut, or Liam as we should call him since his is growing up so quickly, is becoming one of my favorite characters in this or just about any series.
Liam is the only a few months old, but as the first dragon since Dragos was created at the beginning of creation, no one is certain what to expect as far as powers or his unusual growth. He seems to have a blend of his parents personalities and abilities, but he keep surprising us all with new abilities of his very own. He even managed to sneak up on his Dad without his father sensing him, which his quite the feat.
On his first day of school, he is picked on by a few of the older boys as well as his teacher. He handles both instances with just the right mixture of intelligent thought, bravery and a little intimidation of his own. I am sure he will shine as a future leader in this series.
I can't wait to see what else Liam's unusual character will bring to the series as far as his adventures and his abilities. I just hope he doesn't grow up too fast. I am not sure how I would feel about him growing up and getting his own love story when he is only, say two calendar years old.
Received an ARC from the  author in exchange for an honest review.
---
Favorite Scene:
The tricky thing about using a cloaking spell is that cloaking spells are tricky.
Liam snickered to himself as he tiptoed around the patio furniture and changed into his dragon form. His dragon had grown to the size of an adult lion, and he had to be careful not to knock over furniture as he shapeshifted.
He also managed to hold on to his cloaking spell, which was a bit fat win. Dad had said Liam's cloaking ability was one of the best he'd ever seen, although it was difficult to stay hidden while changing forms.
But since his dad could do it, Liam felt he would be able to it also. Eventually. Sometimes. If he kept practicing, pretty soon he should be able to stay cloaked all the time if he needed to.
Liam was playing his favorite game, Spy Wyr, which he had totally made up himself. When he grew up, he was going to be a secret sentinal. Uncle Graydon would send him out on missions, and when he returned after saving somebody, or maybe even after saving everybody, Mom and Dad would be really proud of him.
Of course, because it was undercover, Dad would have to give him medals in secret. Sometimes they might be silver or bronze ones, or when he did something amazing, they might be gold. Or maybe when he did something really outstanding, Dad would give him a sparkly medal with diamonds on it. Then Liam would have to find a super-secret place to hide them.
His dragon side like the sound of that. It made him feel growly and fine.
By day, Liam would be, oh, maybe a basketball player. Basketball players traveled a lot, so it would be a good cover, and besides it would be fun to play ball all the time, so that would be big fat win.
Hi, my name if Cuelebre, Liam Cuelebre. My code name is Double Oh Peanut, but you can call me Rock Star for short.
Related Posts