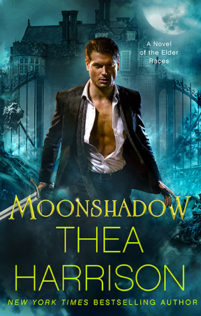 Moonshadow (Moonshadow, #1)
by
Thea Harrison
Series:
Moonshadow #1
Published by
Self-Published
on December 13th 2016
Genres:
Paranormal/Urban Fantasy
Format:
eBook



I received this book for free from in exchange for an honest review. This does not affect my opinion of the book or the content of my review.
This post contains affiliate links you can use to purchase the book. If you buy the book using that link, I will receive a small commission from the sale.
Recovering from a shooting, LAPD witch consultant Sophie Ross leaves her job and travels to the U.K. to search for answers about her childhood. When she encounters a Daoine Sidhe knight of the Dark Court, she becomes entangled in an ancient hatred between two arcane forces.

Barred from his homeland along with his surviving brother knights, Nikolas Sevigny is embroiled in a conflict that threatens everything he holds dear. Only by uniting his people's resources can they hope to prevail against Isabeau, the deadly Queen of the Light Court. He will do anything and use anyone to return home to Lyonesse.

When Nikolas encounters Sophie, he sees a tool to be used. The insouciant witch might be the key to unlocking every passageway that has been barred to the knights of the Dark Court, even as a fascination for her takes root in what's left of his soul.

Sophie has no intention of becoming anyone's pawn, yet the fierce Nikolas is so compelling, she can't deny the temptation that endangers her guarded heart.

As magic threatens Lyonesse, Queen Isabeau unleashes her merciless Hounds, and Nikolas and Sophie become embroiled in a race for survival. Meanwhile, the passion that ignites between them burns too hot to be denied and quickly turns into obsession.

Thank goodness they both know better than to fall in love.
---




Thea Harrison never disappoints. This spinoff from her Elder Races series brings the same talent and magic as all her previous book and introduces us to a wonderful new cast of characters.
If you love Thea Harrison's Elder Races series, you will squee with joy over these new characters. If you haven't given Thea Harrison a try, there is no time like now to grab a copy. These are new characters with no cross-over to the Elder Races series but the same world-building. After you finish, you will kick yourself for waiting so long.
Thea takes us to Europe for this new series and the centuries old battle between the Light and Dark Courts. It appears that the Queen of the Light Court has a screw loose but the leader of her army is a powerful wizard by the name of Morgan and he enforces all her crazy orders to destroy the Dark Court passageways and leave their knights stranded here so he can hunt them down one by one. (We met Morgan very briefly in Pia Goes to Hollywood.)
Almost a century ago as the Light and Dark Court Knights battled, Morgan managed to collapse every crossover passage to the Dark Court kingdom in the otherland, trapping Nikolas Sevigny and his knights here with no way to get home. As the years passed, with no way to get reinforcements, Nikolas's troops have dwindled down to only nine remaining, and they are currently all in hiding since their magic signature grows the longer they remain together making them an easy target for Morgan and his werewolves. But after all this time, Nikolas might have just found them a safe haven with Sophie Ross.
Sophie has been offered an opportunity of a lifetime to go to the U.K. and claim an English Estate.  On the Boarder of England and Wales, there is an estate which was built on a collapsed crossover passage, and if she can get into the Old Weston Manor house, she will inherit the estate, the land, and a trust to take care of the Estate and still give her a livable income. The only catch is she has to get into the house. A feat which no one has been able to accomplish in almost a century.
The house fluctuates between this dimension and the otherland and although you can touch it, it is never entirely in one dimension.  Sophie believes that her mixed blood, part human and part other(?), will allow her to get in.  When she literally runs into Nik and he learns about Sophie's interesting property, he plans to use her to give his men the first feeling of safety they have had in decades.  Sophie is well aware of Nik's plan, but the kindhearted person she is, she can't turn away these men.
Sophie and Nik butt heads constantly in this story.  Nik has become so used to not trusting anyone and fighting every day against the Light Court, he doesn't know diplomacy any more.  He makes decisions and gives orders and that doesn't fly well with a woman like Sophie.  She constantly stands up to his pushy ways.  That's what I loved most about her.  Where most romances the heroine eventually gives the hero a pass on his domineering way considering it "just his way" or deciding he simply knows better, Sophie never relents in letting Nik know when he is being a pushy asshole.  I am currently reading a story from another favorite author of mine and after meeting Sophie, I am getting pissed off that my new heroine keeps jumping every time the hero snaps his fingers.  Ugh!
Anyone who reads my reviews knows that I love my wounded heroes and while in this story, it is not Nikolas, there is a small creature from the Dark Court named Robin who is called "the puck" (a type of shape-shifting lesser fae) who can control nature, and he was captured by the Light Court Queen and tortured for a long, long time. And it is Sophie's kindness that rescued him and nursed him back to health. It is the first kindness he has experienced in such a long time and her fierce protection meant so much to him. His loyalty and love for her shows deeply in this story (<3 love him!). I am certain he will be back for more of this series.
Fans of Thea Harrison will delight in the new characters introduced in Moonshadow and I can't wait to see what comes next.
---
Favorite Scene:
"You walked away last night, and you got to do that. That was your choice, so okay. I can go with it. But you don't get to push me away, only to try to pull me back in again. I don't play that kind of game."
He snapped, "I don't play any games."
Instead of responding in the lively way he had come to expect, she merely looked bruised. "Oh, no? Well, I don't know what you're doing then."
"I don't either," he whispered.
That made her pause. She searched his expression uncertainly, but when he would have reached out for her again, to touch her in any way he could, the cottage door opened and Gawain strode out.
"Hello, lass," he said. His intelligent gaze traveled from her to Nikolas, who stood with his fists clenched. "How was your trip to town?"
"She ran into Morgan," Nikolas bit out. As Gawain's expression changed, he said telepathically to Sophie, We're not finished talking.
She not-quite-glanced at him. The flush of pink color had fled, leaving her looking pale and strained.
Oh no, we're finished, she said. Until you figure out what you're doing–whatever that might be–we don't have anything more to say to each other that's of a personal nature.
"Come inside, lass," Gawain said gently, while looking around sharply at their surroundings. He put a protective arm around her. "Tell us all about what happened."
As he touched Sophie, Nikolas nearly went for his throat.
His friend's throat. One of his closest, staunchest friends.
Rooted to the spot, he watched them step into the cottage together. Just before Gawain stepped inside, the other man speared him with a look that clearly said he thought Nikolas had lost his damn mind.
Nikolas couldn't blame him–or Sophie. He had lost his damn mind. Glancing around one last time, he clamped down on his self-control and strode into the cottage.
Inside, he found Sophie on her knees, offering a small blue jacket to Robin. Looking befuddled, the monkey blinked as he took it. She said gently, "It's okay if you don't like it. I just thought you might get cold sometimes."
From nowhere, her compassion struck Nikolas with an evil kind of accuracy, deep inside where he wore no armor. Pressing his knuckles against his mouth, he watched as the monkey ooh-oohed silently and turned the jacket over and over in his spidery hands. Sophie helped the puck slip into it, and he sat looking down at himself, fingering the gold buttons.
"I bought you a cake too," she whispered to Robin. "It's three times your size, and you can have it all."
Robin's eyes were shining. Ooh-ooh, he mouthed, and set his hand against her cheek. She covered his small hand with hers.
She bought the puck a jacket and a cake, Gawain said to Nikolas. And she bought flowers, and hot chocolate and coffee. That's all she wanted from town. Flowers, for fuck sake. She shines with spells, and she can make magic bullets. Every single fucking one of our men is going to fall in love with her, Nik. Every single fucking one. Hell, I might even be falling in love with her a little myself.
You can't, Nikolas thought, as his hands clenched again. She's mine.
Related Posts