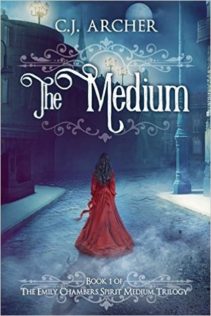 The Medium
by
C.J. Archer
,
Gemma Dawson

Series:
Emily Chambers Spirit Medium Trilogy #1
Published by
Tantor Audio
on November 15th 2016
Genres:
Paranormal/Urban Fantasy
,
Young Adult
Format:
Audiobook
Narrator:
Gemma Dawson
Length:
9 hrs 27 min



I received this book for free from in exchange for an honest review. This does not affect my opinion of the book or the content of my review.
This post contains affiliate links you can use to purchase the book. If you buy the book using that link, I will receive a small commission from the sale.
Seventeen-year-old spirit medium Emily Chambers has a problem. Actually, she has several. As if seeing dead people isn't a big enough social disadvantage, she also has to contend with an escaped demon and a handsome ghost with a secret past. And then there's the question of her parentage. Being born an entire year after her father's death (yes, a year) and without the pale skin of other respectable English ladies, Emily is as much a mystery as the dead boy assigned to her. Jacob Beaufort's spirit has been unable to crossover since his death. It might have something to do with the fact he was murdered. Or it might not. All he knows is, he has been assigned by the Otherworld's administrators to a girl named Emily. A girl who can see and touch him. A girl who released a shape-shifting demon into the mortal realm. Together they must send the demon back before it wreaks havoc on London. It should be a simple assignment, but they soon learn there's nothing simple when a live girl and a dead boy fall in love.
---


[box style="rounded" border="full"]This is a Young Adult paranormal mystery, set 1880 London, with all the usual teenaged angst you would expect from young love, especially when one party is dead.[/box]
NOTE: At the time of the writing of this review, the Kindle version of this story is available for free with the audible add-on of only $2.99.
The story is set in 1880 London and seventeen-year-old Emily and her older sister, Celia, hold seances for the ladies of London Society, most of whom want to contact their dearly departed husbands or simply shock their friends with talking to spirits.   Emily is the only one in the family with the ability to contact the dead, but Celia has a better head for handling the ladies.  Emily is definitely better with the dead than the living.
During a recent seances, the recently deceased Mr. Wiggam would not return to the Otherworld. It was quite funny that this bickering couple in life would continue to snipe at each other after death. But to Celia and Emily, it wasn't quite as entertaining. Instead of forcing Mr. Wiggam to return to the afterlife waiting area, Celia mistakenly releases a shapeshiting demon into the unaware populace of London.
Because of this, the Otherworld Administrators assign Jacob Beaufort to assist Celia and Emily in locating the demon and returning it from where it came from before it can start growing in strength. Jacob is stronger than most ghostly apparitions. He doesn't need to be summoned by Emily, and most times simply shows up to talk with her. He can move items and pick things up. Neither Emily nor Jacob know exactly why Jacob has such a strong presence in this world, but that is obviously why he was selected to help them.
The "investigation" into who made Celia summon the demon seems to fall into their laps for the most part so it is not that interesting.
The romance between Jacob and Emily consists of the usual teenage angst, especially while set in the constrained social setting of the 19th century time period. We see Celia's dislike of the ghostly Jacob, first since she cannot see him but she knows that he is spending more and more time with Emily in her room, which is inappropriate, but she also know that Emily is becoming more and more attached to Jacob, and Celia is trying her best to find Emily a real life husband. We do learn that pre-death Jacob, like most boys of his social station, was very self-absorbed. He didn't really notice anyone outside of his friends and I don't just mean servants, and it is possible that his killer was someone in his social circle that he never took the time to notice even existed.
The one very interesting thing they do address, and I have wondered this in many human/ghost-y romances I have read, during a scene where someone attacks Emily, Jacob finds himself hesitating to help in her defense. Jacob knows he hesitated because if Emily dies, then there is no more angst. They can be together forever in the afterlife. He becomes angry with himself and disappears at the end of this first book. Since Jacob is featured in the next book, we know he will be back.   I have thought this many times myself in the past why the lovesick ghost doesn't just help their loves make the crossover instead of fighting to protect them. I thought it was very interesting that the author gave Jacob that moment of selfishness, whether it is a leftover of the self-absorbed teen that he was or just part of our natures which never goes away. I want the girl. What is the quickest way to get the girl? This is contradictory to what he was doing earlier in the story where he told her he would not watch her grow old and be her ghost-boyfriend until she died of old age. That seemed more along the idea that he wanted he to live her life rather than just hang around waiting to die, then we have that moment of vulnerability or selfishness from him.
I am compelled to continue with the series because I want to know more about Jacob's death. In fact, I am starting to wonder if maybe Jacob isn't really dead. Of course for the sake of the story, Jacob is attacked from behind so he does not see his attacker, and he has no idea where his body ended up. His mother is convinced he isn't dead, and I start to wonder if his presence is so strong because he is in a comalike state or maybe he is on the brink of death. I am wondering how Jacob will be resurrected since the audience will, of course, want to see Emily and Jacob get together after all this Romeo and Juliet "why can't we be together" drama.  It will be interesting to see how this ends.
Related Posts