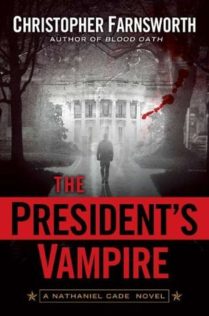 The President's Vampire (Nathaniel Cade, #2)
by
Christopher Farnsworth

Series:
Nathaniel Cade #2
Published by
Penguin Audio
on April 28th 2011
Genres:
Paranormal/Urban Fantasy
Pages:
337
Format:
Audiobook
Narrator:
Bronson Pinchot
Length:
9 hrs 36 min



I received this book for free from in exchange for an honest review. This does not affect my opinion of the book or the content of my review.
This post contains affiliate links you can use to purchase the book. If you buy the book using that link, I will receive a small commission from the sale.
The ultimate secret. The ultimate agent. Nathaniel Cade returns.

For 140 years, Nathaniel Cade has been the President's Vampire, sworn to protect and serve his country. Cade's existence is the most closely guarded of White House secrets: a superhuman covert agent who is the last line of defense against nightmare scenarios that ordinary citizens only dream of.
When a new outbreak of an ancient evil-one that he has seen before- comes to light, Cade and his human handler, Zach Barrows, must track down its source. To "protect and serve" often means settling old scores and confronting new betrayals . . . as only a centuries-old predator can.
---



[box style="rounded" border="full"]The Vampire's President has been on my TBR list for quite awhile so I am sad to say that it wasn't worth the wait. [/box]
I had no idea what to expect with regard to the story plot. I remember this receiving quite a lot of buzz when it first was released and I had purchased a copy where it sat and sat on my TBR list. It was recently on sale on Kindle and someone was promoting it and touting how much they had enjoyed it. Since I was probably never going to have time to read it, I opted to use one of my many Audible credits and purchased an audiobook version. While the narration was well done by Bronson Pinchot, I found myself quite disappointed overall with the story.
I honestly never bothered to read any reviews on this story and simply knew that it involved a vampire, Nathaniel Cade, who as bound to the President of the United States and did things to protect the United States.
In this story, Cade is protecting the world from "snakeheads." These are humans who are being infected with a vicious strain of bio-engineered virus which turns them into an amphibian creature, whose brain only knows to eat and destroy, usually the other humans standing around in horror. A cut or a bite infects the next human, etc. etc.
Of course, like any good government story, those in power are those most dangerous to the country and Cade and his human handler, Zach Barrows, don't know if the people they need to work with are actually working against them.
For a vampire, Cade is supposed to be quite scary and very non-human, but I didn't find that there was much vampire-y about him. Cade drinks bagged animal blood. He didn't even drink from anyone he kills. Not even when he was hurt. Yes, he has to keep out of the sunlight and his is super-fast and has super-strength, but he could have simply been a super-soldier rather than a vampire. At 140 years old, Cade no longer has human emotions so he is very one-dimensional. I liked Zach better because he was a more fleshed-out character.
The plot of infecting humans and turning them into snakeheads so they continue to spread the infection and how many people were involved and knew about this didn't make sense since you know that eventually, even if you succeed in decimating the human race and creating this new world order, those key humans who think they are safe will eventually be found and eaten. Where are you going to hide from a world full of snakeheads? How much food do you have? How many years do you think you can survive in what has to be an airless bunker since they are clever enough to get into anywhere? And god help you if something breaks down and you have to go outside, snacktime! The plot was pretty stupid and was more along a James Bond bad villain plan. They would have at least asked for a million dollars before releasing their snakehead virus.
This is definitely a series I would suggest you skip.
Related Posts