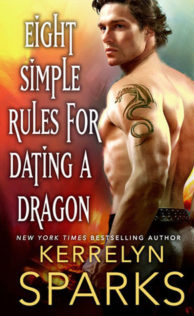 Eight Simple Rules for Dating a Dragon (The Embraced, #3)
by
Kerrelyn Sparks

Series:
The Embraced #3
Published by
St Martins Pr
on March 27th 2018
Genres:
Paranormal/Urban Fantasy
Pages:
448
Format:
eBook



I received this book for free from in exchange for an honest review. This does not affect my opinion of the book or the content of my review.
This post contains affiliate links you can use to purchase the book. If you buy the book using that link, I will receive a small commission from the sale.
From the brilliant imagination of Kerrelyn Sparks comes a bold new fantasy romance series in which passion and magic collide. Behold the Embraced…

Gwennore has a talent. An Elf able to track down the cause of an illness and heal it, she's a valuable asset to her people. But when the kidnapping of a young girl thrusts Gwennore into the very heart of the realm of the dragons, she discovers not only a place of power and magic, but also a haunted land, plagued by an ancient curse that all but ensures extinction to the royal family. But when she meets the smoldering General Silas Dravenko, they strike a bargain—save the country from its cursed illness, and he will return the kidnapped girl. She's been raised never to trust a dragon, but never did making a deal with the devil feel so good…

Silas has no way of curing the family he's loyally served for years. But when a beautiful elf, long considered the enemy of the dragons, comes bursting into his world, Silas is awakened to passion and desire in a way he's never felt before. But can he trust a sworn enemy to save the very existence he holds dear? And can their love survive those that threaten to tear them apart?
---




Eight Simple Rules for Dating a Dragon is my favorite in the series. It will make you laugh and cry.
Your heart breaks a little in Eight Simple Rules for Dating a Dragon. First for Gwennore, the only elf among the five sisters who grew up together in the convent on the Isle of the Moons. Until leaving the convent and traveling on the mainland, Gwennore was never subjected to prejudice because of what she is. Her sisters have always accepted her and loved her no matter her genes. But in both of the Kingdoms that her sisters, Luciana and Brigitta, are now Queens, the aristocrats look down on Gwennore for being an elf. With the coloring and her pointed ears, she easily stands out and instead of finding the beauty in Gwennore, who is lovely, sweet and kind, but all they can see is an undesirable elf.
Overhearing the men at Court talk about her with derrision, makes Gwennore spend more time with the children and in an attempt to get away from the courtiers during a picnic, she goes picking flowers with Luciana's daughter in a field away from the others. This allows the little girl to be kidnapped by a dragon.  Gwennore grabs on as well so she can be there to protect the little girl. Even though Gwennore's actions reflect her love and bravery for her sister's daughter, even in the kingdom of Norveshki, Gwennore cannot get away from the prejudice of being an elf, or should I say, especially in Norveshki since they are constantly at war with the neighboring elf kingdom of Woodwyn. It is only Silas and a few of his friends who accept Gwennore for herself and see only her good qualities.
But Gwennore isn't the only one suffering in this story, Silas Dravenko is one of three families cursed by the Ancient Dragons long ago. He has lost most of his family to madness and his brother's wife, the current Queen is is barely holding on to her sanity.  As the Queen's illness progresses, Silas fears for his brother's sanity as well.  It is the King who ordered the princess to be kidnapped to replace the Queen's own children who died.   Norveshki is already at war with Woodwyn and the King's action will cause Norveshki to fight a war against KIngs Leofric and King Rupert as well if Silas doesn't act quickly.    Silas is alone in a kingdom full of courtiers, none of whom want anything to do with the cursed royal family.   Even as he falls in love with the brave, beautiful Gwennore, she knows she cannot stay in a kingdom that hates her and knowing she is right to want to leave, won't help him when his future looks so bleak.  Silas needs Gwennore's help in solving the mystery of this age old "curse" or he could lose everything that matters.
While we search for ways for Gwennore and Silas to break the curse over Silas's family and get a happily ever after, there is one character whose problem might not be solveable.   King Leofric has found love with his Queen Luciana in How to Tame a Beast in Seven Days, we still see a sadness in him.   We watch Leo, blessed with the ability to control lightening, look longingly upon anyone hugging his children.   By luck, Leo is able to touch his wife but he now fears touching his own children for fear of killing them with his electricity.  It is heartbreaking to know that he is still denied the basic comfort of touch with anyone else by Luciana.
I loved seeing Gwennore hold her head high no matter who was sneering at her, but this story will still pulled on all your heartstings and cause a sob or two. But don't forget that this is a Kerrelyn Sparks' novel, so there will be more than a few chuckles between all the tears.
---
Favorite Scene:
With a gasp, she suddenly remembered the dagger underneath her pillow. Why hadn't she thought of that last night? She could have used it to chase Silas away. Why hadn't she? Had she been too busy eyeing his chest?
"Is something wrong?" he whispered.
"I just recalled I have a knife under my pillow."
"Ah. I guess I'm lucky I survived the night."
She nodded. "I missed my chance."
"What a shame. But there's always tomorrow."
"What? You intend to come back?"
"Of course." He leaned over her and stroked her cheek. "How could I resist?"
She pushed his hand away. "Don't tempt me."
"To do what? Kiss?"
"No. To use the dagger."
With a chuckle, he sat up. "So is it the one from Lord Romak?"
"No." She motioned toward her bedside table. "That one is in the drawer."
"Holy Light, snookums. How many knives do you have?"
"Keep calling me that and you'll find out."
Related Posts