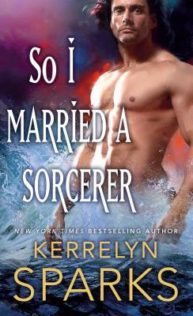 So I Married a Sorcerer (The Embraced, #2)
by
Kerrelyn Sparks

Series:
The Embraced #2
Published by
St. Martin's Press
on August 29th 2017
Genres:
Paranormal/Urban Fantasy
Pages:
496
Format:
eBook



I received this book for free from in exchange for an honest review. This does not affect my opinion of the book or the content of my review.
This post contains affiliate links you can use to purchase the book. If you buy the book using that link, I will receive a small commission from the sale.
Growing up on the Isle of Moon, Brigitta knows nothing of her past, except that she is Embraced: born with powers that forced her into hiding. Everything changes when she learns she's a princess, hidden away from her villainous half-brother who now rules the kingdom. But he knows about Brigitta, and he'll do anything to get her back. Unless a certain roguish pirate has anything to say about it…

Rupert is both an infamous pirate and a sorcerer with the power to harness the wind. He's been waiting nineteen years for revenge—and he needs Brigitta to get it. What begins as a kidnapping of the fiery beauty turns into a fierce attraction. But can he win the captive princess's heart?
---




Such wonderful world-building by Kerrelyn Sparks.  She obviously had a great time creating these new characters.
In the second in her new Embraced series, we can really start to see how much fun Kerrelyn had stetching her imagination.  Her complaint about her Love at Stake series was that all the vampires had the same abilities so in this series we can see all the different personalities and abilities being introduced.  And not just the protagonists.  Some of the antagonists are over the top.  You just love to hate them.
In this story, we focus on Brigitta who can learn someone's secrets by touching them.  I will say, we have much more of Brigitta's power at the beginning of the story and not so much at the end.  I am not certain if it just stopped being a necessary plot point or simply as we learned all of Rupert's secrets, there were no more to ferret out by Brigitta's special ability.   But Brigitta, even without special powers, is quite fiesty and will do anything she must to protect those she loves, even risk herself and her happiness.
Brigitta is the Princess of Tourin.  I would say missing, but her father tossed her on that Isle of the Moon with the nuns to forgot about her.   It is long after her father's death, that her brother (now the king) tries to reclaim his sister  Brigitta, who was on her way to visit her sister-of-the-heart, Luciana, who was about to give birth.
Like Brigitta, Rupert, the pirate,  is Embraced.  His ability is to control the wind which is an absolutely perfect ability for a pirate to have.  Not only can he give his ships speed to overtake or outrun the other ships, but he can blow away the royal navy whenever they try to catch him.  But Rupert is only a pirate against the navy of King Gunther of Tourin.  He does attack or steal from any of the other Kingdoms.  In fact, when Brigitta indicates that Luciana, now the Queen of Eberon, would pay a hefty ransom, he refuses since he doesn't want Eberoni gold.  He wants to break the bank of Tourin.
The reason behind his hate for King Gunther is complex and justified (you'll have to read for yourself), but once Rupert learns the real reason why Gunther wants to reunite with his long lost sister, which is quite horrifying, Rupert has to decide if his personal vendetta is worth turning sweet Brigitta over to a monster.
As I said, Kerrelyn Sparks goes crazy with creating new characters and just has fun with it.  Gunther is a pretty over the top, demented bad guy, and of course, he uses gold in all of his decorating, and he surrounds himself with minions who enjoy being as evil as he is.  We get a quick look at the neighboring kingdom where dragons live (maybe dragon shifters but so far the dragons and the people seem to be separate).
It is just a fun, clever fantasy series rife with Sparks's expected humor.
---
There are many great scenes, but this was the first to make me laugh out loud. Brigitta is taken to the pirate ship and one of the nuns from the covent comes with her to protect her innocence.
Favorite Scene:
As soon as Brigitta's feet landed on deck, Sister Fallyn snatched her away from the crewmen who had hauled her aboard. Only the slightest of tingles brushed against Brigitta's special gift as one of the Embraced. Apparently, the two sailors and Sister Fallyn harbored only a few secretes. Unlike the masked man.
Brigitta cast a nervous glance around the deck. Crewmen bustled about here and there, and a man in a fancy hat was giving orders, but he was nowehre in sight. All these years she'd thought Mother Giness was hiding a great deal, but the older nun's secrets were minuscule compared with the masked man. One touch from him and Brigitta's special gift had erupted like the fiery blast from a cannon. After the initial shock, the massive weight of his hidden burden had dragged her under, causing her to black out for a few seconds.
Don't let him touch you again. She'd tried her best to shoo him away, for she hadn't wanted to risk another touch. Wrap yer legs around him and squeeze him tight? Ha! That much contact might render her unconsious for a week.
Or it might be exciting. She banished that thought. Only a scoundrel would talk the way he did. And only a ruffian would wear a mask. Indeed, it was a great relief she couldn't spot him anywhere. Even though she was incredibily curious about his secrets. What was he hiding that ws so huge? And how on Aerthlan did he survive with such a heavy burden?
"Brigitta!" Sister Fallyn shook her. "Are ye all right?"
"Aye."
"Oh, thank the goddesses. Ye seemed to be in a daze for a moment." Sister Fallyn lowered her voice to a whisper. "I completely undertand. Ye poor child. It must have terrified you to be hauled over the railing by those buryly, half-naked seamen."
"What burly, half-nak–" Brigitta stopped when Sister Fallyn place a finger over her mouth.
"A young innocent like you shouldn't even repeat such words." Sister Fallyn shuddred. "Goddesses help us, ye can see their muscles. And tattoos."
Brigitta glanced around the deck once more. Goddness, there were a number of muscular men without their shirts. And some rather interesting designs inked on their arms and chests. Why had she not rezlied that before? Because ye were loooking only for the masked man.
With a small gasp, she pressed a hand to her chest. Why did she keep thinking about that scoundrel?"
"Shocking, I know." Sister Fallyn grabbed her by the shoulders and turned her away. "Don't look at them. It might give you lurid thoughts. Thank the goddesses I am immune to such things." She waved a hand to fan her face. "Why, I hardly even notice it."
"Are ye all right?"  Brigitta asked.  "Ye seem a bit flushed."
"'Tis a triffle warm, that's all." 
Related Posts