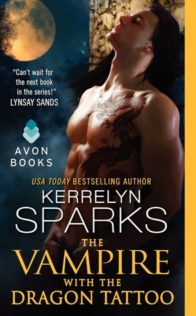 The Vampire With the Dragon Tattoo (Love at Stake, #14)
by
Kerrelyn Sparks

Series:
Love at Stake #14
Published by
Avon
on August 27th 2013
Genres:
Paranormal/Urban Fantasy
Pages:
369
Format:
eBook



I received this book for free from in exchange for an honest review. This does not affect my opinion of the book or the content of my review.
This post contains affiliate links you can use to purchase the book. If you buy the book using that link, I will receive a small commission from the sale.
---
Dougal Kincaid has something to prove. After being injured in a battle with the Malcontents, he's ready for active duty protecting unsuspecting mortals from these villainous vampires who want to rule the world. But first he has to get control of himself . . . because just the sight of a certain lovely doctor has his injured hand doing some peculiar things, not to mention the sizzling sensation that burns along his dragon tattoo.

Vampires? Vampires?! As a scientist, Leah is having trouble believing that these immortal creatures exist. But there they are, standing in front of her, asking for help in solving a genetic puzzle that can save mankind. There's even one in a sexy kilt! Just one look into Dougal's gorgeous green eyes sets her pulse racing. But can she trust him—and the overwhelming desire that refuses to be ignored?
---
Dougal Kincaid had a rather rough life. He was kidnapped as a boy and was pressed into service on a ship. When his ship was overtaken by pirates, he was sold into slavery. It was only through the love of the master's daughter that she helped him escape his bondage, but Dougal couldn't save her in return. Her death has haunted him for the last 300 years.
After being turned into a vampire in 1749, his life had improved. He had friends and he was always able to enjoy playing his beloved bagpipes. But his life once again took a dismal turn when he lost his right hand during a battle with the malcontents. Now all anyone wants to talk to him about is his missing hand.
Dougal had to learn to sword fight left handed and then after he received a prosthetic hand, he learned to again fight right handed. Being ambidextrous makes him value to MacKay S&I, but Dougal wants more from his life than the next bloody battle.
Dougal lost more than just his hand that day. He lost his ability to play his bagpipes. His music was part of his soul, and without it he has felt lost.
When Roman brings in geneticist, Leah Chin to help deal with Master Han's superhuman slaves, Douglas is captivated by her from the moment she walks into Romatech. Something about her reminds him of the woman he lost 300 years ago, and he is not about to let anything happen to her again.
But Leah isn't too sure that she can deal with a relationship with a vampire, although Dougal's quiet manner and green eyes haunts her dreams.
More than anything Dougal wants to be able to woo Leah with his music and show her that there is more to the man than just the vampire she sees.
THOUGHTS:
i really love this series and now it is Dougal's turn.   Dougal is a very deep and complex character. I really liked the way his story unfolded. He is quiet and awkward, even with his fellow vampires, and that has only increased since he lost his hand.
Leah is a genius and completed her doctorate at age 21. Starting college at 14 after being homeschooled, left Leah socially awkward and not used to having any friends. She is used to people showing a friendly face, only so they can use her knowledge.
They understand each other and this quickly forms a bond between the two of them.
I was a little disappointed in Howard's story, although I can't explain exactly what bothered me about it, maybe it was the fairytale aspect, but I enjoyed Dougal's story. Usually I don't like the reincarnated storyline, but in this story it was presented more that Leah reminded him of the woman he lost and what is what caught his initial attention. He declares often that Leah is quite different from Li Lei and he wants Leah.
There was also the continuing storyline where we are trying to defeat Master Han who is being helped by the demon Darafar.
Received an ARC from abovethetreeline.com courtesy of the publisher in exchange for an honest review.
---
Favorite Scene:
A wailing sound echoed in the distance, and she turned her head toward it. It sounded familiar somehow, like a distant memory. A chill skittered down her back, and she pulled on her thick cardigan sweater.
She crossed the basketball court, headed for the gazebo. The sound grew louder, more confident.  More beautiful. She halted with a gasp. It was pipe music. Just like Grandpa had played that magical summer. She'd thought the pipes were the most beautiful sound in the world.
She closed her eyes to listen, and the plaintive melody enveloped her, seeped into her skin, and settled in her heart. So much emotion. She didn't know how the pipes could sound like they were crying, but they did.
Tears filled her eyes as flashes of memory returned from fourteen years ago. The green fields of Ireland. Her grandfather's lilting voice and warm hug. She'd never had to earn his hugs with straight As. He had loved her for simply being herself. He would have loved this music.
Was it Dougal? It had to be him. How could she resist such a man? His handsome face touched her heart, and his music lured her soul. As she followed the sound of the pipes, her skin pebbled with goosebumps. Was she following her destiny?
Leah, I've waited so long for you.
His voice whispered in her mind. He was still thinking about her, still wanting her. She passed the gazebo and headed for the woods. A white shirt came into view.
It was him. She didn't want to disturb his playing, so she remained halfway hidden behind a tree. He was seated on a bench, his head bowed and forehead furrowed as he concentrated on his hands. His left hand moved easily and gracefully, but the fingers on his prosthetic hand were jerky and slow.
Leah's heart ached for him. How it must hurt him to struggle with his music. He ended the plaintive melody and sighed.
"Enough of sadness," he whispered. "I need joy in my life." I need Leah.
Her breath caught. Should she tell him she was here? Did she dare? In a split second, she knew that if she approached him now, her life would be forever changed. She would fall for a vampire, and he would never let her go.
Her feet froze, unable to move.
He launched into a happy jig, but after a few bars, his prosthetic hand couldn't keep up. She grimaced as the music soured and declined into a jarring noise.
"Dammit!" He tossed the pipes onto the ground, and they let out a dying wail as leftover air fizzled from the bag. "Damn it to hell." He strode toward the building, his kilt swishing about his knees.
She stood still, watching him go, then her gaze shifted back to the pipes where they rested on a bed of dead leaves. A breeze stirred up more leaves, and they settled on the bag. In another hour, they might be completely covered with dead leaves. Buried.
A surge of anger shot through her. How dare he give up! He played from his soul. Without music, how would his soul survive?
She wouldn't let him quit. She strode toward the pipes and gathered them up in her arms. Her grip caused the remaining air in the bag to escape, and the pipes protested with a forlorn wail.
"What are ye doing?" he asked softly.
She whirled around. "I-I didn't think these should be left outside."
His brow furrowed with a deep scowl. "How long have ye been out here?"
"Long enough." She lifted her chin. "You came back awfully fast."
"I can move verra quickly." His mouth thinned. "At least my feet can."
"I know you were having trouble with the jig, but you shouldn't let that stop you from playing. The slow music was absolutely—"
"Sad," he interrupted her, his eyes flashing.
"I was going to say beautiful."
"Nay. It was melancholy. And pathetic. Should I spend the rest of my miserably long life with only sad music to fill my soul?"
"Better to have a sad soul than an empty one." She held the pipes out to him. "And you have to believe that it will get better. You can't give up on yourself."
Related Posts