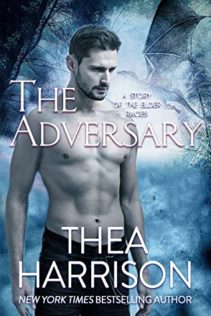 The Adversary (Chronicles of Rhyacia #2)
by
Thea Harrison

Series:
Chronicles of Rhyacia #2
Published by
Teddy Harrison LLC
,
Thea Harrison
on July 26, 2021
Genres:
Paranormal/Urban Fantasy
Pages:
176
Format:
eBook


I received this book for free from in exchange for an honest review. This does not affect my opinion of the book or the content of my review.
This post contains affiliate links you can use to purchase the book. If you buy the book using that link, I will receive a small commission from the sale.
From NYT bestselling author Thea Harrison comes the explosive conclusion to The Unseen!
When Dragos and Pia move to the Other land of Rhyacia, they hope starting a new life will bring safety and freedom to their family, especially their young baby, Niall. And at first their new home seems perfect… but looks are deceiving.
Beneath Rhyacia's idyllic façade an ancient, malevolent force lurks, waiting for the right opportunity to break free of its cage. When that opportunity comes, it strikes with devastating accuracy.
While Dragos has never backed down from a fight, he's also never encountered an enemy like this one before. How can he fight a foe who doesn't have a body? A foe who can invade and turn his own mind against him?
How can Dragos protect his family, when at any moment one of them may become the enemy?
As Dragos and Pia race against time to fight this unseen menace, they must also acknowledge a terrifying truth—when anyone can become the enemy, no one can be trusted.
An adversary who can trap the dragon poses a threat to everyone in Rhyacia, and that means no one is safe…
***This book does NOT end on a cliffhanger***
---
We return to the otherland and ask a few favorite friends for help.
In The Unseen, we were left at a precipice where Dragos's body has been abducted by some unknown but obviously powerful entity. Pia has to make the decision to leave her husband in the hands of his sentinels to torture information out of him.
Here we are joined by several of my personal favorite characters from the prior stories who are all different magic wielders in an attempt to figure out what kind of magic is involved and what kind of being has taken over Dragos's body.
The Unseen is a reference to beings that are already in Rhyacia and have been causing chaos on the building site of Dragos's new town. These are beings who Pia can see while in her wyr form. She figures this out when she is approached by these beings while she is out running in her wyr form. As we all know, Pia's wyr form is one of Pia and Dragos's biggest secrets. They have even kept this from most of his sentinels since others of her kind were hunted to near extinction. Dragos would rather kill anyone with the knowledge then risk them sharing it and here are unknown beings, potential friends or foes, who are now very aware of Pia's biggest secret. She is torn between running from them or trying to find out if they know anything that can help her and Dragos, but she would rather trust her friends first and worry about how Dragos will react to this predicament once he is in full control of himself again.
But removing this powerful being from Dragos might be only the beginning of their problems. If they don't know how to destroy or at least recapture this being, he has numerous wyr and magically gifted individuals who he can jump into and possess. Any one of their friends could become a dangerous enemy, and would they realize it before it is too late. Their only hope is that they can find answers in the tomb where he escaped or Pia is going to have to find the unseen and shake some information out of them herself.
Originally this was going to be four short stories but life happened and the current chaos of this world interfered with the creative world of the Elder Races. Author Thea Harrison at least wanted to finish the story for fans of the series. This made me happy and sad. Happy, because I can guess at what points she would have left off in an attempt to break it up into separate stories and create suspense. This would have been torturous for the readers. And I was sad, because while we have discussed the otherlands in this series, we have very few stories which actually occur in those otherlands and I had been looking forward to seeing more of Rhyacia, the place that was would take Pia and Dragos away from New York to create their new society. I know Dragos was tired of playing politics with both the humans and the other demense, but would the great dragon be satisfied with just this small territory of otherland? Would Pia, a woman who is only thirty and grew up in this world, be satisfied living without the "luxuries" she was used to since electronics and mechanical things don't work in the otherlands? Since time passes differently, how would that effect relations with friends that stayed behind or are in other pockets of otherlands, and most importantly how would that effect their relationship with Liam, especially once he takes over Dragos role as leader of the wyr? Dragos can't decide to leave Rhyacia and take back Manhattan if he has left his son to take over the leadership without fighting and defeating his own son.
There are so many more stories that could still be told in this series, whether they are about Dragos and Pia or Liam and the sentinels. I miss them already and hope we can go back again some day.
Related Posts