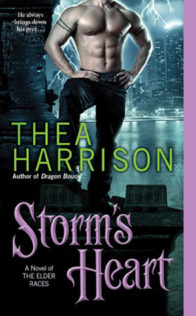 Storm's Heart (Elder Races, #2)
by
Thea Harrison

Series:
Elder Races #2
Published by
Berkley Sensation
on August 2nd 2011
Genres:
Paranormal/Urban Fantasy
Pages:
305
Format:
eBook



I received this book for free from in exchange for an honest review. This does not affect my opinion of the book or the content of my review.
This post contains affiliate links you can use to purchase the book. If you buy the book using that link, I will receive a small commission from the sale.
---
He's a Wyr warrior, a god of storms. She's the heir to the Dark Fae throne. But desire will bring both to their knees in this 2nd Novel of the Elder Races.

During the rule of her murderous Dark Fae uncle, Thistle "Tricks" Periwinkle found sanctuary among the Wyr in New York.  Her ethereal beauty and sparkling personality won the hearts of the public, but after her uncle's death, there are those who don't want to see her ascend to the throne.

Able to wield thunder and lightning, Wyr sentinel Tiago Black Eagle has ruled the skies for centuries. His massive build and thunderous power make him one of the Wyr's best weapons. And he's sent to protect Tricks when she's almost assassinated in Chicago.

Soon, both Tiago and Tricks will fall prey to the stormy hunger that engulfs them—a passion that will shake the very foundation of all the worlds.
---
When Drago Cuelebre, leader of the Wyr kind, killed Urien Lorelle, the king of the Dark Fae, who was holding Drago's mate, Pia, hostage, he started a chain of events that would bring his public relations guru, Tricks Periwinkle, into the limelight. Trick's real name is Niniane Lorelle. She is the sole surviving royal heir, and she had been in hiding with the Wyr since her Uncle Urien slaughtered her family 200 years ago.
Now that Urien is dead, Niniane is meeting with the Dark Fae delegation in Chicago to discuss taking over as the rightful Queen of the Dark Fae and returning to the Other land to the Dark Fae castle. Urien had forbidden the Dark Fae from traveling to our world and was stealing the beautiful works of the Dark Fae artisans and selling them here and keeping the profits for himself. Many are hoping that the return of the true heir might again shine a prosperous light on the Dark Fae. But there are a few who had already hoped to claim the crown for themselves if ever Urien was killed, and they are not happy to find Niniane still alive and standing on their doorstep.
When assignation attempts are made against Niniane, forcing her into hiding, Diago's most fierce sentinel, Tiago Black Eagle, insists on going to Chicago to find her and protect her on her travel to the Dark Fae realm. Even those who support Niniane, do not like the idea of a Wyr sentinel acting as guard to their future Queen. It appears too much like a Wyr takeover of the Dark Fae kingdom. But Tiago is not going to let anyone have another try at murdering Niniane, so like it or not, he is going to accompany her and protect her.
While both Niniane and Tiago know that his protection of her is causing enough of an uproar, they soon find that their insane attraction to each other cannot be denied.
THOUGHTS:
Like Drago in Dragon Bound, Tiago is almost as old as the earth. He has lived centuries and in certain cultures he has been worshiped as a God. But unlike Drago, Tiago seems to be a little more flexible. Not that he's not an alpha male, but he isn't completely a "do as I say, now!" type of guy. I LOVE this big strong guy who understands that his tiny fae is a real girly-girl and he appreciates and loves that about her and he buys her fru-fru things that he knows she will like.
I am loving this series and can't wait to hear more. This is part of my catch up to a series by audiobook project. I have already downloaded the next audiobook, Serpent's Kiss, which features the sentinel Rune, a griffin, who is a little more modern day than our two prior heroes, and the Vampire Queen, who we meet in this story. I am looking forward to it.
---
Favorite Scene:
"Come on, Niniane. Open the door."
"Wait, I'm in hiding. Don't use that name either."
He put his hands on his hips. "Then what the hell do you want me to call you?"
"Nothing. Thank you for stopping by and go away. I'm okay. Everything's okay. It's all taken care of now. Just don't watch any TV for a while, okay? You can go back to New York, or wherever it is you lair when you're not killing things."
He scowled. No, thank you and don't watch any TV? What the hell did she mean by that? He muttered, "I do not live in a lair."
He settled his shoulder against the heavy metal door that was constructed to meet fire-safety codes and keep thieves out. After pushing with a steady increase of pressure, the lock and chain broke.
The motel room was a pigsty. Shopping bags were piled on the bed nearest the door, with clothes and other items spilling out. Clothes tags littered the floor. Niniane lay on her back on the other bed, which was rumpled. She had kicked off the pillows, and they were on the floor too. She was dressed in some kind of porno version of camouflage, in very short shorts and a tiny stretchy T-shirt that left her narrow waist bare. Her head was hanging off the end of the bed. She held a bottle of vodka in one small hand. It was significantly low in liquid. She clutched a remote control in the other hand. A cigarette smoldering in a half-full ashtray and an open bag of Cheetos lay on the bed beside her.
Her compact, curvaceous body was laid out like some kind of offering to a pagan god. As someone who had once been a pagan god, he knew what he was talking about, and he definitely appreciated the view. As her head hung over the end of the bed, it accentuated the thrust of round luscious breasts that curved over a contrasting narrow waist. A gold ring glinted in her navel, just begging to be licked. Her graceful hip bones and the arc of her pelvis were outlined by shorts that Congress ought to make illegal. Slender, shapely bare legs tipped with toes painted a saucy pink completed the package, and his appreciative cock swelled to salute every visible succulent inch of her.
He glowered, thrown off balance by his own intense, unwelcome reaction. Rein it in, stud. Under the reek of smoke he could smell feminine perfume and—was that the scent of blood?
"Oh, you shouldn'ta done that," Niniane said. Large upside-down Fae eyes tried to focus on him. "Breaking and entering. That's against the law." She sniggered.
Tiago took refuge from his strange feelings in the much more familiar emotion of aggression. "What are you doing?" he demanded. "What do you mean 'go back to New York'? Do I smell blood?"
"I can only answer one question at a time, you know," she said.
Related Posts