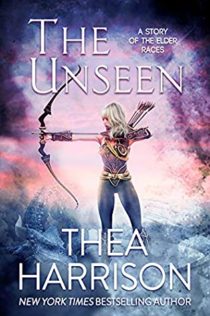 The Unseen (Elder Races, #9.9)
by
Thea Harrison

Series:
Elder Races #9.9
Published by
Teddy Harrison LLC
on July 3, 2020
Genres:
Paranormal/Urban Fantasy
Pages:
150
Format:
eBook



I received this book for free from in exchange for an honest review. This does not affect my opinion of the book or the content of my review.
This post contains affiliate links you can use to purchase the book. If you buy the book using that link, I will receive a small commission from the sale.
Saying goodbye to their old life in the Wyr demesne in New York may be hard, but Dragos and Pia are determined to create a new life in the Other land of Rhyacia.
At first, everything seems idyllic. Rhyacia is paradisiacal. Accompanied by old friends and new allies, the future looks safe and bright for Dragos, Pia, and baby Niall.
But strange things are happening beneath the picturesque façade. Items move unaccompanied, buildings collapse without justifiable cause, and even the most Powerful residents of Rhyacia can provide no logical explanation for the events transpiring. Whispered rumors point to something called the unseen.
As Dragos and Pia investigate, they uncover a greater mystery than they could have imagined, and they realize the startling truth…
They're not alone in Rhyacia. The land Dragos had thought was uninhabited hides many secrets, a shocking history that's not quite ready to be buried, and something more.
Something ancient, evil, and hungry. Something that wants to consume Dragos and take everything he holds dear.
Something that just may be powerful enough to overcome the dragon…
---
Thea Harrison gives her fans more of what they want: Dragos and Pia.
The Unseen is the first novella of four of the Chronicles of Rhyacia. In this new story arc we will be taking some old friends with us and leaving others behind. Here Pia and Dragos are packing up and preparing to leave New York and Earth for that matter and moving to the Otherland of Rhyacia.
I have to give it to Pia. I took a cruise for a week once and packed as if I wouldn't see civilization again. She literally isn't going to see civilization as we know it again. How do you pack everything you think you might possibly need…ever, especially when mechanical things don't work in Otherlands? Poor Pia was standing there with her Target cosmetics when Dragos reminds her that they agreed to "no plastics" in their new land.  She standing there like "but…but…but…"
As much as she agreed that moving to the Otherland for her safety as well as baby Niall, there is a big part of her that doesn't want to leave the familiar, and while she is not forbidden to return, there is too much time slip between the otherland and Earth and in conjunction with the travel time, it isn't like you can just quickly run to Walmart if you realize you need something. Dragos has lived millennia and while he enjoys his tech toys, he has lived move of his life without the things we take for granted.  Pia is struggling with letting go.
Pia's sudden doubts cause a small rift between them, especially as she comes to realize after years with Dragos, there is still many things she really doesn't know about her mate but while she hesitates to leave the familiar, she, Dragos and Niall travel make it to Rhyacia.
But once there, Pia and Dragos get reports of weird happenings and collapsed buildings stalling the building of their new city. Pia isn't too concerned when her friend whispers of The Unseen. At least until she feels something brush up against her aura and begins to wonder if this otherland has it's own dimensional shift living just off from their otherland.   Pia isn't ready to pack up and go home just yet, but was giving up everything they had in New York and moving to Rhyacia a losing venture?
Thea has warned us over and over again that each of the first three stories will leave off on a cliffhanger and she certainly didn't lie as OMG! I can't believe I have to wait to see what happens.
I felt a little off with Dragos in this novella. I remember being surprised when I read Dragon Bound that I liked it so much even though Dragos was soooo domineering. Most times I try to remind myself that he was born when the Earth was created and has lived most of that time by himself, being powerful and telling everyone else what to do. Dragos, for the most part, suppresses those urges to make Pia do what he wants and tries to be a good mate and father. It is impressive but this in story I don't know if it was just Pia's sudden apprehension effecting how I feel or the few glimpses into Dragos where he struggles with understanding Pia and his own feelings that disturb me. We also have other characters showing up with their own personal issues which just adds more stress to our already stressful story.
I am not going to say that Dragos and Pia are having a marital crises in this story but we have seen some stresses in the couple starting with Planet Dragos, especially after Dragos's injury and memory loss in  Pia Saves the Day, but I think the strain of leaving Earth and moving to Rhyacia has put a strain between them, and that is all before things start going bad…very, very bad.
As a bit of comic relief to ease the tension, Dragos ends up with a dog that Pia isn't allowing him to dump onto someone else and everyone is quite entertained to see Dragos taking care of his rejected snack.
Kudos for Thea to leaving me gasping and desperate for the next book.
---
Favorite Scene:
Taking him by the hand, she led him into their bedroom. He threaded his fingers through hers. "Just think, a couple of hours ago I was a happily married man."
"Ouch!" she said laughingly.
"I wasn't done." He squeezed her hand. "I had just retired. Life was so simple."
She pulled away, dropped the baby monitor on the bed, and gathered up the throw they kept at the foot of their bed. Folding it, she told him. "Life is still simple. You are still happy, and your wife is both hot and wise."
"She is. I will grant you that," he said, eyes gleaming.
"Now there's just a dog on your floor, so quite being a big baby and let's go to bed." She set the folded throw on the floor and stood back to admire her handiwork. It was probably a good thing that the throw would smell like them.
Dragos snapped his fingers at Skeeter. "Go to bed." Skeeter curled upon the throw and looked at Dragos soulfully. Dragos sighed and clenched his jaw. Then he said, "Good dog."
The dog sighed too and closed his eyes.
Pia said with heartfelt sincerity to Dragos, "I have never loved you as much as I love you right now."
"Woman, you are a complete mystery to me," he told her, even as he pulled her into his arms.
"I know," she said gently, laying one hand against his cheek.
He glanced at the clock and then out the French windows where predawn had begun to light the horizon. "Maybe we have time for one round before Niall's next feeding. What do you think?"
"That sounds great to me." As he lowered his head, Niall started to cry. Skeeter leaped upright and started barking.
"What the actual fuck," Dragos said. She had never seen him look so offended. Pia bent at the waist and laughed so hard tears sprang to her eyes. She choked out, "It's not his fault. He didn't know there was a baby."
"Stop," Dragos ordered. Skeeter cut off in mid-bark but looked extremely alert. Dragos looked at Pia. "I'm not getting sex tonight, am I?"
She laughed harder. "At this rate, I'm not sure we're getting any sleep either."
When she turned to go to the nursery, Dragos caught her by the wrist. "Make yourself comfortable. I'll get him."
"Thank you." As she stripped down, she watched him stride out of the room. The dog sprang to follow.
A few moments later, she heard Dragos murmuring over the baby monitor, "Quit making such a fuss, Stinkpot. You'll get your titty juice in just a moment."
Titty juice? Clapping both hands over her mouth, she fought to remain quiet so she could hear what happened next.
Rustling noises. He was changing the baby's diaper.
Excited barking.
Thumps, curses, more barking. The scrabble of hooves and paws. The brittle sound of something breaking. Oops, that must have been the lamp beside Niall's changing table.
Then, "Oh for fuck's sake, Niall–it's just a dog. Cut it out. No, you can't stab it! Change back, goddammit!"
She lost her struggle for self-control in an explosive guffaw.
Related Posts