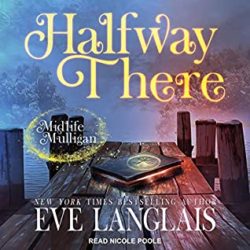 Halfway There (Midlife Mulligan #1)
by
Eve Langlais
,
Nicole Poole

Series:
Midlife Mulligan #1
Published by
Tantor Audio
on June 23, 2020
Genres:
Paranormal/Urban Fantasy
Format:
Audiobook
Narrator:
Nicole Poole
Length:
7 hrs 22 min



I received this book for free from in exchange for an honest review. This does not affect my opinion of the book or the content of my review.
This post contains affiliate links you can use to purchase the book. If you buy the book using that link, I will receive a small commission from the sale.
I never expected I'd be one of those people who had a midlife crisis. Sure, I'm over forty, and married, but my kids are grown and moved out. Life is steady, if predictably boring.

That all changes when my husband asks for a divorce and my whole world crashes. Everything I thought I knew, everything I am, gone in an instant.
But I am not about to give up. After all, at my age, technically, I'm only halfway there.

I am ready to tackle my do-over; my chance to become the me I've always dreamed of. Starting with moving into my late grandma's cottage and adopting a new kitten.

However, my new life is a little odder than expected. Old books suddenly appearing in my house. Neighbors going missing. A supposed lake monster, and a strange man who likes to skulk around with an axe.

I'm going to need to lean on my friends, new and old, to help me navigate my midlife crisis. Together maybe we will find a way to beat the family curse ruining my second chance at life.
---
Disappointing.
Naomi is a 40-something year old housewife, with a part-time, minimum wage job. Her husband of twenty years surprises her one morning with the news that he wants a divorce.  Of course he waits until after she makes him breakfast to announce that he has a younger, hotter girlfriend and apparently he has had enough of her cooking and cleaning and basically taking care of him and it's time for him to move on. Of course, he wants to leave her with absolutely nothing and tries to toss her out of the house.  While she is shocked, she really shouldn't be since their marriage has been lukewarm and barely on life-support for many, many years now.  She all but raised the kids as if she was a single mother as he was as bad a father as a husband.
Naomi is middle-aged, has a sagging, overweight figure which still carries the baby weight even though her kids are grown and moved out. Her husband's rejection leaves her depressed and before she can do anything silly, she finds a little kitten on her front door (something her husband would never allow) and manages to pull herself out of her funk and find a good divorce lawyer.
But possession of the house doesn't do her any good, when it catches fire in the middle of the night, adding homelessness to her list of depressing attributes.
It was then she remembers that she inherited a lake-front cabin from her grandmother up in Canada where Naomi is originally from. She remembers her grandmother fondly and all the stories she used to tell about enchanted woods and the magic and fairies and all kinds of fantasy stuff.  Naomi packs up her car and heads to the cabin shocked that it is standing in such good repair when she has forgotten all about it for a decade or so. She will have to thank whoever took care of the upkeep. While it has been kept livable, Naomi has a problem with things suddenly changing around the place. Items appearing that she could have sworn she checked for already.
And the house isn't the only odd thing, the whole town believes that her grandmother was a witch and that her family put a curse on the town which said they had to be given anything they wanted or someone would suffer consequences. So the gentleman at the gas station won't let her pay for her gas and then throws snacks at her car to make sure she is happy, and no one in town will give her a job and risk 'the curse.'
Naomi finds friends both old and new and sparks the interest of several men, and even one grumpy neighbor.   If only she can make sense of it all, her divorce might just be the best thing that happened to her.
I was disappointed in this story for many reasons. First, although *cough*cough* middle-aged, I can sympathize with Naomi's feeling less than perfect with her overweight figure and even when she begins to take care of herself, things just don't get perkier, if you know what I mean, in fact, everything gets saggier without the fat smoothing it out.  But that is just part of her sad sack issues. Her husband did a really good job of destroying her self-worth and she has moments in the beginning of the story where she was suicidal. I can understand that a character needs to start at rock bottom so that they can grow, but even at the end of the story after she has had a makeover and new clothes and several men are looking at her with interest, she is still "oh, they can't actually be interested in old, unattractive me."
As depressing as Naomi is throughout this story, the problem I had with Halfway There is that it follows the usual paranormal trend of a heroine who is completely ignorant of who she is and anything about the paranormal world but in this case, she doesn't know any more at the end of the story than she did at the beginning.  This story went no where.
Naomi mentions that her father and then her husband didn't really allow her to spend much time with her grandmother and her crazy stories of magic, but if Naomi was the last of her family line, grandma should have used their time together for crash courses in witchcraft instead of Naomi fondly remembering the odd drinks and teas her grandmother made for her that her father didn't want her to drink. When she returns, her old friend who is a "Guardian" (of what, I have no idea?????) Keeps telling Naomi that her grandmother was a witch but she really isn't doing enough to change Naomi's opinion of her grandmother, and now her friend, being a little soft in the head.   The author mentions that the lights in the forest aren't fireflies but fairies but again, shouldn't have grandmother have introduced her to all the odd creatures who live there. The cranky neighbor is odd and while everyone says "he's interested in you", yeah, I don't see it. And is he a man? A werewolf? A fae? Again, there really isn't any magical anything except the talk of fairies and a possible lake monster.
Naomi doesn't realize she is in a magical house which keeps changing and hiding things from her "until she is ready." First there's a closet, and suddenly it's a wardrobe.  First there's a wall, then there's a reading nook.  And she really isn't freaking out or taking note of the changing house???   And her friends who all seem to know about Naomi and her grandmother and her house and the odd town and the mystery of the lake monster, but they aren't telling her anything. ANYTHING!!! This of course allows the bad guy to easily lie and confuse Naomi as to the actual facts, but then again, who is the bad guy?  Is there a bad guy? 
We have three suitors for Naomi's attention, but we aren't exactly 100 percent sure who is good, who is bad, who is really a love interest, if any, and no one is giving her the 911 on whether these men are good, bad, werewolves, dangerous.  What kind of friends are these? 
Seriously,  after 7 plus hours of audiobook, we are still as clueless as Naomi. We know nothing about this town and barely anything about why someone is buying all the property and businesses, or what lives in this town or who can be trusted. We certainly have no idea of Naomi has any magic or if she will cultivate any.   As a reader, I do not feel intrigued to continue.
So far in the story arc, Halfway There was a flatline. I already requested a review audiobook of book 2 so I will give it a try once it is released. It is possible that the continuing stories in the series will make up for this bad start but we will have to see.
Related Posts