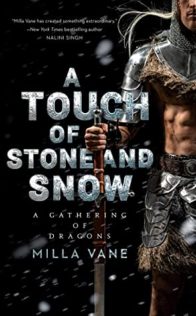 A Touch of Stone and Snow (A Gathering of Dragons, #2)
by
Milla Vane

Series:
A Gathering of Dragons #2
Published by
Berkley Books
on July 7, 2020
Genres:
Fantasy
Pages:
416
Format:
eBook



I received this book for free from in exchange for an honest review. This does not affect my opinion of the book or the content of my review.
This post contains affiliate links you can use to purchase the book. If you buy the book using that link, I will receive a small commission from the sale.
Milla Vane returns to a world of kings, magic, and passion in her exhilarating A Gathering of Dragons series, as a great alliance forms to stand against an evil warlord intent on their destruction.

Danger lurks in the western realms. The Destroyer's imminent return has sent the realms into turmoil as desperate citizens seek refuge—but there's no safety to be found when demons and wraiths crawl out from the shadows. Even Koth, a northern island kingdom left untouched by the Destroyer a generation past, is besieged by terrors spawned from corrupt magics.

When Lizzan leads the Kothan army against these terrors, only to see her soldiers massacred and to emerge as the only survivor, she is called a coward and a deserter. Shunned from her home, Lizzan now wanders in solitude as a mercenary for hire, until she encounters a group of warriors seeking new alliances with the northern kingdoms—a group that includes Aerax, the bastard prince of Koth, and the man who sent her into exile.

Though they were childhood friends, Aerax cannot allow himself to be close to the only woman who might thwart his treacherous plan to save their island realm. But when a goddess's demand binds them together, Lizzan and Aerax must find a way to overcome their painful pasts. Or there will be no future for the western realms..
---
A Gathering of Dragons is an epic adventure which gets more addictive with each story.
A Touch of Stone and Snow features Lizzan who  wanted nothing more than to be a soldier. Even when she was a girl and her family wanted her to be a healer, Lizzan knew she wanted nothing more than to protect people, and with the help of a feral prince, she trained and trained until she was accepted into the royal army.  That's what makes the fact that Lizzan was shunned as a coward by her kingdom and her name striken from the Book all the harder.  Lizzan would never abandon her people or her fellow soldiers.   She has no idea why she was the only survivor and no one believes that there were wraiths on an island protected by the blessing of a god.     If it is not bad enough to be shunned by her own people, the battle left her with scars upon her face which resemble the curse that the moon goddess Vela gives to her Chosen who request a quest and fail.  Now every village she travels to shoos her away fearing Vela's wrath.
Tired of fighting everyone's contempt simply for existing, Lizzan decides that she will go to the Vela's temple and request an actual quest.  Problem is that Lizzan was quite drunk when she went into the temple and while she knows that the goddess herself spoke with her, she can't remember if she was given an actual quest or was it just a task but Lizzan does know that when her quest…task?…quest? is fulfilled, her reward will be to die in glorious battle, like in all the great tales, and her family name will be cleared.   She only needs to protect the first person she sees after leaving the temple.  Unfortunately, that person turns out to be the man who ripped out her heart. Then it must be a quest since all quests subject the questor to suffer pain beyond enduring.
Aerax is the bastard prince of Koth.  As a bastard, for years he wasn't even given a name, let along one written in the Book.   He spent most of his life shunned,  The only person who ever said his name was Lizzan.  She treated him not only as a person but as a friend and eventually as something more.  It was just after they were promised to each other, that a plague ripped through Koth, killing most of the royal family and suddenly Aerax's royal blood, bastard or not, was needed and he was taken away to the castle.  Now he has joined with the Parsantheans to help join the western realms in an alliance against the Destroyer.   He allowed Lizzan to get away from him but now that they have stumbled across each other's paths, he is determined never to let her go.  There is just something he must do first.  Something that might just make him a monster in Lizzan's eyes.  He can only hope that once it is done, she will understand that he had to be the one.
Aerax and Lizzan have always been drawn to each other and while she tries to keep him at arms length, they were never very good at staying apart.  And now that they are together again Lizzan is really kind of hoping that her quest really was more of a task because suddenly dying in a great battle and leaving Aerax to suffer alone feels like even more of a punishment than enduring shame.
This was such a great story.  Aerax and Lizzan have such a strong connection.  They loved each other for years, flaws and all and even when they are mad at each other, they can't stay away from each other or even stay mad.  There is just too much history between them.
Lizzan had been drinking a lot to forget all her pain and the goddess demands that she stop if Lizzan is going to take on her quest (task?) and the goddess decides she will purify all the water Lizzan drinks.  Lizzan agrees that she needs to stop  drinking but keeps forgetting and Vela spends the rest of the story turning Lizzan's ale into water.
I also loved Caeb who was a long-toothed snow cat, like a saber-toothed tiger, who Aerax and Lizzan came across as an orphaned cub and the hand-raised him.  He is a very intelligent creature and he is very protective of both of them.   After spending most of his life ignored and shunned by everyone, there are few people that Aerax even cares about except Lizzan and Caeb.  He doesn't get upset by snide comments because no one else matters to him so their opinions don't bother him.  It is funny how both Aerax and Lizzan try to get the other to hang out with the Parsantheans because they both want the other to open up and make more friends.
I did a quick re-read on A Heart of Blood and Ash and while it isn't necessary, we do pick up with some of the Parsantheans who were part of that first story.   There is also references of Blackmoor, who was the feature of the novella in the Night Shift anthology, The Beast of Blackmoor.  Again it isn't necessary to re-read it but I did remember that I enjoyed it and got more out of it this time since I understood the world building better and caught a couple of references in this story that I have forgotten about.
I thought this was going to be a trilogy, and reference to the next story is up on Goodreads, but I am hoping there are even more stories to come because several happenings piqued my interest and I can't imagine we are going to get to all those in the next story and face the coming Destroyer.   I am hoping there is a lot more to come because I am definitely invested in this group and seeing what becomes of them all.
---
Favorite Scene:
Heart pounding, Lizzan turned to face Aerax and Caeb as the cat veered off, dropping his sloth a few paces away before continuing on. Aerax came straight toward Lizzan, his gaze locked with hers, yet she was aware of Caeb closing in from behind.
So many times she'd seen them move as one being before. Most long-toothed snow cats were solitary, but some brothers remained together–and stalked their prey in this way. Separating, one captured their target's attention with a direct approach while the other circled around.
Different paths, but a singular goal. And the scrape of Aerax's teeth over his bottom lip, the hot path his gaze took from Lizzan's head to her toes, told her that both man and cat were hungry this morn.
Purring, Caeb prowled past her, rubbing against her back with enough of his weight behind it that Lizzan was forced to step forward-closer to Aerax, who stood before her now an arm's length away.
Less than an arm's length, as Caeb lithely turned and paced behind her again, shoving her forward another step.
Aerax's voice was lower and more intimate than any stranger's could have been as he touched his fingers to his bloodied chest. "Will you look after him while I am in the bath?"
Look after Caeb while he ate the sloth. Which was not for the cat's protection as much as it was to reassure anyone who came across him that they would not be next. It was the same reason Aerax bathed him so often. Though he was no less deadly when clean, people were more likely to believe him tamed when he wasn't covered in dirt and blood.
Caeb pushed her forward again, as if demanding an answer. Pulse racing, Lizzan nodded, and then her gaze fell to Aerax's broad chest and her heart stilled. Three shallow furrows gouged his flesh.
"That is not the sloth's blood?" Instead it looked like a wound from the sloth's claws.
A flush darkened his cheeks. "I am out of practice."
And Lizzan had already failed to properly protect him. Nor could she, if he disappeared into the jungle. "You are out of your senses to be hunting now at all! This is not the northern forest. You do not know this jungle or the beasts that live here. Even I rarely venture off the road."
His brows rose. "You decide what is best for me now?"
"No, I–" Her teeth snapped together. Her face burned. "I only mean that you should take care."
His expression softened. But as Caeb paced past her again, pushing her so near that only a breath of space separated them, Lizzan knew that softness did not mean Aerax was less dangerous to her.
Head tilting back to meet his gaze again, she reminded him, "We must be strangers on this journey."
"Then before we leave, I will introduce myself to you, Lizzan of Lightgale." His thumb lightly swept the sensitive skin beneath her uptilted chin. "I am a bastard price with a purpose that has put distance between me and everyone I love…including my cat. He only wants to hunt and to be with the woman who holds our hearts. For years, I denied him both. But last evening, he and I came to an agreement–that we will hunt together again."
Heart swollen, she said, "I am glad of it."
"And when my purpose is done, we will find you."
Pain punctured her swollen heart. "Aerax…"
"But we will be strangers now," he said gruffly. "If that is what you need."
She needed more time. Another season. Another year. Another life.
But she had chosen her path. Throat aching, she said thickly, "It is."
Caeb snarled and shoved her into Aerax's chest. Instinctively she braced herself, hands flattening over his ragged would. Aerax didn't flinch but Lizzan hissed out a breath, preparing to snap at the cat, then froze when Aerax caught her chin.
Suddenly there was only him, and his mouth hovering near hers, the roughness of his voice. "The eve before last was the full moon. Instead of letting you run, I should have hunted you down and taken you then."
Hot yearning tugged at her core. But a moon night with Aerax was something else that she'd waited too long for. "You should have."
Related Posts