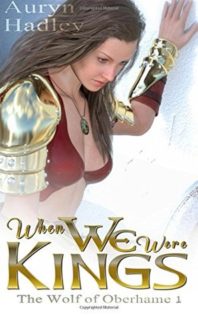 When We Were Kings: The Wolf of Oberhame: Book 1 (Volume 1)
by
Auryn Hadley

Series:
The Wolf of Oberhame #1
Published by
Tantor Audio
on November 20th 2018
Genres:
Fantasy
Format:
Audiobook
Narrator:
Justine Eyre
Length:
8 hrs 28 min


I received this book for free from in exchange for an honest review. This does not affect my opinion of the book or the content of my review.
This post contains affiliate links you can use to purchase the book. If you buy the book using that link, I will receive a small commission from the sale.
Tossed into the gladiator arena, everyone expected the delicate girl in the fancy pink dress to be the first to die. Leyli had other plans. Surviving was at the top of her list. Revenge was a close second.

Having grown up behind the sheltered walls of the Oberhame Palace, she knew what the crowd wanted. Norihame had built their culture from the scraps of their neighbors. Gladiators were just one part. Evidently, political coups were another, and she'd just become a pawn in the games of men. But why was she still alive? They'd killed her brother, the heir to the throne. Had they gotten to her father? Was the king dead?

In the cell beside her, the Lion of Lenlochlien was impressed. The first day, they all cried. Men, women, it didn't matter. But this one was different. Her tears didn't slow her down, they just made her stronger, and when he looked in her eyes, he saw it. Her desperation was feral. It meant she wouldn't hesitate to do what she had to. She might be cornered, but that bitch was the kind that would bite.

When he offered advice, she took it. When he told her how to be better, she tried. When she kept coming back after each round, he dared to hope that she'd survive. He had no idea that he was about to become her best weapon. Leyli didn't just want to live through the games, she wanted to protect her father's throne, but to do that, she had to become someone else. She couldn't be the Princess of Norihame. The Lion had to make her a Wolf.

Chained side by side, he'll show her how to be a killer. She'll give him a reason to keep fighting. Together, they'll learn that it takes a friend to survive.

**When We Were Kings is a complete novel without a cliffhanger ending.**
---
Gladiators, Princesses, Political Intrigue. When We Were Kings is all action and suspense. It was so hard to put down since every scene was a fight for their lives or preparing for one.
One moment Leyli was a princess sleeping in her bed, the next she is tossed into an arena to fight for her life. If not for dumb luck and the help of The Lion of Lenlochlien, Leyli would not have survived her first day. But the Lion saw the fighter–the survivor–in the young woman he named The Wolf of Oberhame.
What started out as a marketing gimmick by their owner to fight the large man and the tiny woman in tandem matches has become a phenomena. Everyone wants to watch the Lion and the Wolf work together to defeat the other gladiators, but the attention might just be Leyli's downfall. The night her cousin killed her brother, he dragged her away to die in the pits all to remove them both from the throne's succession. If he knew that Leyli lives, he need only set up a fight Leyli cannot win against a bigger and stronger opponent.
Tristan and Leyli live and train together. They have come to rely upon each other and their friendship has become one neither could live without. But some secrets Leyli cannot share, not even with the man who has become her whole world. Tristan has trained her to fight and hold her own, but if he knew that the woman beside him was the missing princess, he would get himself killed trying to keep her safe.
Tristan and Leyli have to draw that line in the sand between partners and something more.  Tristan allows the other fighters to believe they are lovers to keep them from trying anything.   A female is fair game–even a female gladiator–but no one would touch the Lion's woman.  Leyli even convinces her owner not to sell her body to the local nobles since a pregnant gladiator is a dead gladiator.   While they never become lovers, they are very intimate.  Tristan makes Leyli undress in front of him, not for any sexual reason–Tristan has spent two years being sold for the pleasure of rich women–he does it, so that she would not be shocked if someone were to tear her clothes during a battle.  A moment of distraction or modesty could get them both killed.  But their relationship eventually develops deeper and they even begin to sleep together (not sex) for just that illusion of having someone who cares about them.  Try as they might to ignore them, feeling grow between them, especially since their partnership has become all that either of them have.
Leyli knows that she might not survive until she can get word to her father, if he is even still alive, but Tristan needs only to survive for a handful of fights and by law, he must be freed. Leyli would give up everything, including her own life, to see Tristan survive the games and start a new life as a free man. But Tristan is beginning to want that new life with Leyli by his side. Will they both survive to gain their freedom and what happens when Tristan finds out that the woman he believes might be a merchant's daughter turns out to be the future Queen?
I really enjoyed the story but it is hard not to since it is all about Leyli and Tristan developing their relationship between bloody, gladiator battles.  While you think how can a woman keep winning fights against the bigger, brawny men, Tristan teaches her how to use her size to her advantage and when fighting tandem, she is the shield and he is the blade.
This is the first of three and I am waiting for the release of the other two stories in audiobook format.   Mostly because I have so many eBooks to read already, I like to split what I can into the audiobook pile.   I started listening to the audiobook series since a copy was offered to me by Tantor, but narrator Justine Eyre, who also does Nalini Singh's Guild Hunter series, is not one of my favorite narrators. I would have enjoyed it that much more if they had used someone different.
---
Favorite Scene:
The plan was to take out the next team from the back but the men were paying attention.  She crashed into the shield man while the one with the flail swung at Tristan's head. Training kicked in and Leyli stepped into the blow. The metal hitting hard enough to make her shield ring out like a bell. Beside her the shield man was turning.
Tristan stepped, giving her room to work but he wasn't fast enough. In slow motion, she watched her opponent's shield crash into her partner's head, right across the temple. The Lion's knees folded.
"Tristan," she screamed, still fighting for her life. "Get up." She moved back, placing her body over his but couldn't see if he was alive. It didn't matter, they were chained and he was her tether. They would live or die together. All she could do was pray and with every block and thrust of her shield, she did.
One more step back and she was within reach of his weapon. Lifting her shield as high as she could, Leyli crouched into a defensive position. Her fingers closed on the handle of Tristan's flail. Instead of picking it up, she swung sideways, the spiked ball connected and the man before her fell, his leg in splinters.
Another crash came at her shield, but she couldn't lower it to look. She just swung again. This time she wasn't so lucky. The heavy end missed and came back at her. The sharp spike ripped at her leg, but it wasn't deep, just a reminder that she was useless with this weapon. The only thing she had going for her was tenacity, and the Wolf of Oberhaim had plenty of that. Using his feet to locate her target, she lunged. She was faster then the shield man expected and he stumbled. Her flail followed but so did his. The ball clanked beside her head, catching the lip of her shield, but hers hit. The man yelped, so she slammed him again with the shield. That's when the last group decided to join the fray.
"Tristan," she cried out again. Running back to stand over his torso. "Get up. Please, get up."
The lone gladiator turned to the new threat knowing Leyli was chained. He miscalculated her reach because of it. Waiting for her chance, she dropped her shield and in a fluid motion, moved the weapon into her left hand, hitting as hard as she could. She aimed for his head but the ball landed just between his shoulders with a sickening crunch. The last team jumped on him while Leyli scrambled to recover.
It took only seconds to get her shield back. It took longer for her opponents to kill the man she left wounded. Leyli used the time to look down.
Tristan blinked, confused but he was conscious. "Get up," she snapped.
"Ley–" he sounded out of it.
"Don't you dare get me killed. Get your ass in the game, Lion." The words came out of her mouth just as the last team slammed into her. Low, hovering over Tristan's body, she absorbed it and countered. Her swings were wild. The spiked end hitting her own shield more than anything else, but she was dangerous. Her lack of skill made her more so but it meant none of them were safe. The fight was just a chaos of pounding weapons.
Then the Lion roared. Rolling behind her, he attacked with the flair his enemy had once used. The man on the left went down, the one on the right swung for the revived man. She shoved with her shield and lashed out with the weapon, feeling her muscles strain with the effort. She would not lose. She would not let these men kill the Lion, not when he was so close.
The ball hit, the man's skull crumpling under the force, but the weapon was stuck. Without a second thought, she surged toward the last man on the ground. Tristan was still on his knees. He was still weak. It was up to her to save him.
She hit the enemy like an entire pack of wolves, howling out her rage. Together they fell into the sand but she was on top. Her knee pinned his flail to the sand. Her hands grasped the handles of her shield and the man stared up in shock. His eyes were blue, as pale as a summer morning, and he didn't even have time to weep before she brought the metal edge down as hard as she could. Over and over she bashed at his face, using both arms to make the hits even harder. She wasn't going to stop until a pair of arms pulled her back.
"He's dead," Tristan said. It sounded like it wasn't the first time. She just dropped her shield and turned, wrapping her arms around him.
"You're not. I was so scared. I thought he'd killed you."
His hand found the back of her head, holding her to his neck.
"You saved me, pup. There were four, then there were two, and I don't know what happened in between but you were snarling like a wolf protecting her cubs."
"Don't you dare do that again. Don't leave me, Tristan. I can't do this alone."
He hugged her so hard her feet left the ground. Around them the crowd cheered loving the sight, but it was a promise. While the people yelled at the destruction, Tristan whispered in her ear, swearing he would protect her so long as she took care of him. She'd saved his life, but he'd already saved hers. They weren't even but they probably never would be, and it didn't matter, the debts only bound them closer.
Related Posts