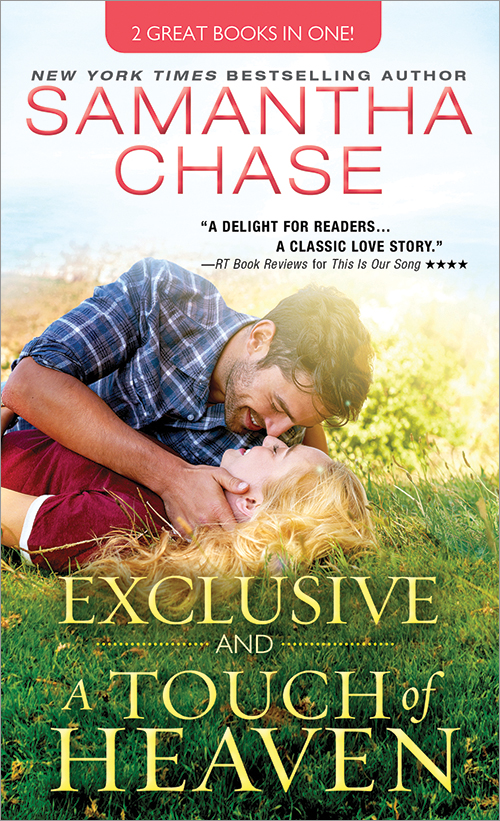 Exclusive/A Touch of Heaven
by
Samantha Chase
Published by
Sourcebooks Casablanca
on November 6th 2018
Genres:
Contemporary
Pages:
416
Format:
eBook



I received this book for free from in exchange for an honest review. This does not affect my opinion of the book or the content of my review.
This post contains affiliate links you can use to purchase the book. If you buy the book using that link, I will receive a small commission from the sale.
Exclusive
When little-known writer Taylor Scott is granted two weeks to interview a famous reclusive author, it's the opportunity of a lifetime. So is the chance to rekindle her friendship with Mike Greene, who happens to be the author's assistant. But as feelings deepen and time winds down, Taylor will have to choose between the story that could launch her career and an unexpected chance at love.

A Touch of Heaven
As Regan Amerson makes the emotional decision to sell their family home, her mother wins a home makeover from a reality TV show. Regan is furious, and jaded host Sawyer Bennett isn't thrilled either. That is, until he meets Regan--and finds himself enamored by the fiercely independent beauty. She may want nothing to do with him, but Sawyer isn't one to give up easily...
---
DNF
I took a review copy of this book because the second story, A Touch of Heaven, caught my attention. I liked the premises of a father and son home improvement show. Sawyer is getting a little tired of the network's cookie cutter approach to the show and is thinking about letting the whole thing go. His father picked a woman at a local hardware store to be their next remodel and while Sawyer is blah about the whole thing, the network is hot about the fact that the woman's daughter is against changing the house. They want the family drama and Sawyer has no interest in giving in to the reality show drama.
We are to believe that Sawyer is intrigued by Regan and agrees to do the show because he wants to get close to her.
But I really can't imagine why, Regan acts more like a petulant 15 year old than a grown woman. Regan's mother wants to sell the old house since it is too much for just her after her husband passed and it is too much from Regan who also lives alone. If they have to sell, Regin wants to let it go with all of her childhood memories in tact. She only agrees to paint the bathroom which could use a sprucing up. When her mother comes home from the paint store with a story of the home improvement show wanting to do a renovation, Regin loses her damn mind. She wants to hate Sawyers ideas but when I draws everything up and puts it into one of those computer programs that gives you a walk through, she admits it might look nice.
But when the demo begins in the outdated kitchen, Regan goes running out crying because that's where she used to do her homework every day after school. Really? There is nostalgia and there is insanity. Would Regin never allow her mother to renovate her own home because she would ruin Regin's memories?
Any intrigue I had was lost listening to Regan constantly whining about how Sawyer was ruining everything, in between her trying to get him alone. And that's not even getting into the fact that both of them got uncomfortable about the fact that their fifty-something parents were quietly hooking up while Sawyer had to deal with Regin and her pity party. Fifty-something, not eighty-something!
I saw the writing on the wall when Sawyer's comfort turns into a makeout session, which neither noticed was being caught on camera. So obviously the network was going to use that as a "that's how Sawyer convince the reluctant daughter to do things his way" drama which would throw the touchy Regin into another fit.
Regin was just too adolescent for me to enjoy this story.
Related Posts