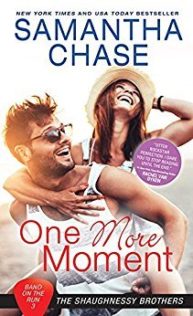 One More Moment
by
Samantha Chase

Series:
Band on the Run #3
Published by
Sourcebooks Casablanca
on September 4th 2018
Genres:
Rock & Roll
,
Small Town
Pages:
352
Format:
eBook



I received this book for free from in exchange for an honest review. This does not affect my opinion of the book or the content of my review.
This post contains affiliate links you can use to purchase the book. If you buy the book using that link, I will receive a small commission from the sale.
Julian Grayson is taking a break ...from his cheating fiancée ...from his band ...from his life in the spotlight

Charlotte Clark is devoted to her work ...to save the world ...to help the homeless ...to get a broken man back on his feet

When Charlotte Clark offers to pay for Julian Grayson's coffee, the world-famous drummer assumes she wants something from him. But Charlotte has no idea who he is, and Julian can't resist keeping up the charade—being incognito is a novelty and a relief. He'll have to tell her...eventually. But as Charlotte cheerfully undertakes to transform his life, Julian realizes there's something about her that gives him what he hasn't felt in years: hope.

Shaughnessy Brothers: Band on the Run Series:One More Kiss (Book 1)One More Promise (Book 2)One More Moment (Book 3)

Praise for One More Promise: "Another winner for this heartwarming series." —RT Book Reviews, 4 Stars "Chase just gets better and better." —Booklist"Sexy, touching...both fun and heart-wrenching." —Kirkus Reviews
---
This story had a great start but you could see right away that Julian was in a toxic place and the relationship could only be doomed but you know that it was something worthing fighting for and you just have to wait for him to figure it out.
Julian Grayson, the drummer for Shaughnessy, just ended his five year relationship in a big way, by showing video of his cheating girlfriend at their wedding. He then took off for a few months to be alone and get his head together. But even three months away didn't help much.
He is back in Malibu but obviously not looking his best when Charlotte Clark mistakes him for someone who is homeless and tries to convince him to come to the shelter and she will help him get back on his feet. At first Julian thinks its a ploy to get something from him, since someone is always trying to get something from him. He isn't sure why he bothers but he goes to check out Charlotte and her crisis center and stays to help.
Charlotte might not have recognized him but not everyone is oblivious so he has to confess to her the ruse sooner rather than later.
Things between them start off well between them. They have an instant spark and his bandmates really see how Charlotte is affecting his mood for the better. But Julian still hasn't dealt with his feelings or his anger. He is not really to play again, and doesn't believe he ever wants to return to the band. Julian's ex-girlfriend always wanted more and more things from Julian, but when he begins to buy larger and larger things for Charlotte, when all she wants is to spend time with him, to apologize for small disagreements, we see he is falling into the same old habits. Is Julian as much to blame for his girlfriend's growing greed and unhappiness?
There is no question as the relationship grows that Julian hasn't dealt with what happened in the past. He has too much anger and rage about wasting all those years with someone who cheated on him constantly, and it is ruining the growing relationship between Charlotte and Julian.
The meet/cute between Charlotte and Julian was adorable but with Julian's many issues that he was refusing to deal with, you knew things weren't going to go smoothly for them. Charlotte with her calm demeanor and problem solving skills (and psych degrees) did a lot to try to help him, but he simply wasn't ready to deal with things and kept getting angry whenever she tried, or his friends tried to discuss what was next for the band.
I enjoyed the story and finished it in a day. Sadly, you knew there would be a blow up and could only hope that Julian didn't do too much irrevocable damage to his life before he realized he needed help.
Related Posts