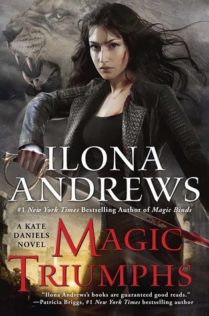 Magic Triumphs (Kate Daniels, #10)
by
Ilona Andrews

Series:
Kate Daniels #10
Published by
Ace
on August 28th 2018
Genres:
Paranormal/Urban Fantasy
Pages:
352
Format:
eBook



I received this book for free from in exchange for an honest review. This does not affect my opinion of the book or the content of my review.
This post contains affiliate links you can use to purchase the book. If you buy the book using that link, I will receive a small commission from the sale.
Mercenary Kate Daniels must risk all to protect everything she holds dear in this epic, can't-miss entry in the thrilling #1 New York Times bestselling urban fantasy series.

Kate has come a long way from her origins as a loner taking care of paranormal problems in post-Shift Atlanta. She's made friends and enemies. She's found love and started a family with Curran Lennart, the former Beast Lord. But her magic is too strong for the power players of the world to let her be.

Kate and her father, Roland, currently have an uneasy truce, but when he starts testing her defenses again, she knows that sooner or later, a confrontation is inevitable. The Witch Oracle has begun seeing visions of blood, fire, and human bones. And when a mysterious box is delivered to Kate's doorstep, a threat of war from the ancient enemy who nearly destroyed her family, she knows their time is up.

Kate Daniels sees no other choice but to combine forces with the unlikeliest of allies. She knows betrayal is inevitable. She knows she may not survive the coming battle. But she has to try.

For her child.

For Atlanta.

For the world.
---
If you have to break the hearts of fans and release a final chapter, this is the way to do it. Magic Triumphs has mystery, tension, humor, action, enemies and friends working together for the greater good and some backstabbing as well, and let's not forget the most adorable toddler you have ever met.
Ilona Andrews created a fascinating world for us where magic washes over the land like waves at the beach. When technology is up, phone works, cars drive and scary things with claws and teeth go to sleep, but when the magic is up, technology is what goes to sleep and those scary things comes crawling out to get you.
When we first met Kate Daniels she was simply a merc, trying to keep her head down and stay on the move so that her father, Roland, never find out about her. But over the last few years, Kate has made friends and put down some roots. She has fallen in love with the Beast Lord of Atlanta who reigned supreme over the shifters to ruling over Atlanta to protect it from her father. Now the lonely merc has become a friend, wife and mother. The woman who was raised to keep her head down will have to fight to protect the life she has created but the biggest question will be…from who?
Kate and Curran have been gearing up these last few years for a winner-take-all war against Roland. They have forged strong alliances with the witches, the shifters, the People and the Mercs, and some not so stong alliances with the Knights of the Order…okay, the Order hates Kate, but enemy of my enemy and all that.
Yet while Kate is waiting for her father to make a move to steal her son, neighborhoods full of people are disappearing…and the bodies are being dumped en masse. Kate is angry that Roland would attack the people in her territory. Then she begins to remember one important fact… Roland wouldn't commit mass slaughter. Not at these levels. Roland wants humans around to worship him. What good is taking Kate's territory if there is no one left to cheer and worship?
Kate has been so focused on Roland that she didn't realize there is another threat on the field.
And this someone has Kate a present but is it from an admirer who wants to court her, or a declaration of war? She has no idea, but something about it is putting the shifters on edge.
Kate will need more help than her friends can provide but will approaching her father be the deal with the devil that will require a payment too dear?
I am so sad that Ilona and Andrew Gordon, better known as Ilona Andrews, decided to say goodbye to Kate Daniels and friends. I really enjoyed the stories, the creativity of the world building and all of the characters. But if you are going to bring the series like this to an end, they obviously decided it was time to Go Big or Go Home!
I am going to miss Kate and company but Magic Triumphs is in incredible story and if you do have to end a series, this is the way to take a final bow.
---
Favorite Scene:
"I need you to help me catch my kid."
"A one-year-old gave you the slip. How the mighty have fallen."
"He's hiding under the bed. I need you to help me get him out."
"Why did you let him crawl under the bed?"
"Shut up and come with me." I dragged her up the stairs.
"Okay, okay."
I unlocked the bedroom door and dropped by the bed. Andrea dropped flat next to me. "What am I looking at?"
Two shining gold eyes stared back at us. "Arraawrooo rawrrawr."
She opened her mouth. It stayed open.
Conlan backed into the wall again.
Andrea sat up and pointed under the bed, her blue eyes opened as wide as they could go.
"Yes," I told her.
"When?" she squeaked.
"Just now."
"What does he look like?"
"I don't know. You can see for yourself once we get him out from under the bed."
We both looked under the bed again.
"Okay," Andrea said. "Okay, he shifted, so he should be hungry. Do you have meat?"
"All the meat is frozen."
"What's wrong with you?" she demanded.
"Curran is off on one of his hunting trips. It's just me and Conlan. I've been eating salami sandwiches and ramen for the last three days."
"What would you do this to yourself?"
"Because it's easy?"
"What do you feed him?" She pointed under the bed.
"Chicken, oatmeal, apples, vegatables…"
Andrea stared at me. "Do I even know you? What do you have for a treat?"
"Cookies."
"Your son is a lion."
"I know that!"
"Cookies aren't gonna cut it. Do you know any lion hunters who bait their traps with cookies?"
"I don't know any lion hunters, period. And you know what, apple pie worked for me."
"I've got new for you, it wasn't your apple pie Curran was interested in."
She had me there.
"Do you have any salami left?"
"No."
Andrea growled. "Go get the cookies."
One minute later we sat on the bed, staring at a plate on the floor with two chocolate chip cookies and a small puddle of honey.
"I don't think you understand the whole predatory cat thing," Andrea informed me.
"He likes honey."
We sat in silence.
"This isn't working," I growled.
Her eyes sparkled. "You should try calling 'Here, kitty, kitty, kitty."
"I will kill you and nobody will find your body."
She chuckled.
Another minute. Sounds of muffled chewing came from under the bed.
"He's eating something. What could he be chewing under there?"
Andrew frowned. "Electric cords. Old tissues. Dead bugs."
Kate Lennart, mother of the year. What do you feed your son? Dead bugs he found under the bed, of course. I jumped off the bed. "We need to get him out now."
Andrea rolled her eyes. "Have I told you that you're a helicopter parent?"
"I'm going to be the Wrath of Hell parent in a minute." I crouched under the bed. "You lift, I grab."
"Okay." Andrea gripped the edge of the massive bed and jerked it up like it weighed nothing. A black lion cub the size of a small Chow Chow darted toward her. I lunged for him and missed. He snarled and locked his teeth on Andrea's shin.
"Ow!"
"Don't drop the bed on my kid!"
I grabbed Conlan by the scruff of his neck and yanked him back.
"Get him off my leg!" Andrea howled.
I slid the arm under Conlan's furry throat and squeezed, sinking steel into my voice. "Let go. Let go right now."
Andrea snarled and the noise that came from her throat was pure hyena. I squeezed harder, applying a choke hold. Conlan released the bite and gasped. I rolled out of the way, moving my son, so I landed on top of him and Andrea dropped the bed. The floor shuddered.
A red stain spread through her jeans.
"Your son bit me!"
"Sorry."
Conlan bucked under me. I held tight.
"He bit me!" She pointed at her leg.
"He can't help it. You smell like a hyena, and you're scary."
"I'm not scary. I'm nice! I've babysat him like twenty times. I gave him ice cream! Ungrateful brat!"
Related Posts