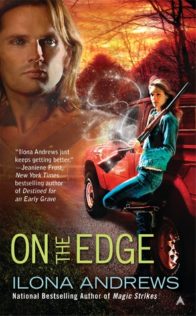 On the Edge (Edge Series #1)
by
Ilona Andrews
,
Renée Raudman

Series:
The Edge #1
Published by
Tantor Audio
on September 29th 2009
Genres:
Paranormal/Urban Fantasy
Format:
Audiobook
Narrator:
Renee Raudman
Length:
12 hrs 8 min



This post contains affiliate links you can use to purchase the book. If you buy the book using that link, I will receive a small commission from the sale.
Rose Drayton lives on the Edge, between the world of the Broken (where people drive cars, shop at Wal-Mart, and magic is a fairy tale) and the Weird (where blueblood aristocrats rule, changelings roam, and the strength of your magic can change your destiny). Only Edgers like Rose can easily travel from one world to the next, but they never truly belong in either.

Rose thought if she practiced her magic, she could build a better life for herself. But things didn't turn out how she planned, and now she works a minimum wage, off the books job in the Broken just to survive. Then Declan Camarine, a blueblood noble straight out of the deepest part of the Weird, comes into her life, determined to have her (and her power).

But when a terrible danger invades the Edge from the Weird, a flood of creatures hungry for magic, Declan and Rose must work together to destroy them—or they'll devour the Edge and everyone in it.
---



If you a fan of the Kate Daniels series, this series will help fill the void between releases. It has magic, shifters and more creative world building.
I enjoyed this story as much as all of the other Ilona Andrews series that I have read. The stories have enough character development, excitement and creativity to hold your interest from start to finish. This series only has a slight resemblance to Ilona Andrews' Kate Daniels series and the references to the Weird actually reminds me a little of Thea Harrison's Elder Races series and her otherlands. In the Weird, there is more a feudal system of life. There is no electricity, nothing mechanical or running on engines. They ride horses and use magic.
Rose is an Edger. The only magic Rose has is called flashing. She can make a whip of magic like lightning. The more powerful your flash, the lighter the color. Rose practiced and practiced and thought everyone would be excited when she proved she could flash bright white. She was surprised when her family took her, ran home and barricaded the family in the house behind the magical wards. Rose never realized her impressive power painted a target on her forehead. Once word got out about Rose, the bluebloods from the Weird flocked for a chance to use the Edger girl as a brood-mare for their family lines. A few resorted to trying to kidnap her and even slavers tried to grab her to sell to the highest bidder.
After flashing and killing a few of the more dangerous attackers, Rose was finally let alone to go about her life in the Edge. Rose has spirit and works hard at a lousy job in the Broken in order to take care of her two younger brothers. Twelve-year-old Georgie is a necromancer and ten-year-old Jack is a changeling. The family is living an average Edger life until Lord Declan Camarine comes calling.
Rose tries to shoo him off but ends up making a bargain instead. Dangerous creatures have started showing up in the woods around Rose's home and Declan will protect her brothers, if Rose will give him three tasks to complete. If he completes the tasks, Declan wins Rose and she will go with him to the Weird.
Rose has no love for the bluebloods and has no intention of losing, but she could use the help protecting her brothers.  She doesn't want to be Declan's possession and doesn't trust that he will take care of her brothers and not turn them into servants and slaves.  As this is a romance, the more time Rose and Declan spend and work together, the closer they grow. Declan drops the haughty blueblood facade and realizes that while Rose might not have the manners and breeding of a blueblood, her strength, her wit and her loyalty to her family more than makes up for that.
Except, just when Rose drops her guard around Declan and believes things might just work out for them, she finds out there is more to Declan's sudden appearance at her door than going home with an Edger bride. Her trust in him is shattered but they still need to work together to protect her family and the rest of the Edge from a dark menace that wants to absorb all the magic that surrounds the Edgers.
After the initial meeting of Declan, I couldn't imagine how he could be the hero of this story since he was a pompous jerk, but like, Rose we start to like him once he shows himself to be a brave and caring man. He knows that his omission of the truth has lost him Rose's trust, but by the end it is no longer about winning a bride but a matter of keeping Rose with him forever.
The magic and world building is different from the Kate Daniels series, and the Innkeeper Chronicles series, but if you like either or both of those, you will definitely enjoy this one as well. The only disappointment is that Rose, Declan, Georgie and Jack were such great characters, but the other three books in the series focuses on different main characters. It would have been interesting to read more of life in the Weird. Of course, the series is called The Edge, but you know what I mean.
Narrator Renee Raudman does a great job it is is a bit distracting that they use for for all the different series.  Rose is the same voice as Kate Daniels and Declan was a combination of Curran and Lord Arland (The Innkeeper Chronicles).
---
Favorite Scene:
He couldn't find lodging in the Edge. That was too funny. When did he learn to make pancakes? Maybe it was part of their blueblood tutoring. Eight o'clock swordplay. Nine o'clock archery. Ten o'clock pancake making.
Latoya said something from her table.
"Huh?"
"I said, what's his name?"
Rose frowned. "Who's name?"
"The guy you're mooning over."
"I'm not mooning."
Latoya glanced at Theresa. The older woman nodded. "Mooning. Definitely."
Rose rolled her eyes and turned to the window. She wasn't mooning. She was planning strategy. Declan had to have a weak point. Somewhere. Everybody had a weak point. He was arrogant. That was something. And he didn't know the Edge. She had to give him some sort of challenge that involved knowing the terrain. Something that appeared deceptively easy, so easy he didn't try very hard until it was too late.
A man slid into the opposite chair. He had wide shoulders and green eyes and he wore a Carolina Panthers ball cap on this head. Rose stared in complete astonishment. A pair of worn out jeans and a green sweatshirt toned him down a bit, but not nearly enough. She was aware of the shocked silence at the table next to her.
"What are you doing here?" she hissed.
"Perhaps I missed the sight of your lovely body," he said.
"What?"
Declan leaned closer. "My promise not to ravish you doesn't extend to this fine establishment, does it? As I recall, it is only valid under your roof. How can I pass on such an opportunity?"
"If you touch me, I'll hit you with this chair," she ground out.
"I had no idea you enjoyed rough courtship," he said with a straight face. "It was never my particular favorite but I'll do my best to play along, provided I'll get you in the end."
Rose opened her mouth but nothing came out.
"Would you like me to be quiet?" he asked.
"Yes."
"If you kiss me, I promise to be quiet for a very long time."
The thought of him bending down and kissing her zinged through her brain and she clenched her hands together under the table, grimly determined to hide it.
"You have no sense at all, do you?"
"You're quite easy to rile up." He leaned back. "Your brother is right. You don't date."
In her mind, she picked up the chair and hit him over the head with it.
Related Posts