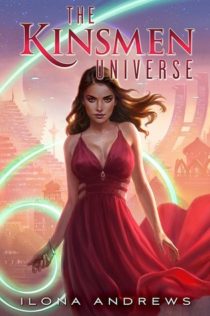 The Kinsmen Universe
by
Ilona Andrews
,
Luisa J. Preissler

Series:
Kinsmen #1
,
Kinsman #2
,
Kinsmen #3
Published by
NYLA
on December 31, 2018
Genres:
SciFi
Format:
eBook
Source:
Amazon



This post contains affiliate links you can use to purchase the book. If you buy the book using that link, I will receive a small commission from the sale.
** PREVIOUSLY PUBLISHED - This is an anthology edition of the Kinsmen Universe, which includes SILENT BLADE, SILVER SHARK, plus a new short story, and three original illustrations.**
Family is everything. Talent is power. And revenge is sweet.
In a distant, future world Kinsmen-small powerful groups of genetically and technologically advanced families-control vast financial empires. They are their own country, their own rulers, and their only limits are other Kinsmen. The struggle for power is a bloody, full-contact sport: in business, on the battlefield...and sometimes in the bedroom.
Silent Blade Old hatreds die hard. Old love dies harder.
On the planet Rada, Meli Galdes' family is of minor rank, and were relying on her marriage to Celino, the razor-smart, ruthless leader of the powerful Carvanna empire. When he abruptly breaks their engagement, he ruins her family and guarantees that Meli will never marry, as no suitor will oppose the rich and influential Carvannas.
But Meli has a rare, secret, lethal-and valuable-talent. As a melder of energy, she's capable of severing anything in her path. So she 'leaves' her family and trains to become one of the best and most lethal of assassins, all the while covertly guarding her family's interests. Now she's ready to quit; but she has one more assignment.
To kill the man who ruined her life.
Silver Shark Claire Shannon is a killer...and her weapon is her mind.
Born on a planet torn by war for over 300 years, Claire is a soldier: a psycher, with the ability to read, control, and destroy the minds of enemy psychers and to infiltrate the biological network where they battle to death.
When Claire's faction loses the war, she barely escapes extermination from both sides, as her talent brands her as too dangerous to society. By so-deeply burying her ability that she avoids detection, Claire is instead deported to Rada as a refugee, where she must find work to remain. She finds a job as personal assistant to Venturo Escana, a premiere kinsman; one of Rada's most wealthy entrepreneurs—and most powerful psychers.
She thought she had left war behind, but now she must hide her skills and her growing feelings from Venturo...and this battle might just cost her everything...
A Mere Formality The leader of the fierce Reigh people expires during an intergalactic summit, putting 30 million colonists' lives and livelihoods in jeopardy. When the new heir to the Reigh throne, Lord Nagrad, demands restitution, the phrase "'a life for a life" turns the intergalactic calamity into an arranged marriage contract between Lord Nagrad and sharply intelligent diplomatic analyst Deirdre Lebed... and the negotiation of terms becomes anything but formal!
---
A SciFi Treat for Ilona Andrews Fans.
Abilities come either by mechanical enhancement or by biological enhancements, the second which can be passed on to future generations. Kinsmen refers to the different Families with whom have the most magics and therefore the most wealth.
Silent Blade
Imelda "Meli" Galdes was told her life was going to change when at 10 she became engaged to the 16 year old Celino Carvanna. She just didn't know her life would change for the worse.
Knowing Carvanna didn't choose this engagement any more than she did, Meli spent years preparing to become an asset to Carvanna.  She read all the books that he read and watched all the movies that he watched and when he began to do business deals for the family, Meli studied business.   As she studied Carvanna, Meli also noted Celino's flaws such as his impatience and knew as his wife, she needed to counter balance those flaws. But while Meli prepared herself to be the perfect match for Celino, Celino was working hard to amass a fortune for his family and buy his way out of the engagement he didn't want. His freedom was more important than a young girl's heart.
But while Celino simply turned his back and walked away from the engagement, Meli was still burdened with it.   No man would cross the Carvanna family and woo Meli in case Celino changed his mind on the engagement. So Meli had no choice bit to be excised by her family so save them the shame, and her magic was perfect work for an assassin.
Now a decade later and her family wants her to take out rival Celino.   Will Meli kill the man who destroyed her life or find another way to make him pay for the young girl he dismissed so abruptly?
———
Silver Shark
The people of Melko and Brodwyn have been warring over the valuable resources of the planet Uley for centuries.   Capt. Claire Shannon was taken from her mother at the age of 16 when the Brodwyn became aware of how powerful a psycher she was.   When the Melko win the war, Claire has to protect herself from both her people and the Melko, either of which will destroy someone with such powerful mental abilities.    Placing a protective shell around her mind. She hides among the civilians being deported to Rada.   While Rada is the most beautiful and unusual planets she has ever seen (and she has seen only two), she is still aware the she has only a small window to find a job before she is deported back to Melko.   That would be a death sentence, but no more than if anyone were to find out who she truly is and how powerful she actually is.
Somehow the administration sends her to interview with Venturo Escana of Guardian Inc. Venturo is one of the most powerful psychers on the planet but thankfully he is too courteous to probe the mind of a dud or else he would note the shell hiding her mind.   Venturo hired Claire as his admin and things are going wonderful for Claire as she begins this new life, but she should have known it was too good to be true.   When the past shows up at her door needing the help of a combat psycher, Claire has no choice but to help.   Stepping back into that world puts her directly into the path of Venturo. If he realizes its her, she could lose her promising new future but if he doesn't recognize her, she could lose her life.
—————
A Mere Formality
Brokering peace is tricky business. Especially when the leader of The Reigh, who were acting as the mediator, is murdered at the celebration banquet. Now his successor, Lord Nagrad, is requesting compensation in the billions and a bride to produce an heir for his house and the bride he wants is analyst Deirdre Lebed.
Deirdre had compiled a novel's worth of information on The Reigh before this failed meeting which brought her to Lord Nagrad's attention.  Instead of begin angry and trying to figure out who leaked information on these reclusive people, Lord Nagrad realized Deirdre was simply highly intelligent as well as observant.
As negotiations heat up with Deirdre as a starring player, another party attempts to sway the Reigh to their side.   Now, just as things begin to get interesting between them, Deirdre will have to decide quickly if she is really willing to give herself in payment to a new ally or walk away from a new enemy?
There is no question that fans of Ilona Andrews will see shadows and hints of The Edge series, Hidden Legacy series and even a brush of Kate Daniels and the Innkeeper series as well. Written after Kate Daniels series and Edge series, this series involves Families with enhanced ability who make alliances and try to breed the needs generation of enhanced abilities but it takes place on the planet of Rada, a planet famed for beautiful gardens and their Dahlias.    Since it involves another world, is it possible to get crossover with The Innkeeper series? Or maybe we already have, I will have to take another look at Innkeeper.
While I do say there are a lot of similarities to their other series, I don't really say that is a bad thing.  I love all their various series so more is better.  It also helps since these are three really, really short stories.   If we had to introduce an entire worldbuilding, we wouldn't have time to introduce a plot.   For example, just because I was a fan of ER doesn't mean I can't enjoy Grey's Anatomy.  In fact, after a decade of ER, I have more TV hospital knowledge than a first year resident and can jump right into any new hospital drama series like a seasoned veteran.   Same here.   Because I am so familiar with this author, I understand Claire creating a shell over her mind because we addressed this in the Hidden Legacy series.  I understand Meli's abilities since we have seen the "flash" of the Edgers.  Since we are already well versed in Ilona Andrews's various world building, we could then just focus on the plots of these stories and just roll with the variations.  If you love Ilona Andrews, then you have plenty of time to grab a copy of the Kingsmen Universe collection or the three separate stories and catch up before Fated Blades is released.
I was lucky enough to be given an ARC for the upcoming Fated Blades stories and it will be interesting to see how a decade more writing experience will effect the storytelling and if a longer novel allows for more world building.
Related Posts