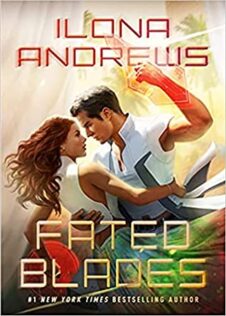 Fated Blades (Kinsmen, #4)
by
Ilona Andrews

Series:
Kinsmen #4
Published by
Montlake
on November 23, 2021
Genres:
SciFi
Format:
eBook
Source:
Author



I received this book for free from Author in exchange for an honest review. This does not affect my opinion of the book or the content of my review.
This post contains affiliate links you can use to purchase the book. If you buy the book using that link, I will receive a small commission from the sale.
An uneasy alliance between warring families gets heated in this otherworldly novella from bestselling author Ilona Andrews.
At first glance, the planet Rada seems like a lush paradise. But the ruling families, all boasting genetically enhanced abilities, are in constant competition for power―and none more so than the Adlers and the Baenas. For generations, the powerful families have pushed and pulled each other in a dance for dominance.
Until a catastrophic betrayal from within changes everything.
Now, deadly, disciplined, and solitary leaders Ramona Adler and Matias Baena must put aside their enmity and work together in secret to prevent sinister forces from exploiting universe-altering technology. Expecting to suffer through their uneasy alliance, Ramona and Matias instead discover that they understand each other as no one in their families can―and that their combined skills may eclipse the risks of their forbidden alliance.
As the two warriors risk their lives to save their families, they must decide whether to resist or embrace the passion simmering between them. For now, the dance between their families continues―but just one misstep could spell the end of them both.
---
Another Must Read Series from Ilona Andrews!
There is nothing like a common enemy to motivate two families feuding for generations, especially when that common enemy involves such a personal betrayal.
There is no love lost between the Addler and Baenas families.   They are both Secore families which are known as powerful and deadly warriors.   So of course Matias Baenas is surprised to find Ramona Addler waiting in his offices, and nothing would prepare him for the bomb she is about to drop.
Neither Matias nor Ramona are in a happy marriages but nothing points that out more than realizing that you now trust your mortal enemy at your back more than your spouse.  Both the Addler and Baenas families have sunk their vast fortunes into being the first to develop Seco technology based off of some ancient databanks.  The first family to crack the code and provide impenetrable shielding to spacecrafts would know unimaginable riches.  The loser would fade to obscurity.  And while Matias and Ramona were working endless hours, week after week, trying to save their families, their spouses got together to have an affair and then stab them both in the back on their way out the door.
To Kinsmen families, their enhanced powers and standing amongst their peers are all they have.  Ramona and Matias need to deal with this matter before word gets out.    Finding out that their spouses betrayed not only their marital vows but also managed to steal valuable confidential information that would ruin their respective families would make them fools on top of being patsies and Kinsmen don't deal fairly with fools.  The fact that they have both spent nearly all their family fortune creating their prototypes would be the final nail in the coffin for both the Addler and Baenas families.  Neither are crying over their unfaithful spouse but the technology must be recovered before it is delivered to the buyer.   And when they learn who wants their technology, it might not just be the end of respective families but for Rada as a whole and the end of free travel among the stars.   Time is running out.  Ramana and Matias need to find their wayward spouses before the drop off.
The first three stories from the Kinsmen Universe are very short and while we get a basic introduction to Rada and the Kinsmen series, this larger novel of Fated Blades allows us more  time to get better acquainted with many things in this new world.  There is more history of the planet and the families.  We meet new characters.  We learn of new abilities.   As Matias and Ramona trek after their spouses, we even get a better view of the planet of Rada.   As I wondered in my review of the Kinsman Universe, there is a literal world of difference in the fact that Fated Blades was a novel vs the prior short stories, as well as the fact that Ilona and Gordon have another 10 years of writing experience since Silent Blade was originally published.   Fated Blades was a much richer story and while even the short stories were enjoyable, there is no question that this is the beginning of a Universe where we will want to immersed ourselves again and again.
Fated Blades could work as a stand alone and you would not be lost even without reading the prior short stories.  Feel free to grab a copy of Fated Blades and then go back for the rest, because you know you will.
---
Favorite Scene:
Haider tossed his remaining sword onto the desk, crossed his arms, and leaned against it. The desk quaked and slide apart. The right half thudded to the floor, sliced at the diagonal.
Haider spun around and turned back, his face twisted by disgust. "Damn it."
Ramona hid a smile.
Matias glanced at her. "When did you even cut this?"
"On my way to the door. I wanted to slow him down."
Haider stared at the two of them. Slightly below average height, he was built like a gymnast, compact, strong, with powerful arms and broad shoulders. He came from an old family, and the planet had put its stamp on him before he was even born. He was a classic Dahlia blond, with golden hair and skin almost as bronze as hers. No matter what your ancestors looked like, once you made your home in the province of Dahlia, it saturated you with sunlight.
He was also truly fast with those blades, and he'd reacted instantly, going from completely asleep into full assault in a blink. It had taken all her concentration and skill to parry.
"Am I seeing things?" Haider pondered, almost as if talking to himself. "Clearly, this is just a weirdly specific bad dream, one where two people who hate each other team up to bust into my office and destroy my prized furniture."
"Bill me," Matias said.
Ha!
Haider knocked on the still-standing half of the wooden desk. "It's old, you savage. Three hundred years old, brought to this planet by the great-great, however many greats, grandfather. It's irreplaceable."
Ramona felt a slight tinge of guilt. "It's a clean cut," she offered. "It can be fixed."
A screen on the wall came to life. A harried woman with dark hair and worried eyes appeared. Derra Lee, Davenport's chief of security. "Are you…"
"I'm fine," Haider snapped. "Meeting with the new redecorating team."
Derra squinted at the two of them. "Would you like me to send up some tea for everybody?"
A code phrase.
"I said I'm fine. Keep your goons downstairs. I will expect a full report after this."
Haider dismissed the screen with a flick of his fingers, sighed, and looked at the two of them. "Fine. You have my undivided attention. What the hell was so important?"
If he didn't know, he was a great actor. She'd have to approach this carefully, choosing the right words…
"Did you pay my wife and her husband to steal from us?" Matias asked.
Damn it.
Silence claimed the office.
Haider blinked a few times and looked at her. "Is he serious?"
She shrugged. "I've never seen him smile, in person or in an image."
More silence.
Haider opened his mouth and laughed.
"Is that a yes or a no?" Matias growled.
Haider shook, bent forward, and held his hand out.
"I think he needs a moment," Ramon told Matias. "I don't think he's involved."
"I can see that, but I still need to hear it."
Haider choked a little bit and kept laughing.
There was no point in standing. This would clearly take a while. Ramona walked over to an elegant couch and sat. Matias remained standing, looming over Haider like some dark shadow.
Finally, Haider straightened. "Worth it. Do you know how long it's been since I laughed like that? It was an ugly desk anyway."
Related Posts