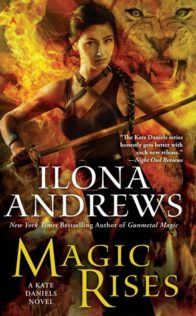 Magic Rises (Kate Daniels, #6)
by
Ilona Andrews

Series:
Kate Daniels #6
Published by
Ace Berkley Penguin
on July 30th 2013
Genres:
Paranormal/Urban Fantasy
Pages:
327
Format:
Audiobook
Narrator:
Renee Raudman
Length:
15 hrs 6 min


This post contains affiliate links you can use to purchase the book. If you buy the book using that link, I will receive a small commission from the sale.
---
[box style="rounded" border="full"]Such a great Urban Fantasy series. You get a real feel for the growing loyalties of this group of characters in this story. Where once Kate was all alone, several of the characters volunteer for this mission simply to protect Kate even knowing they are probably walking into a trap. [/box]
For the children of shifters, the chance of going Loup before they hit puberty is a read danger. When Julie's friends, twins Maddie and Margo start to show symptoms of Loup, Curran manages to get his hand on one dose of panacea, a special drug which helps the shifters fight Loup and gives the children a chance of survival.
The European shifters are the only ones who have the formula for panacea and they aren't willing to share their secret, no matter how much Curran is willing to pay. They are also not generous in selling their supply. So imagine how skeptical Curran and Kate are when they are asked to come to Greece to protect a pregnant shifter. She is pregnant with a fraternal twins, one from her current husband and one from her prior husband. The first born child will be given ownership of a valuable pass through the mountains. The woman needs to be protected from the packs of both fathers as well as her own father, who has decided he would rather kill her then left the pass go. For his service, Curran will be paid with 10 barrels of panacea.
Curran and Kate know they are being baited into a trap, but who and why one is being set is the question. With the possibility of 10 barrels of the precious panacea as the bounty, they can't refuse. Especially when suddenly all the packs seem to know about the deal being made. The pressure is on Curran to get that panacea and he won't go without Kate at his side.
Kate no longer questions who set the trap when she comes face to face with Hugh d'Ambray, her father Roland's warlord, who is central to this fiasco. Hugh knows who Kate is, and especially who her father is, and he wants to spend some time with Kate. Kate isn't sure what his game plan is, but she needs to play along with Hugh until the birth of the babies so the pack gets its reward.
No one said the job was going to be easy and the packs are making a big mistake thinking that they can succeed going through Kate, the weak human consort. As a trained bodyguard, Kate might spend a lot of time bleeding but she's is also taking out anyone who tries to get through her to the body she is protecting.
THOUGHTS:
Another exciting Kate Daniels story. What I like the most in this story is the fact that the shifters are starting to accept Kate as one of their own and they rally to protect her more than they have in the past stories. We know that Derek and Andrea with do anything to protect her. The fact that she walks into this set up at their side, willing to risk her life for the panacea for the shifter children, makes her one of them in the eyes of the other pack members.
I do give a big thumbs down to Curran in this story. Curran asked Kate if she would accompany him on this trip. He said he needed her with him. While Kate is risking her life for the pack, Curran is "protecting" Kate by allowing the European packs to believe she isn't that important to him. Another shifter wants Curran has her mate, and is all over Curran. He allows her to believe she is winning his attention to keep her from harming Kate. But we know from reading the prior books, that shifters are all about strength and allowing this woman to get too close undermines Kate's authority in the pack and the European packs who see her as soon being replaced. Kate kills off several questionable creatures which are sent to kill her and her charge, so do you think that she wouldn't be able to fend off one female shifter with an agenda? He handled this badly and on top of that, he doesn't mention it to Kate because Kate is a bad liar/actress so she really had to look upset. All the Atlanta shifters keep saying, "I'm sure Curran has a plan" every time Curran allowed the other woman to get too close. He was a dumbass in this story and his whole plan is for nothing when he loses his mind when Kate goes missing.
Hugh uses Curran's dismissal of Kate to his own advantage trying to get Kate to toss away Curran for him, but the question is whether he wants to join with Kate in an uprising against Roland or does he want to present Kate to her father with a bow.
As always, besides spending most of her time bleeding, Kate is always standing up for those weaker, that can't fight for themselves, even if it means risking herself.
These are such great characters and I enjoy them more and more as I get to know them better. This is a definite must read Urban Fantasy series.
---
Favorite Scene:
My howling in the dark had paid off. Someone got upset over the blood test and now they had decided to make me disappear. The only other party interested in getting rid of me would be Lorelei, and she had no reason to fight with me. She was winning.
They really thought I was stupid. At least he didn't offer to sell me a nice beachfront property in Nebraska.
I pulled off my T-shirt–it hurt–and strapped myself into a bra. It also hurt. I put the T-shirt back on, found my boots, and headed to Doolittle's room. I'd finally found the end of a thread in this messy knot. If I pulled on it the right way, it would lead me to the guilty party. But I'd need backup.
The door stood wide open and I heard Aunt B's voice from down the hall. "And then I told him that beads were just fine, but a woman had to have certain standards…Come on in, dear."
How did she know? I was pretty quiet. I stepped through the door. The debris was gone. A clean, tidy room greeted me, furnished with new bedding, chairs and desks. Doolittle sat in a wheelchair. I did my best not to wince. Eduardo stretched out on the bed to the right. George sat on the other bed. Keira sat on the windowsill, while Aunt B occupied a chair. Derek lay on the floor, reading a book.
Everybody, except Doolittle and Aunt B, studiously pretended not to look at me. We'd been attacked, we were still under siege, and the shapeshifters had turned grim. My fight with Hugh must've made things worse somehow. Either that, or all of them also knew that Curran had found himself a new main squeeze. Awkward.
"A young djigit stopped by my room," I said. "His name is Volodja and for three thousand dollars he will walk me deep into the mountains and show me where the bad shapeshifters live."
"How fortunate." Aunt B's eyes lit up. "Would you like some company for this wonderful trap, I mean, adventure?"
"I would."
"I'll come," Derek said.
"No. I get you into enough trouble as is." Derek and I were close. If Curran did decide to pull the plug on our relationship, I didn't want to divide the boy wonder's loyalty. That was how the packs split, and both Derek and Barabas were just idealistic enough to dramatically exit with me. It was best to start distancing myself now.
"I'll come, too," Eduardo said.
"Why don't you let me go instead," Keira said. "You can barely stand."
"I don't know, all he has to do is come with us and loom," Aunt B said.
Eduardo crossed him arms on his chest, making his giant biceps bulge. "What do you mean, loom?"
"We need you to stand there with your arms crossed and scowl," I translated.
Eduardo scowled. "I don't do that."
"Just like that," Derek said.
Eduardo realized his arms were crossed and dropped them.
"Screw you guys."
Related Posts