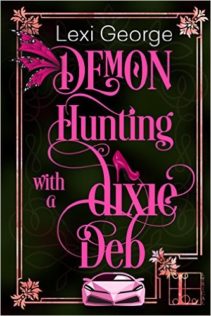 Demon Hunting With a Dixie Deb (Demon Hunting, #4)
by
Lexi George

Series:
Demon Hunting #4
Published by
Kensington Publishing Corporation
on May 24th 2016
Genres:
Paranormal/Urban Fantasy
Pages:
354
Format:
eBook


I received this book for free from in exchange for an honest review. This does not affect my opinion of the book or the content of my review.
This post contains affiliate links you can use to purchase the book. If you buy the book using that link, I will receive a small commission from the sale.
---
[box style="rounded" border="full"]It has been three years since the last Demon Hunter book. While I enjoyed reading it, it seemed to meander from beginning of the story until the end dropping some characters and walking away from some plot points.   With such a long delay since the last book, it was hard to pick up where we left off with the characters. I had a vague recollection of some things but not where we left off with everyone.[/box]
Sassy Peterson is coming to Hannah, AL, to sell off the family Mill and her brother, Trey's, house. She was shocked that her brother left her the sole beneficiary of her estate, especially since he wanted nothing to do with her in life. Sassy never knew what Trey suffered to keep Sassy and their mother safe from their grandfather's demonoid clutches.
What should have been a quick run into town to meet with the lawyer, turned into an afternoon which would change Sassy's life completely. Sassy thought her life was normal and average, well average for someone who's mother is the Pickle Princess and her stepfather owns a chicken empire. She soon finds herself facing a witch, freeing a captured demonoid, and getting a face full of concentrated fairy magic which will change her from just happy Sassy to Fairy Sassy.
This also puts her into the path of Demon Hunter, Grimford Dalvahni. Grim has kept himself separate from his Dalvahni brothers since his own brother's death. Even thousands of years later, he still blames himself for not being there to save Gryff. Sassy is so vivacious, everyone gravitates to her and Grim is no exception. Grim needs to protect her from the witch who is looking for revenge for stealing her demonoid dinner as well as all her fairy juice.
THOUGHTS:
I will start out by say that overall I did enjoy reading the story. It is just when it the story is over and you start to think about it, the story does lack consistency. It has been three years since Demon Hunting in a Dive Bar was released. Obviously, I have no idea of this story was written in bits and pieces over the last three years, but that would explain why some characters from the first half of the story fade to nothing and storylines which were mapped out at the beginning just went away.
The delay since the last book also causes another problem. After all this time, it was hard to remember all of the characters and what we had learned about them. There was some refreshing given but some was just my vague remembrances of the prior books. Beck was a antagonist in the last story and he shows up in this story when Sassy rescues him from the witch.  We hear a lot of his poor me rant at the beginning.  He starts off as a rival to Grim for Sassy (who is already engaged) but then he mostly just wanders off after we finally get Grim and Sassy in bed. He does show up again before the ending but where in the beginning he is a rival and had plans to use Sassy's Fairy-Goodness to his own benefits, that just sort of just fades away. Was he originally intended to continue in he selfish pursuits from the prior book and act as an antagonist here, and then the author just changed her mind?  In fact, I believe it is when we start to focus on Grim and Sassy's mating that several of the prior characters just kind of disappear. For example, Sassy finds out her Aunt is the buyer she is supposed to meet at the lawyers office who wants to buy the Mill. The Aunt gives us a malicious vibe and Sassy decides not to sell to her.  She is viciously ranting about being robbed of what should have been hers, but then she just kind of disappears from the story. Same thing with Sassy's fiánce. He shows up and blusters about taking Sassy away from Hannah, but then storms off in a huff and we kind of lose him.
There is also the nibilanth, a tiny leprechaun-type, who was assigned to be Sassy's guide in her becoming a Fairy.  He never really spends much time in the story nor does he actually explain anything or any powers to Sassy.   Again, he pops up in the end to tell Sassy that he can't help her out of the mess that she gets into and literally poofs out for the rest of the story.
Sadly, although Hannah is a small, small town, we only see leader of the Dalvahni, Conell, make a guest appearance and Duncan, who we must have met before but who doesn't have his own story. We haven't seen the main characters from the first two books since their stories were told.
I feel like this story wandered away from its original path and some attempt was made to swing back and wrap up a few things before the end but it did more to point out the things we were originally focused on and which eventually disappeared such as the Aunt, the fiánce, Mose, the ghost of Meredith, evil Beck, and Dell.
Overall, I was disappointed. I had really enjoyed the prior books in the series and was happy to see that the Demon Hunters were back. It would be one thing if the author took some time off, but it comes across more like she started this book with an outline, set it aside, and then came back to it and just wanted to finish it off.
Related Posts