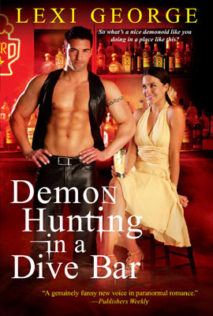 Demon Hunting in a Dive Bar (Demon Hunting, #3)
by
Lexi George

Series:
Demon Hunting #3
Published by
Kensington
on January 29th 2013
Genres:
Paranormal/Urban Fantasy
Pages:
320
Format:
Paperback


I received this book for free from in exchange for an honest review. This does not affect my opinion of the book or the content of my review.
This post contains affiliate links you can use to purchase the book. If you buy the book using that link, I will receive a small commission from the sale.
---
Rebekah "Beck" Damian runs a demonoid bar where everyone's welcome—even a reformed flesheater who's strictly vegetarian, a musical ghost who's looking for a piano bar, and a feline harbinger of doom named Wampus Kitty who's scaring the customers. So when a big strapping demon-hunter walks into the bar, Beck knows it's not the end of the world. She'll treat him like any other customer.

If only she could. Conall Dalvahni is the toughest, meanest, sexiest demon-hunter Beck's ever seen—and she's finding it hard to hide her attraction. As far as Conall's concerned, the feeling is mutual. But how can he trust a beautiful half-demon babe like Beck—when her demonic friends have the perfect weapon to destroy every hunter on earth?
---
Conall is the leader of the Dalvahni. As such, it is his duty to investigate these new demonoid abominations he has only just learned about. They are the spawn of a human and a human possessed by a demon. He must determine if they are as dangerous to the universe as the demons themselves. It is because of this that he keeps returning night after night to the little demonoid dive bar in Hannah, AL, known as Beck's. It is for observation only that he watches the lovely Beck so intently. She is a demonoid and of course, must be evil, so he is confused why he likes to watch her smile and why he feels the need to return night after night to watch out for her—No, no, watch her! He must watch her in case she decides to do evil against the humans.
As if Beck doesn't have enough on her plate just running the bar, her partner turns into a bloodhound and her cook turns into a bear. Now she's got a vegetarian zombie and a piano playing ghost both looking for jobs. Sure, it's all just another day at the office, and it wouldn't worry her so much, but he's back—again! sitting in the corner, watching her. He doesn't say anything. He just stares. She would have Toby throw him out, but God! He's sex-on-a-stick gorgeous! And the women do keep coming back just to look at him, and that's good for business, right? It doesn't bother her at all that they sit there and drool over him—Hey, back off, no touching—nope, she doesn't care at all.
Man, what she wouldn't do to get him out of that shirt—No, no, out of her bar. She definitely wants him out of her bar and out of her life! So why does she agree to allow him to "work" at her bar so he can keep an eye out for demons. Damn hormones! Is it too late to just go back to bed and forget this day even happened?
THOUGHTS:
I really love this series! Although I am still calling Evie and Ansgar from Demon Hunting in the Deep South my favorite couple, Beck and Conall come in a very close second.
Beck is a fearless, kick ass woman, who, much to Conall's frustration, has no problem jumping into the fray and kicking some demon butt.
I love Conall's confusion about his attraction for Beck, since she is a demonoid, but I will give him kudos for getting over it and accepting his feelings for Beck, much faster than Ansgar or Brand who both fell for plain old humans, not demonoid abominations.
I loved the additional characters here: Tommy Henderson, the vegetarian zombie; Annie, the little lost kittie; Hank, the grumpy cook/bear; and even creepy Evan had some moments.
Can't wait to see where we go next.
Received an ARC courtesy of Kensington Books. Thank you!
In case you missed it, check out our recent interview with Lexi George.
---
Favorite Scene:
"I concede the rationality of your argument that my presence at this gathering might draw attention—"
"Duh, you think?" Beck said. He was big and beautiful and he radiated power and menace. Showing up with Elvis in drag might create a bigger stir, but she doubted it.
"—therefore, I will make myself invisible."
"No," Beck said. "The place will be crawling with kith. Just because I can't see you when you're wearing your invisible Underoos doesn't mean no one else can. The kith have different abilities. Right, Toby?"
"Yup," Toby said.
"Toby and I will go to the meeting," Beck said. "Alone. We'll be your eyes and ears."
"Rebekah, I do not think—"
"I want your promise."
Conall fell silent. "Very well," he said at last. His mouth thinned. "We will do it your way this once. But not unless I get a promise of my own." He slipped a silver ring off his hand and slid it on her left index finger. It was way too big, but the band magically shrank until it fit. "At the first sign of danger, speak to the ring. Do not hesitate. This you must promise me."
Speak to the ring? What was she, Gollum? She'd feel like an idiot.
"Sure. Whatever you say."
He stepped closer, his eyes hard as agate. "I gave you my word, Rebekah. Now I want yours."
"Okay, okay, keep your panties on. I promise to speak to the fricking ring if there's a problem. There, satisfied?"
"No. I am not accustomed to sitting idly by whilst others ride into battle. But I am inured of this course, for the moment."
"Relax. Nothing's going to happen. It's beer and barbecue. Says so on the invitation. People will get drunk and run around naked and throw up, and somebody will get their truck stuck in a ditch. I've seen it a million times."
"Proceed with caution," Conall said. "'Tis an age-old trick to lull one's enemies into complacence by plying them with food and drink." He made a slashing motion in the air. "Once they are sleepy and replete, you move in for the kill."
Hoo boy—Mr. Look on the Bright Side of Life.
Related Posts