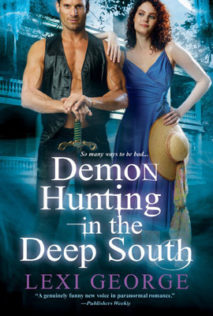 Demon Hunting in the Deep South (Demon Hunting, #2)
by
Lexi George

Series:
Demon Hunting #2
Published by
Kensington
on July 31st 2012
Genres:
Paranormal/Urban Fantasy
Pages:
336
Format:
Paperback


I received this book for free from in exchange for an honest review. This does not affect my opinion of the book or the content of my review.
This post contains affiliate links you can use to purchase the book. If you buy the book using that link, I will receive a small commission from the sale.
---
The warrior and the wallflower . . .

Shy, self-conscious Evie Douglass tries to stay under the radar, especially when her nemesis Meredith Peterson, aka The Death Starr, is anywhere around. Meredith and her bitch posse of skinny girlfriends have tormented Evie since the seventh grade, calling her names like The Whale and Thunder Thighs.

Evie tries to stay invisible, but that's not an easy thing for a plus-sized gal to do in a small town like Hannah, Alabama. She finds it doubly hard to avoid Meredith's wrath once she takes a job at the lumber mill. You see, Meredith's husband is Evie's new boss. Translation: more torture time for The Death Starr.

Evie thinks things couldn't get much worse until the morning she finds Meredith's bloody body sprawled across her desk. Typical Meredith, she gets herself dead mere days after a very public scene in which Meredith accuses Evie of having an affair with her husband. Worse, the murder weapon is found in Evie's car.

Suddenly, Evie is the Number One suspect in a sensational murder case. But she's got bigger problems. Hannah is infested with demons—soul sucking, body snatching creatures of evil—and, for some reason, they want Evie. The only thing standing between Evie and death or possible possession is a hunky blond demon slayer named Ansgar.

Ansgar is a Dalvahni warrior, a supernaturally gorgeous race whose sole purpose is to hunt down and capture rogue demons.

Evie could almost swear that Ansgar is interested in more than demons. He seems interested in her. Ridiculous, of course, because he's sex on two legs and she's…Well, she's Whaley Douglass.

To add to Evie's troubles, Meredith doesn't even have the decency to stay dead. She shows back up as a ghost and she's more of a beyotch than ever. Meredith has deathnesia—she can't remember who killed her—leaving Evie to solve the mystery herself, or go to jail for a murder she didn't commit.
---
In book one, Demon Hunting in Dixie, we are introduced to the shy and shapely Evangeline Douglass and the Dalvahni warrior, Ansgar. We watched the attraction between these two characters developing in the background of the first story and we also watched the shy Evie blossom into a confident woman. But circumstances at the end of DHiD, leave Evie with a case of memory loss. Since fraternizing with humans is unacceptable, our very by-the-book warrior, Ansgar, knowing he is returning to his own dimension, leaves Evie with her memory loss so she will not remember him, and pine for him when he leaves her.
Unfortunately for Ansgar, that is a decision he has come to seriously regret. After months away from Evie, it is Ansgar who is pining. He could not forget her nor the feelings she has awakened in him. Without Evie, he finds himself feeling lonely and after millennia as a demon hunter, his existence is now unsatisfying to him.
Ansgar has returned to Hannah, Alabama, to be near the woman who has claimed his heart, but due to his own actions, she no longer remembers him or their time together, and she has once again become shy and withdrawn.
So the mighty Dalvahni warrior is now forced to hide in the shadows to watch over his lady love, and hope that he can once again earn her love, while he tries to hide his betrayal from her.
We once again take a trip to Hannah, AL, and are treated to a crazy, good time with the bizarre local residents, and we even meet a few new neighbors. If it is not enough that the Town seems to be a hot-bed for demons, Evie's nemesis, Meredith Peterson is murdered in Evie's office and someone is trying to frame Evie for the murder. It doesn't help that Meredith's husband Trey is in love with Evie and the whole Town believes that Evie killed Meredith to get her out of the way, and Trey's constant pursuing of Evie is doing nothing to quiet those rumors. When Meredith comes back as a ghost, no kinder than she was when she was alive, the crazy gets bumped up another notch.
This was all great fun, and an interesting plot line, blah, blah, blah, but what I wanted to see since Book 1 was the romance between Ansgar and Evie and I was not disappointed!! My frustration at missing the burgeoning romance playing in the background of Book #1 is richly rewarded in watching our lovesick warrior trying to once again win the heart of his lovely Evangeline and again watching Evie's self-confidence flourish due to the attentions of this gorgeous blond warrior.
We end this story with lots of open plot points being tied up neatly with a bow which makes me wonder if we have made our last trip down South. But we do meet several interesting new characters that I think would make for great stories so my fingers are crossed that we will see more in this Demon Hunter series.
Received an ARC from Kensington Books. Thank you.
---
Favorite Scene:
Ansgar barely heard them. His entire being was focused on the enchanting bundle of femininity in his arms. He bent his head closer to hers. "Evangeline." He gave her a little shake, but she did not open her eyes. "Evangeline."
Panic sliced through him. "What ails her? Why does she not awaken?"
"Maybe she's under a spell." Addy stepped out of the circle of Brand's arms. There was a calculating gleam in her brown eyes that sent a stab of alarm through Ansgar. Such a look from Addy did not bode well. "Maybe you should kiss her."
He scowled. "To what purpose?"
"It works in the fairy tales. You whammied her. Stands to reason you're the only one who can un-whammy her."
Ansgar clenched his jaw. "This is not a…a fairy tale, and I did not whammy her. I looked at her. That is all."
Addy gave him a measuring look. "What's the matter, you chicken?"
Chicken: a domestic fowl bred for flesh and eggs. Also a term connoting cowardice.
Of a certainty, Addy did not refer to poultry. "Woman, I am Dalvahni. You do not question a warrior's mettle."
"Yeah? So kiss her already. Go on. I dare you."
She was questioning his valor. Again. The woman had no semblance of decorum.
He looked at Brand for support. "Is she serious?"
"It is sometimes difficult to tell, but 'twould seem so." Brand shrugged. "At any rate, where is the harm? Unless you think it unwise."
Unwise? Holding Evangeline nearly drove him mad. Kiss her, and he would be lost.
He touched Evangeline's cheek with the tip of one finger. Her skin was tender and soft, a white rose without the faintest blush. She lay in his arms limp and wan, a sleeping princess waiting for a prince.
He was no prince. He was a warrior, hardened by countless years of blood and battle, his hands and soul stained by death. Still, the gauntlet had been thrown, and it was not his nature to back down from a challenge.
Lowering his head, he brushed his lips across hers. They were cool beneath his, bliss after the endless days and nights of desperate longing.
"Evangeline," he murmured against the lush fullness of her mouth. "Open your eyes, sweetling."
Lifting his head, he looked down at her. To his relief, delicate color suffused her cheeks and lips, but she did not stir.
"You call that a kiss?" Addy scoffed. "Come on, Blondy. Lay one on her. I thought all you immortal super dudes had game. Don't you like girls?"
Aggravating creature. How Brand refrained from strangling her was a mystery.
Cradling Evangeline's head in his hands, Ansgar bent once more to the task, his mouth moving over hers. He held nothing back, pouring the months of desolation, of aching for her, of unbearable desire and loneliness, into the kiss.
Related Posts