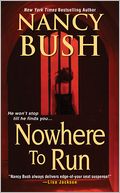 ---
We are giving away a copy of Nowhere to Run, courtesy of Kensington Books. Giveway ends Friday, August 10th. 18 years and older. Open to U.S. and Canada residents. 
---
ORDER A COPY: Nowhere to Run
Publisher: Zebra
Publishing Date: July 31, 2012
Paperback: 376 pages
Rating: 5 stars
---
Some Secrets Will Follow You To Your Grave…
When Liv Dugan ducks out of work for lunch, it's just an ordinary day. When she returns, she stumbles onto a massacre. All her colleagues at Zuma Software have been shot. Only luck has left Liv unscathed, and that might be running out.

Liv suspects the shootings are tied to her past–and to the package she recently received from her long-dead adoptive mother. Sensing she's being followed, Liv jumps into a stranger's car and orders him to drive. Her "hostage" complies, listening carefully as her story unwinds. Skeptical at first, he ultimately begins to believe all Liv's fears are justified.

Together, Liv and her unlikely confidant try to uncover the truth about her adoptive family, her birth parents, and her troubled childhood. Because somewhere in Liv's past is a secret worth killing for, and a nightmare she can never outrun.
---
In a word…thrilling. I am not going to write too much on this book since this was actually a great murder mystery and I don't want to leak ANYTHING.
It has been some time since I have actually had real hard-to-put-down thriller. Most times I will guess within the first 100 pages where the plot is going, but this one really kept me wanting to read more. There was just enough romance to sweeten the story and bond our main characters.  (So the men can read it too)
The worst part of this book was the fact that I zipped through the first 200 pages, but when the clock struck midnight and I still have 178 pages left, I had to give it up for the night. Like I am going to sleep with a good book running through my head. Ugh!!
If you like an engrossing murder mystery, I HIGHLY recommend picking up Nowhere to Run. I put in a request for an ARC of the 2nd book Nowhere to Hide which comes out August 31st, as soon as I finished this one. Really looking forward to it.
Received ARC from Kensington Books. Thank you.
---
To be entered in our giveaway, just tell us your favorite mystery author.
---
Favorite Scene:
Tried hard to find a good scene which didn't give anything away…
"I don't know why I'm doing this," she muttered, more to herself than him.
"You can still get out of this," he said after a moment. "No harm, no foul. And, if you're as innocent as you claim–" he started to suggest.
"If?" she cut in.
"–then you should contact the police right now. Let them take care of this. They're good at it."
She shook her head in disbelief. "I can't even make you believe me!"
"I believe you. I do"
"Oh, bullshit."
"I believe you think someone's after you, and that's why we're here now," he corrected himself. "You might even be right. The police could help you. Or, if you'd let me, I could help you."
"You could help me," she said without inflection. "And why would you do that?"
"Because I think you need help."
"You're not a very good liar, Auggie."
"I'm a very good liar," he disagreed with an edge, as if it were a matter of pride. "But I'm not lying to you."
"What kind of name is Auggie anyway? A nickname? Is it short for something?"
His lips compressed. "Are you going to untie me? Take me to the bathroom?"
She pulled the .38 from her backpack, looked at it a moment, then walked his way. He leaned back at the sight of the gun, but she merely lay back on the counter before untying his chair from the oven handle. When she released his feet, she quickly stepped back, snatching up the gun again and leveling it at him. His hands were still tied behind his back and he gave her a look that said she was half-crazy if she thought he was a threat. She felt dark amusement at that but held it inside. After a moment, she undid the twine wrapped around his hands, then, sweeping up the gun again once he was completely free, he eyed her thoughtfully. "You're not going to shoot me."
"I don't want to," she said.
"You won't."
He sounded so positive it rankled her.