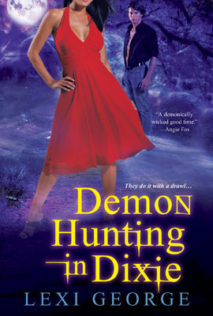 Demon Hunting in Dixie (Demon Hunting, #1)
by
Lexi George

Series:
Demon Hunting #1
Published by
Brava
on May 1st 2011
Genres:
Paranormal/Urban Fantasy
Pages:
349
Format:
Paperback


I received this book for free from in exchange for an honest review. This does not affect my opinion of the book or the content of my review.
This post contains affiliate links you can use to purchase the book. If you buy the book using that link, I will receive a small commission from the sale.
---
Addy Corwin is a florist with an attitude. A bad attitude, or so her mama says, 'cause she's not looking for a man. Mama's wrong. Addy has looked. There's just not much to choose from in Hannah, her small Alabama hometown. Until Brand Dalvahni shows up, a supernaturally sexy, breathtakingly well-built hunk of a warrior from—well, not from around here, that's for sure. Mama thinks he might be European or maybe even a Yankee. Brand says he's from another dimension.

Addy couldn't care less where he's from. He's gorgeous. Serious muscles. Disturbing green eyes. Brand really gets her going. Too bad he's a whack job. Says he's come to rescue her from a demon. Puh-lease. But right after Brand shows up, strange things start to happen. Dogs talk and reanimated corpses stalk the quiet streets of Hannah. Her mortal enemy Meredith, otherwise known as the Death Starr, breaks out in a severe and inexplicable case of butt boils. Addy might not know what's going on, but she definitely wants a certain sexy demon hunter by her side when it all goes down.
---
Adara Jean Corwin ("Addy") is a good southern girl and does everything her mama tells her, or at least she tries…or so Mama thinks. Mama is still a little peeved since Addy left the family funeral business and bought her Aunt Muddy's flower shop. Addy tries to live by Mama's Book of what ladies can and cannot do, but it is so boring. So is the small Alabama Town of Hannah.
At least it was until smoking hot Brand shows up in her living room decked out in his leather pants. He starts to bring out her inner Hootchie-Mama, even if he is a little crazy talking about being a Dalvahni Warrior and Demon hunting and how he's going to protector her from the demon trying to kill her. Isn't that always the way, the really hot ones are either gay or crazy. If only her panties didn't want to keep jumping off every time he got near.
Now things in Hannah, AL, are starting to get really crazy: her best friend, Evie, admits she sees fairies; her Aunt Muddy seems to know things before they happen; the crazy, town drunk actually isn't crazy and he's been seeing demons for years; the recently deceased Mr. Farris is strolling about Town and Brand keeps using his Dalvahni woo-woo; and now the whole Town is buzzing about sweet, little Addy. What will be worse: being killed by a Demon or her Mama finding out what Addy's been up to?
This is an absolutely fun trip to the crazy small of Town of Hannah, AL. It's so podunk it makes Charlaine Harris's Bon Temps look like a major metropolis. Being from the NYC area, it is hard for me to believe that a Town like this actually exists, or if it is simply a caricature of small southern town living.
The gorgeous, muscled Dalvahni warriors certainly stick out in this small town, not only with their looks, but their stiff and formal warrior speech and attitude. At first I thought their stiffness would get annoying, it was actually quite funny to watch them trying to understand the small town life going on around them.
Although the character of Addy was amusing and watching her introduce Brand to the intricacies of small time life is hysterical, I was most interested in the behind the scenes romance of the very by-the-book warrior Ansgar and Addy's BFF, the shy Evie. My slight frustration of wanting to see what was going on with them has been rewarded with the upcoming release of Demon Hunting in the Deep South. I will be back shortly with a review on that book. (Hint: Awesome!)
If you like your paranormal romance with side of great fun, you want to give Lexi George's Demon Hunting series a try.
---
Favorite Scene:
The corners of Brand's mouth kicked up again, and Addy's heart rate went into overdrive. Fight or flight; that was the biological response of animals under acute stress, wasn't it? Well, her instincts were in working order, because she…because she—
–was going to sit here like a bedazzled lust-drunk female fascinated by the slightest movement of his sensuous lips, waiting to see if he—
Oh, crappy doodle, he was going to do it. Run away. Run away. Smart Addy screamed. But Dumbass Addy didn't listen. Oh, no. Dumbass Addy sat there and stared at him, transfixed. She was Eve reaching for the apple. Pandora opening the box because she just had to see what was inside. She was the big fat bug drawn to the irresistible glowing radiance of Brand, the Dalvahni bug zapper.
"I am glad you are worried about my giblets, little one." He said.
His rich, smoky baritone sent an electrical shiver down her spine. And then the dirty, lowdown bastard did it. Zzzzt, he zapped her with a smile. Smiled right at her, too, so she took the full blast.
The busted hinge on her jaw gave way, and her mouth dropped open. Again. She needed to see about getting that thing fixed, she thought dimly through the roaring in her head. The guy showed his pearly whites and the whole freaking room lit up. Little birdies sang, and silvery sparkles danced at the edge of her vision. It was like a freaking Disney movie. She gaped at him, as dizzy and punch drunk as a raccoon in a beer barrel. It was so unfair, she thought, fazing in dazed bemusement at his perfect teeth and killer dimples. A smile like that was a thing of power. It ought to be registered as a lethal weapon. It was terrifying, mesmerizing.
It made her want to drop trow right then and there.
She wouldn't. No, no, of course she wouldn't. She had better raising. Why, a moment ago, she'd been going on about the difference between tacky and trashy. Having sex in public with Conan the Stud Muffin would be majorly trashy, at the top of the trash-o-meter with Evie's hypothetical floozie airing her fluff bunny in the lord's temple…only without the divine retribution part. Maybe the Big G wouldn't tap-dance on her head for having sex in public, but Mama sure as shoot would. It would also probably get her banned for life from the Sweet Shop, and that was a bad thing. No more Miss Vi's fried chicken. No more greens cooked with ham hocks, Tony Chachere's Creole Seasoing, and a splash of cider vinegar for that extra punch. She would not have sex in public. She would not.
No, no no.
The ladies' room in the back of the Sweet Shop…that was a different story. Not public at all. All right, maybe technically it was public. But, Miss Vi kept a clean restroom, and the door locked.
Holy mackerel, she was seriously contemplating having sex in a restaurant bathroom because the guy smiled at her.
She was in big trouble.
Related Posts