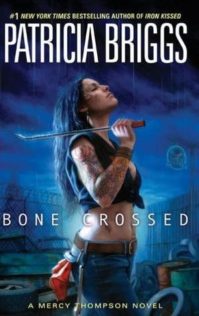 Bone Crossed (Mercy Thompson, #4)
by
Patricia Briggs

Series:
Mercy Thompson #4
Published by
Orbit
on February 3rd 2009
Genres:
Paranormal/Urban Fantasy
Pages:
300
Format:
Audiobook
Narrator:
Lorelei King
Length:
9 hrs 8 min



This post contains affiliate links you can use to purchase the book. If you buy the book using that link, I will receive a small commission from the sale.
---
Marsilia, the local vampire queen, has learned that Mercy crossed her by slaying a member of her clan. Now, she's out for blood. But since Mercy is protected from direct reprisal by the werewolf pack-and her relationship with its sexy Alpha-it's not Mercy's blood Marsilia is after..
---
As if the panic attacks aren't enough stress for Mercy, Marsilia drops a starved and tortured Stefan into Mercy's living room hoping he would do her a favor and kill Mercy for her. Lucky for Mercy, both Adam and Samuel were at her trailer and helped keep the starving vampire off her. When Stefan comes to, we learn that Marsilia knows that it was Mercy that killed the vampire and she has tortured Stefan, killed his "sheep" and turned him out of the seethe as punishment for bringing Mercy to the seethe and protecting her.
Adam and his wolves are indebted to Stefan for what he did for them while they were all captured by the vampire-demon. But when Adam realizes that the blood exchange between Stefan and Mercy leaves her vulnerable to be "called" by Stefan, he acts to protect her by making her part of the pack.  He will not lose Mercy to a vampire.
It all gets more complicated when Mercy tries to get out of the Tri-Cities area, knowing Marsilia won't attack her friends if Mercy isn't there to witness the fun. Although it seems too coincidental when an old college friend shows up at her door asking for help removing a ghost from her house, Mercy decides a trip to Spokane might just be what she needs right now. There is no question that there is a ghost in her friend's house, but Mercy has never seen one act to violently before.
Mercy might have also just jumped from the frying pan into the fire. The Spokane area has been held by a centuries old vampire named James Blackwood. Blackwood doesn't allow other preternaturals into his territory and he might not be so happy when he finds Mercy visiting without his approval. When she wakes up to find bite marks and no memory of a vampire visit, it seems that Blackwood might be forcing a blood exchange with Mercy so that he can control her. Does he think he can control Adam's pack through Mercy's mating bond with Adam, or is he working with Marsilia to kill Mercy?
THOUGHTS:
Mercy keeps getting drawn into situations which over her head. In this story, the vampires have painted crossed bones on her shop which indicate she is an enemy of the vampires and open for attack by whatever creature wants her. Stefan has been tossed from the seethe for protecting Mercy and not letting Marsilia know that there was a walker in her territory. I think it is more Marsilia's jealousy of Mercy than any real offense.
Several of the top vampires in the seethe want the now outed Stefan to work with them to kill Marsilia and take over the seethe. Stefan's refusal doesn't help situations, it just adds up the list of enemies that Stefan and Mercy are facing.
With Stefan's sheep dead, it leaves Mercy as the only person with a blood bond to Stefan, but when Blackwood tries to establish a blood bond with Mercy so he can control her. More blood transfers with Stefan is the only option that Mercy has left. When Adam realizes how strong a bond Stefan is creating with Mercy, he won't lose her to the vampire and he makes Mercy a member of the pack, giving her a bond of blood and flesh with him.
I definitely don't understand why a smart woman like Mercy would have gone to Spokane when the whole thing smelled fishy to her from the start. Her friend, who was barely a friend in college, conveniently shows up with a reason to get out of town when the vampires are threatening Mercy. She saw that it seemed to be a set up, but she ended up walking right into it. Mercy ends up bonding with her friend's 10 year old son and therefore, she doesn't want to leave him when the dangers presented by the ghost and Blackwood put Mercy in danger.
This was definitely a problem caused by Mercy's bad decisions more than outside issues such as the demon-vampire and the Grey Lords.
---
Favorite Scene:
Maybe I needed to leave, money or not.
My stomach was back in knots, and if I didn't bottle everything up, I was going to have that stupid panic attack, and not safely behind the sound of water and the closed bathroom door. Right here where anyone could see. Next to the poor beat-up Rabbit, with Adam's phone number painted on the roof. For a good time call…
He stopped. "Mercy? What are you so angry about?"
He would know. Even I could smell it: anger and fear and…I had it all, and I had nothing.
It was too much. I closed my eyes and felt my body shake helplessly and my throat close, refusing to let air through…
Adam caught me as I fell and pulled me against him, in the shadow of the old car. He was so warm, and I was so cold. He put his nose against my neck. I couldn't see him, lack of air left me with black dots impairing my vision.
I heard the growl shake Adam's chest, and his mouth closed on mine—and I sucked a deep breath through my nose. I could breathe again, and the weight on my stomach lifted, and I was left shaking, with blood…no, snot running down my face.
Embarrassed beyond anything, I jerked free of Adam's hold—knowing with humiliating certainty that he let me go. I wiped my face with the bottom of my shirt. And settled in the shelter of the Rabbit, my cheek against the cooling metal.
Weak. Broken. God damn it. God damn me. I felt the wave of it hovering, ready to descend upon me again. Despair and helpless anger…They were all dead. All dead, and it was my fault.
But no one was dead. Not yet.
All dead. All of my children, my loves, and it was my fault. I put them at risk and failed. They died because of my failure.
I smelled Stefan.
Adam's golden eyes met mine, the color proving the wolf ascendant. He kissed me again, pressed something against my lips, forcing it between my teeth with a forefinger and thumb without removing his mouth from mine.
It was such a small scrap of bloody meat to burn down my throat as it had. It meant something.
"Mine," he told me. "You aren't Stefan's."
The dry grass crackled under my head, and the coarse dirt made a noise like sandpaper that echoed behind my eyes. I licked my lips and tasted blood. Adam's blood.
The Alpha's blood and flesh…pack.
"From this day forward," said Adam, his voice pulling me out of wherever I had been. "Mine to me and mine. Pack and only lover." There was blood on his face, too, and on the hands he touched my face with.
"Yours to you, mine to me," I answered, thought it was a dry croaking voice that made the noise. I didn't know why I answered, other than the old "shave and a hair cut" involuntary response. I'd heard this ceremony so many times, even if he'd added the "only lover" part.
By the time I remembered why I shouldn't do it, what it meant, it was already too late.
Magic burned through me, following the path of that bit of flesh—-and I cried out as if tried to make me other than I was, less or more. Pack.
I felt them all through Adam's touch and Adam's blood. His to protect to govern. All of them were mine now, too—and I theirs.
Panting, I licked my lips and stared at Adam. He let me go, coming to his feet and taking two steps away from me where I lay against the side of the old car. He'd bitten his forearm savagely.
"He can't have you," he told me, his gold eyes telling me the wolf was still speaking. "Not now. Not ever. I don't owe him that."
Belatedly, I realized what had happened. I wiped my mouth with my wrist to give myself time to think. My wrist was pink with Adam's blood.
Stefan was awake…and somehow he'd invaded my mind. It had been his panic attack I'd felt.
Related Posts