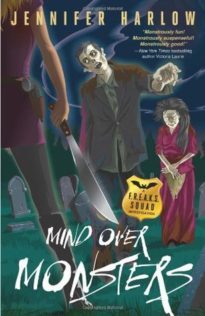 Mind Over Monsters (F.R.E.A.K.S. Squad Investigation, #1)
by
Jennifer Harlow

Series:
F.R.E.A.K.S. Squad Investigation #1
Published by
Midnight Ink
on October 8th 2011
Genres:
Paranormal/Urban Fantasy
Pages:
280
Format:
eBook



I received this book for free from in exchange for an honest review. This does not affect my opinion of the book or the content of my review.
This post contains affiliate links you can use to purchase the book. If you buy the book using that link, I will receive a small commission from the sale.
---
Beatrice Alexander is no ordinary schoolteacher–she can move objects with her mind, an embarrassing skill she hasn't yet mastered or embraced. After nearly killing her brother by accident, she joins the F.R.E.A.K.S. Squad, the Federal Response to Extra-Sensory and Kindred Supernaturals. This top-secret branch of the FBI combats ghosts, ghouls, and other monsters threatening humanity.

With her teammates–among them a handsome former-detective werewolf and an annoying Don Juan vampire who's dead-set on seducing her–Beatrice investigates her first case. Disgustingly dismembered bodies have turned up, bearing bite marks of the undead. Someone–or something–is raising a horde of hideous, bloodthirsty zombies. Armed with Bette, her trusty machete, Beatrice takes on the master of the flesh-devouring corpses, who's guarding a horrifying secret.

Featuring a team of monster hunters with unique paranormal abilities, the F.R.E.A.K.S. Squad Investigation series combines humor, suspense, and supernatural crime-fighting.
---
Beatrice Alexander is an ordinary elementary school teacher, that is normal and ordinary for a teacher who is psychokinetic and can raise the furniture in her room during a bad dream. Two things have happened that will change Beatrice's life. First, she saved a student from being run over by knocking him down,…and lifting the car over their heads (no one noticed, right?) and she almost killed her brother during an argument. Her brother—half-brother—may have been the first person to call her a freak, but that doesn't mean she really wants him dead.
Now she has been approached by the FBI branch, F.R.E.A.K.S. (Federal Response to Extra-Sensory and Kindred Supernaturals). They want her to come train to focus her ability and join their squad which investigates unusual occurrences—which usually involve attacks by vampires, werewolves, ghouls, witches, zombies or some other nasty that goes bump in the night.
Her team mates include a blind man who can see ghosts, a teenager teleporter who can walk through locked doors (especially helpful when her parents used her for heists), a pyrokinetic who looks like a supermodel, and Carl, a psychometor. But the two men who are making Beatrice crazy is the hot and sexy team leader, former detective now werewolf, William Price, (Is it too soon to ask if we can name our first child, Elizabeth?) and flirty vampire, Oliver Montrose (If he's talking, he's flirting.) It appears that Will and Oliver can't get along, and when both men set their sights on Bea, the tension between them escalates.
Beatrice's first assignment is a suspected animal attack, but when she accidentally links her powers with Carl, they relive the victim's last few moments of a zombie attack. But someone has to be pulling the zombie strings, and they need to look for a necromancer who is raising the dead. The first thing to do is to try to connect the victims and see who had a grudge against them both.
As they get closer to their killer, he raises the whole cemetery and attacks the Town. Beatrice grabs a machete and starts hacking. Ok, maybe it would have been better to ease into the job more slowly.
THOUGHTS:
I really love these characters. I had an opportunity read Book 3 last year and have been waiting for an opportunity to read the first two of the series.
Beatrice is adorable and she fell for Will from the first moment she saw him. I love that the hot, sexy werewolf blushes when they are alone and they both start getting a little nervous. Although the hotter choice for Beatrice is Will, Oliver is hysterical with his flirty banter with Beatrice. In this first story, Beatrice is more annoyed with Oliver than friendly toward him. Their deep bond of friendship develops towards the middle of the second book. So in this first story, Oliver is intrigued by Beatrice since he has slept with all of his teammates and Beatrice is immune not only to his flirtation, but to his vampire persuasion. This is what allows a connection to grow between them instead of Oliver's usual "wham-bam-thank-you-ma'am, it's time to move on" approach.  Even if his original purpose was simply to sleep with the woman that Will obviously wants, once he gets to know Beatrice, his own love for her grows.
As much as I like to see Beatrice and Will's relationship grow, Beatrice spending time with Oliver is just so much funnier.
Last year's review of Book #3, Death Takes a Holiday
---
Favorite Scene:
"What should we look for?" I ask.
"Evidence of a ritual," Will says. "Most necros need to perform a ritual to raise the dead. A salt circle, dead animals, blood, charms."
"There is no evidence of anything like that at the fresh crime scene," Oliver says. "Do you honestly believe there will be anything at a two-week-old one?"
"Just look," Will commands. "And make a list of the corpses you think were raised. There could be a pattern. Two teams. I'll—"
"I will take Agent Alexander," Oliver cuts in.  Oh, goody.
He glances at me, but I just glare. "Fine," Will says, looking away. "Stay in radio contact. We'll meet back here in half an hour. You take west, we'll take east. Any trouble—"
"We will scream like little girls," Oliver finishes. "Come on, Trixie." He begins towards the cemetery.
Will grabs my arm before I can take a step. "If he gives you any trouble…"
I yank my arm away. "I can handle him, thank you very much."
His lips purse. "Listen, I'm sorry I didn't wait for you. I just wanted to—"
"Can we have this conversation later?" I click on my flashlight, pointing it right into his eyes. "I have to follow the bloodsucking vampire into the dark, creepy cemetery."
So I do. My partner waits by a black tombstone with that smirk on his face. "Lover's quarrel?"
"Shut up, and let's get this over with."
"For you, Trixie dear, anything."
I trudge down the small hill, sweeping my flashlight over the graves as I pass. Grass, grass, grass, grass. I walk and sweep in silence for a few minutes, Oliver is staying a short distance behind me. I swear I can feel his eyes on my butt. Grass, grass fresh dirt. "Found one." Putting the flashlight under my arm, I find my pad and scribble down her name and date of death. Jane Etheridge, dead three months. "No signs of salt or dead animals. Do you smell blood?"
"No. And I would not bother looking for any type of ritual. I do not think our necromancer has need of one."
"All the books say a blood sacrifice has to be performed."
"My dear, when you have been alive as long as I have, you come to learn there is no such thing as 'always.' People are never predictable. I believe that our necromancer is one of the most powerful puppet masters living today." He walks to the next grave, then the next. "More times than not, a necromancer requires power and focus to animate the dead. The blood adds power and the ritual helps him focus on the task. The one we are pursuing has all the focus and power he needs, hence no salt circle to protect him and no dead chickens laying about. Here is another one."
I jot down the name and date. Another recent corpse. We start walking again. "Then why are we looking for signs of one?"
"William has no imagination. His mind is placed squarely in a box with no use for the outside. All black or white. Not an ideal characteristic for a lover. I, on the other hand, live in a world filled with gray, blues and especially reds."
I stop walking but he strolls on. "Eww. Are you really hitting on me in a cemetery? Because that is wrong on so many levels."
"Some find cemeteries highly erotic."
"And some people sleep with sheep."
"Touché. I will try to contain myself until we reach the parking lot."
"You can try afterwards too."
Related Posts