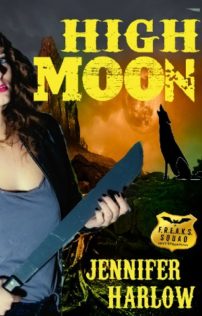 High Moon
by
Jennifer Harlow

Published by
Devil on the Left Books
on August 16th 2014
Genres:
Paranormal/Urban Fantasy
Pages:
364
Format:
eBook



I received this book for free from in exchange for an honest review. This does not affect my opinion of the book or the content of my review.
This post contains affiliate links you can use to purchase the book. If you buy the book using that link, I will receive a small commission from the sale.
---
Rating: 4 stars=story – 1 star=series ending
This was a great series with an adorable, self-deprecating heroine and her two very interesting love interests. A big part of the fun was the flirty banter between Beatrice and (vampire) Oliver, while Beatrice chased after serious and sexy team leader (werewolf) Will. Unfortunately, once Beatrice finally catches Will, we lose all the Oliver banter while Oliver sulks in the corner. Beatrice also learns that there are some serious issues to deal with once you catch your man who has his own PMS from hell every full moon.
---
Beatrice is a woman who knows what she wants and for the last year, she has wanted the love of her F.R.E.A.K.S. team leader, werewolf William Price. She doesn't care that he gets furry and chases his tail once a month. She has their future children already named, she just needs Will to acknowledge his own feelings for Beatrice. The few kisses they have exchanged tell her that Will isn't as immune to her as he tries to make her believe. But no matter what she does, Will keeps pushing her away. Yet a slipped "I love you" will bring about a change to her future that she might not have been as ready for as she thought she was.
Not everyone is happy for Willitrice. The team is once again fracturing over what their new relationship will mean to the team. The biggest casualty to this new romance is Beatrice's friendship with partner and BFF, vampire Oliver Montrose. Oliver and Will have been enemies and reluctant teammates for decades, but their animosity to each other exploded over their mutual feelings for Beatrice. Oliver was aware that Beatrice was in love with Will. She cried on his shoulder many a night over Will. But watching her unrequited mooning is different than watching the smooching lovers.  Knowing he lost her to a man whose "condition" could cause Beatrice to be ripped to shreds if they aren't careful is making him act irrationally.
In between kissing Will and arguing with Oliver, Beatrice and the team are still on duty. Their latest case takes them to the woods of Appalachia Summit State Park in North Carolina. Part of a leg is found by hikers, but where is the rest of the body? When evidence shows several werewolves hunting in the woods, the team knows that are trying to find a sadistic pack hunting humans for sport. It also looks like this pack is being lead by a female werewolf who is using magic to keep her pack in an perpetual state of lust for her.
Local packmasters join the hunt for the rogues and we can add them to the list of those who are not happy to find Will cavorting with a Beatrice. Bea is having a hard enough time dealing with the fact that her dream relationship with Will is suddenly speeding ahead faster than a two-man luge and it seems no one is in their corner.  Although to be fair she does have to admit that she and Will have been a bit…distracted on this latest case and maybe they aren't being fair to the rest of the team.
It seems that finally getting the man of her dreams might be the worst thing that has ever happened to Beatrice. Now that she has him, will she have to give him up in the name of public safety?
THOUGHTS:
My inner girly-girl was squealing with joy when we finally get Will to admit his feelings for Beatrice. Between being down about himself about being a real monster…a deadly werewolf, and the fact that he was not able to save his wife when they were attacked all those years ago, Will is always carrying the weight of the world on his shoulders. If it was up to him, he would continue to live in a constant state of self-punishment. But we knew that there was a buzz in the air from the moment he met Beatrice, and that any anger toward Beatrice was focused more on her relationship with Oliver, especially when he thought that they were sleeping together. So after Book 3 when Beatrice told him she would get him to admit his feelings for her, I waited on pins and needles not sure if there would be a Book 4 or if Jennifer Harlow was ending the series as a trilogy and leaving us hanging.
There is a part of me that now wishes she has left us with the three book series imaging what would happen upon Beatrice's return. You will note that although I gave the story a 4 star rating, I gave the series ending only 1. The investigation and story were as good as her other books. It was odd to read big, strong, dangerous Will Price texting "Love U. Love U. Love U." messages. I think I would have lost all respect if there was a "Shmoopsie" in there.
I like that Bea was the one to finally watch over the caged Will while he changed to werewolf at the next full moon. We finally got to see the change happen.  Everything went as I imagined it would, including Will's freak out when an angry Oliver (his nemesis) shows up to confront Bea when he finally learns that Will and Beatrice became a couple while he was in his death sleep.
Investigation aside, what was really missing in the story was the great rapport between Bea and Oliver. Oliver freaks out that he lost Beatrice to Will and becomes the psycho vampire everyone has been warning her about since she got there in Book 1. Beatrice is the only person Oliver has cared about since…ever. He behaves very badly upon learning the news and Beatrice refuses to speak to Oliver until he can apologize and be happy for them. So instead of the usual fun, flirty banter, we barely hear from Oliver at all unless his is yelling and pointing out how dangerous it is for Beatrice to be with a werewolf. I missed Oliver. I missed Oliver/Beatrice a lot.
I gave the series ending a 1 simply because I have never been so upset and absolutely angry finishing a story before in my life. I was going to let a friend borrow my Nook on her vacation because she too is a big fan of the series. I texted her as soon as I finished and told her I would not allow her to read it until she returned so she would not ruin her vacation.
After she finally read it she texted me this:
[box size="large" style="rounded" border="full"]the book was 😀 then it went to 🙂 to 😐 to  🙁    to :'( :'( :'([/box]
I always enjoyed this series as a fun and entertaining series. Beatrice is very self-deprecating and Oliver is flirty and charming. Even the serious Will you knew was grumpy because he wanted Beatrice but had his "woe is the werewolf" thing going. There are some paranormals and Urban Fantasies that you know take themselves very seriously, for example, The Black Dagger Brotherhood and Mercy Thompson. Maybe the author always intended her series to be dark, but I couldn't help but enjoy the fun parts of the series. The ending was so dark and awful I am still angry about it a month later. I tried to re-read one of the prior stories just to enjoy the camaraderie but it was so tainted by the ending, I couldn't continue.
There is no doubt in my mind that the author was simply done with this series.  I am so sorry she felt that way. I would have read these stories for several more years and enjoyed the characters she created. I truly wish I had a talent for writing. I would hit the fan fiction sites and carry on writing my own saga of the F.R.E.A.K.S.
We don't know why an author chooses how their characters will react, but even if Jennifer Harlow wanted to walk away from the F.R.E.A.K.S., she didn't need to be so gruesome. I could think of several different endings which could have left us maybe without a perfect Hollywood happy ending or simply one open to use our own imagination.
For paranormal lovers, I would still highly recommend the first three books in this series. As far as High Moon, you will have to read it at your own risk.
Received an ARC from the author in exchange for an honest review.
---
Favorite Scene:
Watching the man you love suck face with a gorgeous woman is not the best way to start a birthday. Welcome to my world.
He sits at a back booth, lips and every other body part pressed against that succubus, appearing to love every second and caress, the rat bastard. And how can he not be? The evil slut queen of doom has everything I don't. Long, straight hay-colored hair, big blue eyes, big breasts, long lean legs, tight body all encased in a skintight black dress clinging to her perfect curves that only a plastic surgeon could ever recreate on me. I've envied women like her all my life, and now that succubus has my future husband in her enticing clutches. Literally. An actual succubus is clutching his soft brown hair and kissing him as if her life depended on it. Which I guess it does—as she feeds off sexual energy to live—but still. Does he have to frigging enjoy the whole experience so much?
Howdy. The jealous, insecure, emotional wreck before you is Special Agent Beatrice Alexander of the covert branch of the FBI known to the underworld as the F.R.E.A.K.S. We fight the monsters under your bed: the vampires, the ghosts, and the soon to be decapitated succubi of the world. Those terrors in horror movies? Real. Trolls, zombies, even giant snakes. Killed them all so the citizens of American can go about their normal lives. Why am I so lucky? Because technically I'm one of them. I can move anything with my mind. It's called tele or psychokinesis. I can carry in groceries or stop hearts without lifting a finger. And let me say doing the latter is mighty tempting right about now.
The man having his tonsils examined by the succubus is my teammate Special Agent Will Price. He's technically a monster too, at least once a month. He's a werewolf, not that I hold that against him. After all us freaks can't help who or what we are. We're actually a lot alike everyone else. Though Will did literally eat my last boyfriend. The psycho was trying to kill me at the time, so I gave Will a pass on that. But this…
Will shifts in his seat to get closer to her. They haven't broken apart in over forty-seven seconds. Forty-seven! He's kissed her longer than he's ever kissed me all three times combined. I don't care that she's more or less bewitched him. I don't care that its all for a case. My hands ball into fists, fingers digging so deep in my own flesh it hurts. A cool hand touches mine. I look away from this nauseating PDA toward the hand's owner. My friend, the delectable Oliver Montrose gazes at me, his gray eyes warning me not to put into action what I've been contemplating. Namely storming over there and cold cocking that female dog with the butt of my Glock. Though she so deserves it. In Virginia Beach alone she'd been linked to two deaths. Two young seamen were found naked and dead in their own beds of apparent heart attacks after going home from a club with a hot blonde. Who knows how many others she'd sucked dry over the years?
For those not in the monster killer business, a succubus is a woman who Hoovers up the life-force from her lovers, much like a vampire feeds off blood. Now, I don't begrudge a life form getting whatever they need to live. I watch Animal Planet. Sometimes it's kill or be killed. But a succubus doesn't need to kill anymore than a vampire does. A little can go a long way. Some people are just evil. And right now evil has Will in a head lock.
"Whatever course of action you are contemplating inside that beautiful head of years, I suggest you forget it post haste," my vampire friend warns. His hand remains heavy on mine, a reminder about restraint. We don't want to blow our cover. While Will plays doctor, Oliver and I sit at the bar, just another couple enjoying the Virginia nightlife. A few stools down, Agents Rushmore and Wolfe, in their chic Ralph Lauren polo shirts and buzz cuts, nurse ginger ales, and keep their eyes locked on the same booth. Chandler is lucky enough to be out in the parking lot waiting for the signal to take her down. Darn you, innocent bystanders. Darn you.
Lord, I hate clubs. They're loud, crowded, expensive and filled with hormone crazed men and women with no sense of shame or decorum. I've lost count of how many strange crotches have rubbed up against my backside while "dancing." I'd only been a handful of times before I joined the F.R.E.A.K.S., and now it seems as if I live in one. Why preternaturals feel so at home in these places is beyond me. I guess to them it's nothing but a smorgasbord. Easy picking. Everyone's mind is so filled with sex and booze they forget basics like safety and common sense. And now Will has joined their ranks.
"I wasn't contemplating anything," I snap, downing my screwdriver. "I'm not bothered by them. Not a bit. It's work. We're working. Another drink, please! Now! Now!
"That is not a wise idea, my dear."
"Wise is so overrated," I mutter.
I glance back at the couple. Still making out, still…oh, no she isn't! Her graceful hand slides up Will's thigh, resting on the bulge in his pants. At first she just traces the outline with her fingertip, and then rubs against him with her whole harlot hand. He doesn't push it away.
Rage boils over. Involuntarily I leap up, every inch of me tense and ready to rip her shining hair out at the roots. Before I'm totally upright, a hand on my shoulder presses me back into my seat. "No."
"But she—"
"No," Oliver says as if I'm an ill-behaved dog.
"But he—"
"No."
Torture.
Related Posts