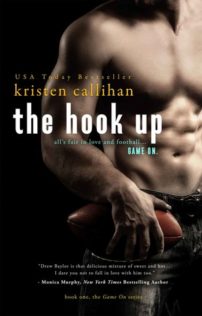 The Hook Up (Game On, #1)
by
Kristen Callihan

Series:
Game On #1
Published by
Self-Published
on January 16th 2015
Genres:
New Adult
,
Sports
Pages:
352
Format:
eBook



I received this book for free from in exchange for an honest review. This does not affect my opinion of the book or the content of my review.
This post contains affiliate links you can use to purchase the book. If you buy the book using that link, I will receive a small commission from the sale.
---
[box style="rounded" border="full"]I did it. I judged a book by its cover…and its back cover. I pushed this one off because I wasn't in the mood for a college drama where the big pompous jock just wants to get laid by the one girl who doesn't want him.  I was so wrong.  God, I love when a book kicks my ass for making it wait.  Drew and Anna dragged me through a roller coaster of emotions. I felt such chest pains waiting anxiously to see which one would give into their fear first and tear them apart.[/box]
Updated 3/21-15:  There is a different cover showing up on the Amazon copy.  It makes a difference and is much more appealing.
---
I just love the spark that hits Anna and Drew the first time they lock gazes, I was immediately drawn into their passion.
Drew Baylor is the star quarterback in his last year of college, being scouted by NFL teams. He is the shining star of the school and every eye turns to him when he walks into the room. But it is sassy, red-headed Anna Jones that catches his eye and leaves him tongue-tied.
Drew grew up with parents who were college sweethearts and their love was still strong when they were taken from him in a tragic accident. His mother always told him "You'll see, Drew. One day, love will creep up and smack you upside the head. Then you'll understand." And he did. From the moment he met Anna he started losing his heart. He is completely frustrated because no matter how hard he tries, Anna treats him like a leper and it's making him crazy.
While Drew shines in the spotlight, surrounded by lots and lots of female fans, we learn that Anna spent most of her life in the shadows. She was slightly overweight in high school, an awkward introvert that no one paid attention to or befriended. She doesn't like the attention being drawn to her, and the catty comments being made by the co-eds who want to take her place. She also can't let herself believe in Happily Ever After for someone like her, not with someone like Drew. Unlike Drew's happy home life, Anna's father abandoned them when Anna was just a child, and her mother's endless string of loser boyfriends doesn't encourage Anna to put faith in forever love.
When their passion for each other can't be denied, Anna agrees to a Hook Up with Drew but won't acknowledge the word "relationship" at all. In fact, to protect herself from heartache which she is certain will come when Drew comes to his senses and returns to his Barbie blonde cheerleader types, she refuses to allow kissing, sleeping over, and she barely allows touching after the sex is over.
Yet is it not the kissing, or lack thereof, that cements their relationship.  No matter how hard Anna tries to fight it. It is the fact that Drew opens up his heart and his pain and fear to only Anna. Their heartfelt conversations where Drew shares his pain over the loss of his parents and his fears for the future and simply opens up to her encourages Anna to share some of her secrets as well. But she does not tell him her deepest fear, which is falling in love with him and having him toss her aside.
Drew realizes that Anna is always ready to flee and every time he pushes too hard at her walls, he knows he has to pull back or lose her completely.  Whether it will be her fear or his frustration that will put too much pressure on the relationship, we have to wait and see.  Thank God this was a romance or I don't think I would have survived.  After the "break up" (because you know it's gonna happen) every page I turned I grew more frustrated at friends, teachers, Anna's mother, waiting for someone to shake the sense back into them or to be the voice of reason to do something, ANYTHING, to get them back together.  Idiots!
And just like in Pretty Woman you are just waiting for that first kiss with as much anticipation as Drew and it didn't disappoint at all. *fanning hot cheeks*
THOUGHTS:
I freaking love Drew and Anna and I was so drawn in by them and their passion that I was anxious and nervous for them. I went into work to my books friends and grumbled "Someone's going to screw it up!! I know it!  I can't breathe." Then I told them I was passing my Nook around when I was done because they all have to read it.
Must read!  Must read!  Must read!  Did I mention that YOU MUST GO READ THIS!
Received an ARC from the author in exchange for an honest review.
---
Favorite Scene:
I'm thinking about her voice, that syrup-thick southern drawl that makes my skin prickle. I'm in the South now. Accents like hers surround me on a daily basis. Why it is that her voice affect me more than others, I don't know. Nor do I care. She talks and I want to listen. Endlessly.
I've got it bad. Bad enough to be sporting semi-wood in the middle of a crowded room. And she's not even here.
I take a sip of water, not really listening to the chatter around me. What does she do on her nights off? Frequent clubs? Hang out at a coffee house and chastise unsuspecting men on the unfairness of the glass ceiling? That makes me smile. I love the way her pert nose scrunches up when she's irritated and her wide green eyes narrow into slits. Like she won't hesitate to kick someone's ass if she thinks they deserve it. Totally hot.
The water I'm drinking is warm and tastes of plastic. I set the bottle down harder than necessary. An antsy, irritable feeling grows within me. I don't want to be here. I've heard all these stories and jokes a thousand times before. And while I love my guys, I'm bored. I want to hunt down Anna Jones, rattle her cage, and see what she throws at me. But I don't know where to start looking. And it pisses me off.
I'm about to tell Gray that I'll see him tomorrow, maybe hit the sack in an effort to at least try to get some needed sleep, when I feel a familiar tightening in my groin and along my back.
I have no explanation for how or why it is that I know when she's near. I just do. Like a magnet to metal, my body swivels and my head lifts. And there she is.
Everything stops. My heart in my chest. My brain function. Fuck me sideways. Just someone stick a fork in me. I'm done. She isn't in her standard t-shirt and jeans, or one of her soft little sweaters. She's in some strappy top that barely contains her breast, those creamy, beautiful breasts that bounce and jiggle with each step she takes. Those breasts are going to be the death of me. I'm afraid I've audibly groaned.
And damn if I'm not the only one who's noticed her. Too many eyes are glued to her chest. My hands clench. I'm no different than them, maybe worse, because I've made a habit of staring at her. But I'm itching to smack heads, send those eyes forward and off of her. I also have the sudden urge to whip off my shirt and tuck her into it.
She makes her way farther into the room, and I see the skirt. A swishy black thing that clings and sways around her pale thighs. Strong yet soft thighs that I know would feel so good parting for me, that would wrap me up and hold me tight. Je-sus.
A frown mars her face, drawing her auburn brows close and pinching her lips. If there is anything I love more about her than her breasts, it's her lips. Deep pink and plump, those lips entrance me. Lips I've wanted to kiss since I first laid eyes on them.
She isn't happy to be here. And she scowls back at a pair of girls who look at her as if she's an intruder. I know those girls. Sports groupies. "Cock Jugglers" are what Gray calls them. And though it's crude, it's fitting. They've serviced more than half the team. Ugly experience has taught me to keep far away from them. I don't like the smirks they're giving Anna. She shouldn't be here. We shouldn't. I want to take her out of here and just drive somewhere. Maybe to that coffee house in my imagination. I'd be happy to have her lecture me on all the ways I annoy her.
Her eyes scan the room as if seeking a way out.
Look this way, I tell her in my head. Look at me. Give me those wide, green eyes. Lock them on me with that intensity I feel down to my bones.
Look at me.
Look at me.
As if she hears me, her pale shoulders tense, and my body seizes with hot anticipation. Her long lashes sweep upward and, bam those eyes find mine. It's like being blindsided, only heat and breathless pleasure overwhelms me instead of pain.
Her full lips part as if she's taking a shocked breath, and I find myself doing the same. Jesus, I want her. She watches me, a mixture of anxiety and raw excitement gleaming in her eyes. I need to find a way to erase that anxiety. I need to know her better. Nothing on earth is stopping me from going to her.
Adrenaline rushes through my veins and my heart rate increases. Game on.
Related Posts