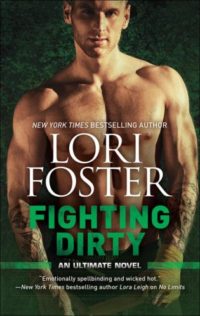 Fighting Dirty (Ultimate, #4)
by
Lori Foster

Series:
Ultimate #4
Published by
HQN Books
on February 23rd 2016
Genres:
Contemporary
,
MMA/Fights
,
Sports
Pages:
384
Format:
eBook


I received this book for free from in exchange for an honest review. This does not affect my opinion of the book or the content of my review.
This post contains affiliate links you can use to purchase the book. If you buy the book using that link, I will receive a small commission from the sale.
---
A captivating set of characters. This is the last novel in the series but it stands on its own. Definitely worth a read.
According to the author, this review contains spoilers of the first few books in the series.  If you are still reading, please come back.
Armie Jacobson has never sought fame. He was content to fight in local fights. Fame and limelight would only bring the pain from his past front and center and he preferred to leave that all in the dark where it belonged. It is his best friend and mentor, Cannon, who has always stood beside him through his past and Cannon that encouraged him and pushed Armie to the attention of the SBC.
Armie is certain Cannon would take a swing at Armie rather than patting his back if he knew what Armie really wanted. For the last few years, Armie hasn't been able to help but notice that Cannon's little sister, Merissa, is not longer a child. Each year she gets more beautiful, a fact he can't miss, but he knows Cannon wouldn't want his sister with anyone like Armie. Not only is Armie's very active sex life the envy and talk of the gym, but Cannon knows all of Armie's dark secrets. So Armie will continue to do what he has always done and that is keep enough distance from Rissy so he won't be tempted to take a taste.
Armie isn't the only one who lusts from afar. Rissy has taken Armie's standoffish attitude as sheer disgust, which hurts all the more because Armie is all she ever thinks about. The fact that he sleeps with a different women almost every night, but can't seem to stand to look at her is torture to her poor heart.
After the bank where Merissa manages is robbed and Armie is willing to take a bullet for her, she finally confronts him why he would be willing to die for a woman he can barely look at. Confessions are made and Armie and Rissy give in to temptation. But still Armie doesn't believe he is worthy of someone like Rissy and knows that once Cannon finds out, Armie's fantasy of a life with Rissy by his side will be over.
What they don't realize yet is that there is more to the bank robbery than just criminals looking for cash. While Armie is preparing for his first professional fight, and trying to keep his relationship with Rissy quiet, someone is looking to hurt Merissa and might just take things too far.
THOUGHTS:
This was a strong cast of characters.  This is the last book of the series and the story is mostly Armie and Merissa, but you get enough of the others to get a feel that you really missed getting to know these people if you didn't read these other stories. I did pick up one of the other books which was on sale at Amazon last week (sorry that sale is over) and I am going to try to check this series out.
Armie doesn't think much of himself. He knows he is a good fighter, but he grew up with an abusive, drunk father and his mother eventually left and abandoned him to the father.  So Armie's self-worth centers only on his fighting. Added to his crappy childhood, Armie was accused of rape when he was 18 or 19. He was strong and attractive even then and with the same reputation with the ladies. Armie was chased by a rich, spoiled brat while she was home from college and made the mistake of eventually giving in and sleeping with her. She got clingy and when Armie gave her the cold shoulder, she screamed rape. Even when Cannon and Armie were able to prove with video evidence to the girl's father that she was still clinging to Armie at the party after she claimed she was raped, he threatened to ruin Armie unless he slunk off into the gutter. The rape accusation is still hovering in Armie's background and so is his father who will happily back of the claims for enough money from a reporter.
I really like the fact that while Armie was hiding his relationship with Rissy from her brother since he felt absolutely unworthy of her,  but it is her brother who is nudging his sister toward Armie. He can clearly see their interest in each other while they eyeball each other across the room, and he sees Armie for the man he is and not the abused kid he was. He also finds sponsors for Armie who are willing to support Armie not only in his career but are willing to help him if the false accusations of rape come to light again.
I also like that although Rissy wasn't 100 percent sure of Armie's feelings for her, since he wants to keep everything a secret, she is willing to fight him for their relationship. When Armie believes that someone is trying to her hurt because of him and she needs to walk away, she tells him in no uncertain terms that she will step back until they get things straightened out, but they are not done and he will not be sleeping with anyone but her between now and then because he is hers.   I like that she was such a strong character and stands up even to her own uncertainty.
The only thing that I really didn't like and which didn't really flow for me was the fact that Rissy is being attacked as part of a plan by her old boyfriend for her to come running back to him. This isn't a spoiler as we watch him plan each attack with his paid henchmen. (1) He's really not rich or important enough to have paid henchmen. Did he put an ad in the paper? Henchmen needed for nefarious tasks to get my girlfriend back. No limit to evil deeds.   And (2) His plan was to scare her so she would coming running back to him. Her brother is a MMA champ and the boyfriend knows that she is now dating Armie who is a professional MMA fighter. Why would she go running to this whiny loser? Their breakup was awhile ago, and possibly part of a prior story.  He doesn't love her.  He suddenly doesn't like it that she walked away from him and now he wants her back so he can dump her. There was too much delay between break up and needing her back. And his increasing desperation started getting more and more pathetic, even to the henchmen.
So take away the pathetic boyfriend and his really stupid plan of break up retribution and it was a really good story of two people finally getting together and getting the HEA they deserve.
Received an ARC from the publisher in exchange for an honest review.
---
Favorite Scene:
She didn't understand him, what motivated him or why, but she loved him. For tonight, that seemed like enough. Next to the bathroom was an open bedroom. Biting her lip, anticipation keen, she peeked in. Heavy black furniture dominated the room. The unmade bed was king-size with a directional light overhead. On the wall facing the bed was a gigantic mirror. Otherwise, it looked like the rest of his apartment–comfortably masculine and lived in.
Crowding close to her back, his voice dark and silky with menace, Armie asked, "Having second thoughts?"
She shook her head.
"Looking for my whips and restraints?"
She spun around to see him, which meant they stood very close, eye to eye, mouth the mouth. "Do you have them?"
His firm lips quirked up. "Curiosity killed the cat."
Guessing that he only wanted to scare her off, she taunted him. "I don't think you do."
His eyes narrowed. "I have whatever I need to make a lady happy. And by happy, I mean screaming as she comes."
Wow. He certainly sounded confident as he said that. "So…restraints if she asked for them?"
His expression hardened more "I'm not having this discussion with you."
"Pretty sure you are." She tried to sound cavalier when really, inside, she was a little appalled. And maybe just the tiniest bit turned on, too. Not by the idea of being physically hurt, but any thoughts of Armie in sexual mode made her tingle. "Besides, I heard you talking to that woman. I'm dying to know what you did with her."
Confusion overshadowed is antagonism. "What woman?"
"The one who came to visit you tonight."
His jaw loosened then he clenched it tight. "You eavesdropped?"
"Afraid so." It'd be hard to question him without admitting that much. "But not on purpose. I came to see you, and she was already there. I didn't want to intrude, so I waited."
"Within hearing distance?"
"You were both in the hall. Not like I put my ear to the wall."
Annoyance had him breathing harder and his right eye kept twitching. "Shit. I'm too far gone to figure this out."
"Far gone?"
"Drunk." He waved a hand at her. "And you being here isn't helping."
"Don't ask me to go." For good measure, she admitted, "When I'm alone, I can't stop thinking about the robbery and that man and how he–"
"Shh. That's over." There, outside the bedroom, while stepping in against her, Armie caught each of her hands and pinned them to the wall at either side of her head. "You're okay."
The press of his body all along her length caused her breath to hitch. Especially when his solid erection nudged her belly. He wore only the silly boxers, and she could feel each and every long, firm muscle through her thin T-shirt and low-riding jeans.
His gaze drifted over her face, lingering on her mouth, then down her throat to the tops of her breasts. The side of his nose brushed hers and she could smell the whiskey on his breath. "You don't know that you're asking for, Stretch."
This time the nickname didn't faze her. "Yes, I do."
His lips grazed her bruised jaw. over to her earlobe. "Rissy…" he said, sounding pained.
"I'm asking for you, Armie. Just you."
He hesitated, then thrust himself away from her. "Not that easy and you now it. No one comes to my bed wanting just me."
"I would," she whispered. "I do."
Related Posts