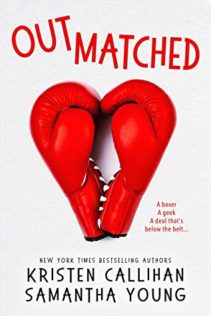 Outmatched
by
Kristen Callihan
,
Samantha Young

Published by
Self Published
on November 19, 2019
Genres:
Contemporary
Pages:
348
Format:
eBook



I received this book for free from in exchange for an honest review. This does not affect my opinion of the book or the content of my review.
This post contains affiliate links you can use to purchase the book. If you buy the book using that link, I will receive a small commission from the sale.
What happens when a boxer finds chemistry with a geek?

Parker Brown can't believe she needs to hire a fake boyfriend. When she landed her dream job in renewable energy, she thought she'd be entering a world at the forefront of progressive thinking. But the head boss prefers to promote employees who are "settled." Thankfully, she's found the perfect candidate, a fellow intellectual looking for some quick cash. What Parker gets is his protective big brother—Rhys Morgan. The tall, muscled ex-boxer with a foul mouth shows up just as her boss does, and now she's stuck with the manipulative jerk.

Responsibility weighs heavily on Rhys. Now permanently out of the ring, he's trying to hold together his late father's gym and keep his younger brother, Dean, on the straight and narrow. To save Dean from himself, Rhys takes his place, ready to give this society girl a piece of his mind. Instead, he finds an opportunity. Even though they can hardly stand each other, posing as Parker's boyfriend is a win-win deal. She gets to keep her job, and he'll charm her star-struck boss into sponsoring his gym.

Problem is, they can barely keep their hands off each other. And what started as an easy deal isn't so easy anymore. Because what future can a rough ex-boxer, afraid to open his heart, and a polished society geek, who has sworn off real relationships, possibly have?

They say opposites attract. These opposites are about to combust on impact.
---
I devoured this book. The combined talents of Kristen Callihan and Samantha Young created quite the knockout. I absolutely loved Parker and Rhys.
Rhys Morgan, ex-heavyweight boxing champion, has enough problems on his plate including the fact that he might lose his father's gym to the bank or the developer who wants to buy up his property.  After paying for his mother's hospital bills and his brother's education, it was his father's bad business sense and love of gambling used up the last of Rhys's winning.  Rhys needs his brother to use said expensive education and get a real job, not answer an ad for some lonely, spoiled rich girl who needs a fake boyfriend to impress her boss. But when Rhys meets the pixie-sized princess who, oddly enough, isn't intimidated by his size or his rough demeanor and who has the nerve to shoo him away, actually shoo him, he's more intrigued than he wants to admit.   And as much to antagonize the little tyrant then just the promise of the money, Rhys decides to take his brother's place, especially after he finds out her boss, a self-indulgent billionaire, is a fan of his boxing career. Rhys hopes he can convince this man to sponsor his gym and help get him out of his financial hot spot.
Parker Brown can't imagine anyone believing that she and Rhys would actually be a couple. Not only does Parker's taste lean more towards Rhys's geeky brother but she's seen the women that Rhys was photographed with during the height of his career and she is nothing like those tall, shapely and honestly, gorgeous women. It's bad enough she has to pander to her misogynistic jerk of a boss, a man who insists that he will only hire employees who show stability in their lives outside the office, whatever that means, but he can barely look away from Rhys long enough to acknowledge her.
As her boss becomes more and more obsessed with Rhys, it helps connect Rhys and Parker in a you and me against the world way.  No question that as odd a couple as Rhys and Parker make, they were made for each other.   I absolutely loved watching their relationship develop and how they each grew as a person due to the influences of the other.  Even before the declarations of love, they were stronger knowing instinctively that the other would have their back even if no one else did.
The fake boyfriend trope is one of my favorites because usually gives our H/H time to get to know each other in close quarters since they are forced to spend a lot of time together.  While it might sound like an easy enough concept, not all authors can get it right.   It needs to be more than just feeling chemistry between the two characters.  Chemistry is great but we need to feel the connection between them and understand why they begin to see the other person in a romantic sense.  In this book, Rhys has a moment's pause when he wonders if he hadn't taken his brother's place would Parker have fallen for Dean instead, and we have to be able to say "No, her connection is too strong to Rhys because…"
I have enjoyed several stories from both of these authors and can honestly say that they work wonderfully together.  I would absolutely grab a copy of anything else they want to collaborate on.
I apologize to anyone who saw the previous post. That is what happens when WordPress goes bad and resets to a previous draft. Bad WordPress. Very bad!
---
Favorite Scene:
Jackson gave me a knowing look. "I said, now that the team exercise is over, let's just play."
My heart dropped. "As in…no rules. Just…"
"Play until we're exhausted? Pretty much. We booked the outdoor grounds for three hours, and Rhys led the red team to victory in thirty minutes. We might as well get our money's worth." Jackson lifted his gun. "You all have ten seconds to get your ugly, khaki, no-good keisters out of here before I cover your cargo pants in paint."
Laughter filled the woods at his Home Alone reference as we took off toward the cover of the trees. This time, knowing Rhys was the enemy, I went off on my own.
Pain flared in my shoulder, and I cried out, realizing I'd been hit. Spinning around, I saw Pete aiming at me with his stupid overpowered gun, a calculated look in his eyes. Just as he was about to fire again, red paint splattered all over his visor.
Then just all over him, period.
Glancing around, I found Rhys, standing behind a tree, gun aimed at Pete. His head turned toward me, and he winked.
I grinned. Grateful.
Then I shot him.
Rhys looked down at his chest in apparent shock, and I threw my head back in laughter. It cut off when he lifted his head, eyes narrowed in determination.
Oh dear God, what had I done?
With a yelp of apprehension, I spun around and bolted through the trees. I half expected to feel the sting of shots across my back, but instead I heard racing footsteps.
Oh hell!
A strong arm caught me around the waist, a heavy weight propelling me toward the nearest tree. At the last second I found myself turned and pulled into Rhys's arms as we collided with the trunk. He wasted no time pushing me against the tree as he ripped off his mask. Determined heat filled his beautiful green eyes as he gripped the bottom of my mask and gently took it off.
"What are–"
My words were lost in his kiss.
A deep, thorough, searching kiss that made my toes curl in my sneakers and my fingernails bite into his shoulders. His body pressed deep into mine, and I instinctively spread my legs to accommodate him. Everything faded in the heat of his kiss. Watching him kick butt–no, Rhys kicked ass–and defend me was unexpected foreplay.
It wasn't a typically romantic kiss. In fact, it was much like our kiss at his loft–wet, hungry, breathless, needful, passionate, sexy. And I never wanted it to stop.
Rhys's grunt rumbled deliciously down my throat before he broke the kiss with a grimace. "Fuck."
As he glanced over his shoulder, it took me a second to come out of my lusty, lip-swollen haze to realize Jackson, Camille, Laura, and Xander surrounded us. They grinned, and I blushed beet red.
"This is just too easy," Jackson snorted, stepping back to hold up his gun.
He, like the others, was covered in paint.
Rhys stepped back.
Convince I was blood red from the tip of my toes to the top of my head, I avoided everyone's gaze as Rhys turned to the others. That's when I saw four paint splatters on his back. He'd taken hits while were were kissing, and I hadn't even noticed.
My goodness.
"You've been hit." I stated the obvious in all my fluster.
Rhys looked over his shoulder at me, eyes full of laughter. "It was worth it, sweetheart."
"Yes, thank you for the show," Xander teased.
Related Posts