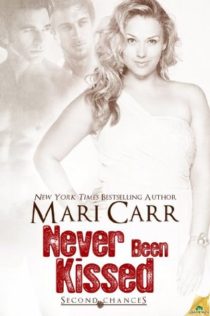 Never Been Kissed
by
Mari Carr

Series:
Second Chances #1
Published by
Samhain Publishing
on August 19th 2014
Genres:
Contemporary
,
Erotic
Pages:
176
Format:
eBook



I received this book for free from in exchange for an honest review. This does not affect my opinion of the book or the content of my review.
This post contains affiliate links you can use to purchase the book. If you buy the book using that link, I will receive a small commission from the sale.
---
[box style="rounded" border="full"]This was supposed to be a quick sexy novella but there was nothing interesting or really sexy about this story. The only thing about this story that I would applaud the writer for is that she didn't wait until Shelly became a size 2 for her to be the focus of these two hot men. Shelly was still hovering at 200 lbs when she started a sexual relationship with these two men. [/box]
Shelly's friends are concerned about her lack of romance and the fact that Shelly is still a virgin. Shelly is shy and overweight. Shelly has decided she wants to get in shape so she can meet men. Unfortunately, Shelly's lack of confidence blinds her to the fact that her co-worker, Christian, who she has a lot in common with and has a delightful relationship with, has already been lusting after her even though she is not a size 2.
Shelly starts keeping a log of her eating and her exercise and she gets herself a personal trainer, Lance. Lance also finds Shelly's personality so intriguing that he also sees beyond the fact that Shelly is significantly overweight.
Turns out Lance and Christian are friends and realize they both want Shelly. They also decide they would be willing to share her. Shy and virginal Shelly decides she wouldn't mind being the meat in this man sandwich and begins a relationship with both, and eventually becomes the envy of her friends.
THOUGHTS:
Who doesn't have time for a sexy novella especially one where the shy overweight girl loses a lot of weight, gains confidence and the attention of several attractive men? No one. But in this case, I am going to tell you to pass this one by. The premise was great and I loved the fact that Shelly was only just beginning her weight loss journey when she begins her relationship with both of these guys. It is her delightful personality and not her tiny butt which gains her their attention. I loved that part but it is the only thing that earned a star.
Other than the fact that this story showed us that Shelly didn't have to be super skinny to win the heart of two hot, attractive men, the writing wasn't that great and even the scenes including the threesomes weren't that titillating. For an erotica novel, the encounters weren't sensual or stimulating and in adding a third partner, she only made a line up as Christian and Lance took turns or had separate "dates" with Shelly. There was no true threesomes being had. I am not a big erotica reader. I like sex to be a part of a good romance story as opposed to the main focus of the story. But if I picked this up thinking it was erotica, I would be left wondering what the big hoopla was all about with the sudden flood of erotic novels.
Actually, I was quite surprised to see the Mari Carr has dozens of books listed under her name on Goodreads. The writing was so basic that I thought it was her first novel.
It was a good premise and A+ for making Shelly win these men while still on her weight loss journey but overall, not a well written story.
Received an ARC from the publisher in exchange for an honest review.
Related Posts