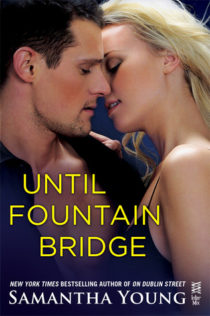 Until Fountain Bridge (On Dublin Street, #1.5)
by
Samantha Young

Series:
On Dublin Street #1.5
Published by
Penguin Group (USA)
on June 18th 2013
Genres:
Contemporary
,
Small Town
Pages:
111
Format:
eBook



I received this book for free from in exchange for an honest review. This does not affect my opinion of the book or the content of my review.
This post contains affiliate links you can use to purchase the book. If you buy the book using that link, I will receive a small commission from the sale.
---
Ellie Carmichael had a crush on Adam Sutherland, her brother, Braden's, best friend, for years, and although Adam treated her with proprietary concern he made it clear he thought of her only as a little sister.

Over the years, as Ellie's crush develops into love, her romantic idealism makes it difficult for her to move on. To make matters worse, as she's gotten older, Adam's attitude has changed toward her. His affection for her is now joined by attraction, but his loyalty to Braden, and his fear of losing the only family he has, stops him from claiming Ellie the way she wishes he would.

But one night his attraction is put to the test, and as much as Adam would like things to remain the same everything changes between them in a simple brush of the lips.

Soon lust, love, jealousy and heartbreak combine to force change upon their relationship… and Adam discovers the hard way that life is too damn short to spend it on regret.
---
Samantha Young's hit novel, On Dublin Streeet, first introduced us to Braden's lovable sister, Ellie Carmichael who has been in love with Braden's best friend, Adam Sutherland for years. We caught glimpses of their behind the scene romance while Joss and Braden had the spotlight.
Now with the help of some flashbacks, we watch Ellie and Adam take the spotlight and show us just how their years of friendship and affection turned into love and passion.
THOUGHTS:
This was an enjoyable short story and a very clever way to bring us back to their beginning. As Ellie moves into Adam's apartment, she decides that she wants to give her diaries to Joss to use to write her next book. Adam walks in on her looking through her piles of diaries. Ellie begins the story by presenting him with her diary entry from age 14, when she first turned her affection for her big brother's friend into a young girl's first love. They then discuss monumental moments throughout the next few years and Ellie pulls out those important moments from her diaries.
Adam is given a deeper understanding of Ellie's feelings for him and how his support and his neglect effected Ellie and certain choices she made in her life.
It was a very clever way to keep us in the present and show us things which were only hinted at in the background of On Dublin Street. Samantha Young has a great writing style. She has written more than I have had a chance to read, but I have enjoyed all the stories I have read so far and am looking forward to more.
Received a review copy from netgalley.com, courtesy of the publisher. Thank you.
---
Favorite Scene:
"Come here, sweetheart." Without asking, he pulled me into him and I immediately nestled my cheek against his chest and held tight, trying not to cry.
"So where is this little shit?"
I pulled back from him, suddenly wary now that he was here and obviously furious. "What are you going to do?
"He's fifteen?"
"Sixteen."
"Sixteen." He curled his lip in anger. "I can't hit him, but I can scare the absolute fuck out of him."
Braden and Adam cursed a lot, and had no problem doing so in front of me. Mum would be furious if she ever found out how much they cursed. Luckily for them, it had been drilled into me since the age of zero that you didn't curse in front of Elodie Nichols, and I'd never repeated the words Braden and Adam used around me. To be fair, they limited their expression to the basics–I'd heard way worse at school. Today in fact, and they'd been directed at me.
I felt my eyes start to water again. Adam saw and his eyes narrowed.
"Els, where is this boy?"
I sighed heavily. "Around the back of the building, behind the lunch room."
"Right." Adam strode in through the gates and I hurried after him, ignoring the curious gazes of my fellow students, and the excited chatter as they guessed that Adam was here on my behalf and that something was about to go down.
My cheeks burned with embarrassment, while my heart pounded in anticipation for a little retribution for the worst morning in the history of my entire school career.
When we rounded the corner of the building, Adam stopped and stared into the crowd of seniors. The fourth and fifth years gradually turned their heads toward us, their eyes widening at the sight of me with Adam.
"Which one?" Adam asked flatly.
"Brian is the one with his blazer tied around his waist."
"The tall, blond kid with the bottle of juice in his hand? The one that looks like a prick?"
"That would be the one."
"Little…" Adam growled under his breath and marched toward Brian, who dropped his drink and clenched his hands into fists. Brian's friend nudged him and he turned around to face Adam. Brian instantly paled at the sight of him.
Adam approached and towered over Brian. He tilted his head, so his face was close to Brian's and whatever he said made the seniors around him grow wide-eyed.
"Well?" Adam suddenly asked loudly.
Brian mumbled something.
"Louder, you lying little shit."
"I didn't have sex with her!" Brian cried. "I didn't touch her…" He turned and caught sight of me watching and his eyes seemed to plead with me to call Adam off. "I'm sorry!" he said. "I lied, alright!"
A murmur from the crowds drew my eyes past Brian to the lunchroom doors, and my stomach dropped when I saw Mr. Mitchell standing there watching Adam. Adam must have seen him too because his head came up. He didn't however, back away from Brian.
"Who are you?" Mr. Mitchell asked in a belligerent tone as he walked toward Adam. "You're not allowed on school grounds."
"I was just heaving a word with Mr. Fairmont here. We're all good." Adam shrugged as if he wasn't a twenty-one year old who'd just gotten through threatening a sixteen-year-old.
"Brian, are you okay?" Mr. Mitchell asked.
"Uh, fine, Mr. Mitchell," he took a step back from Adam toward the safe proximity of the geography teacher.
"Adam!" I called out, wanting him gone before he got in trouble.
I drew Mr. Mitchell's gaze and his face clouded over. "Miss Carmichael, you know quite well you aren't allowed visitors during school hours."
"Sorry, Mr. Mitchell."
"I'm just leaving." Adam shot Brian one last warning look and then turned and casually strode toward me, taking his time. Adam didn't like to be told what to do.
When he reached me, he put an arm around my shoulder and had me walk him back to the school gate. No one said a word as we passed.
They were all looking at me as if I was extremely cool. I mean, I must be if I had Adam Sutherland's arm around me, and he'd shown up at school to scare the truth out of Brian.
I grinned and Adam caught it, his soft laughter making me all warm and fuzzy.
"Feel better?" He asked as we came to a stop.
"Yes. Thank you."
"What were you doing at a party on a Saturday night?"
I frowned at his proprietary tone. "I'm fourteen, Adam. It was a friend's birthday. Anyway, I didn't know seniors were going to be there."
He nodded. "Just be careful."
"Yeah." I lowered my gaze, feeling bad that he'd been dragged into my teen drama.
"Come here." Adam pulled me to him again and pressed a soft kiss to my forehead before he hugged me close. Now that I wasn't bemoaning the stress of my morning and crying on his chest, I was suddenly fully aware of being crushed against him. He smelled amazing, and his body was hard with lean muscle; it felt good against mine.
A weird, tingling feeling erupted in my lower belly and my skin suddenly grew incredibly flushed.
I jerked back and tried to cover my awkwardness with a tremulous smile and a goofy wave.
Related Posts