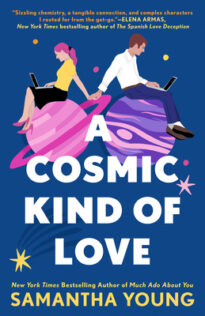 A Cosmic Kind of Love
by
Samantha Young

Published by
Berkley
on October 18, 2022
Genres:
Contemporary
Pages:
384
Format:
eBook
Source:
Netgalley



I received this book for free from Netgalley in exchange for an honest review. This does not affect my opinion of the book or the content of my review.
This post contains affiliate links you can use to purchase the book. If you buy the book using that link, I will receive a small commission from the sale.
Space is the last thing an event planner and an astronaut need in this charming new romantic comedy from New York Times bestselling author Samantha Young.
When event planner Hallie Goodman receives party-inspiration material from the bride of her latest wedding project, the last thing she expects to find in the files are digital videos from Darcy's ex-boyfriend. Hallie knows it's wrong to keep watching these personal videos, but this guy is cute, funny, and an astronaut on the International Space Station to boot. She's only human. And it's not long until she starts sending e-mails and video diaries to his discontinued NASA address. Since they're bouncing back, there's no way anyone will ever be able to see them...right?
Christopher Ortiz is readjusting to life on earth and being constantly in the shadow of his deceased older brother. When a friend from NASA's IT department forwards him the e-mails and video messages Hallie has sent, he can't help but notice how much her sense of humor and pink hair make his heart race.
Separated by screens, Hallie and Chris are falling in love with each other, one transmission at a time. But can they make their star-crossed romance work when they each learn the other's baggage?
---
A sweet romance.
Event planner Hallie Goodman works for one of the elite event planners in the city. She is preparing the engagement party for socialite Darcy Hawthorne and looking for Darcy's preferences. Darcy simply sent her a link to a drop box with saved ideas. But what Hallie finds in this file, changes her life. Darcy's former boyfriend is Captain Christopher Ortiz, an astronaut who sent Darcy recordings during his time at the International Space Station. Hallie knows that she could get in trouble for invasion of privacy but after only a few minutes of watching these videos, she becomes obsessed with watching Chris and his excitement over his time in space.
Hallie feels guilty about watching and sends a video to Chris's NASA email contact apologizing for watching his videos. At first Chris is angry and has Hallie's video bounced back as if the address is invalid. But when more videos keep popping up, Chris's own curiosity kicks in and he too becomes intrigued by the adorable, pink-haired woman with her crazy stories. So much so, that Chris accepts the invitation to Darcy's engagement party so he can bump into her event planner and introduce himself.
Hallie takes to opportunity to apologize to Chris again in person and it is obvious that Hallie doesn't realize that Chris has watched her own videos diaries to him. It might be a mistake but Chris keeps that information to himself. Chris decides that he needs Hallie's help to plan a retirement celebration for himself, since he doesn't plan on returning to space. In fact, spending time with Hallie is the only decision Chris wants to make right now.
My thoughts:
I enjoyed spending time with Chris and Hallie. They got to know each other over videos, even if they weren't aware of each other watching. When the finally meet in person, they are both pretty committing to beginning a relationship. They each tried to play it cool not realizing that the other was desperately trying to play it cool as well and not come off as well, desperate to make a connection. Both had bad relationships in the past but were pretty sure that this relationship was what they needed in their life.
The problem is that I really hated the parents in this story. Hallie's parents had a bitter divorce and each kept trying to drag Hallie onto their side. Trying to keep the peace between them while they were still married, made Hallie a people pleaser which allowed her parents to continue their mental abuse of her long into their divorce. Their bitterness towards each other was taken out on Hallie instead of confronting each other directly.
That was so bad but what might have been worse was Chris's treatment by his father. Chris's father was a self-made millionaire who was used to controlling everything. He also favored Chris's older brother, Mateo and while Mateo was alive, his father simply ignored Chris. After his brother was killed in battle, Chris's father focused all his attention on Chris and not in any positive way. He constantly verbalized that not only did Chris not live up to his brother but his father was unhappy with how Chris was living his life. The only exception to that was Chris being an astronaut and that he had been dating socialite Darcy for a time. That was acceptable to him. Now Chris's indecision of what to do next with his life and his dating a pink-haired, "party-girl", is not. Even his father's sudden attempts to mend fences oozed couldn't be trusted.
I would enjoy my time with Chris and Hallie but I found myself overly stressed by both their parents. Enough so that it actually affected my enjoyment of the story. If I was going to re-read this story, I would definitely just jump around to Chris and Hallie moments.
Related Posts