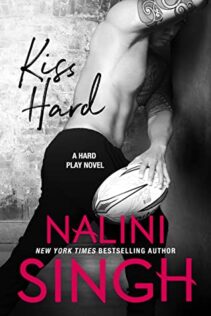 Kiss Hard (Hard Play, #4)
by
Nalini Singh

Series:
Hard Play #4
Published by
TKA Distribution
on May 3, 2022
Genres:
Contemporary
,
Sports
Pages:
329
Format:
eBook



I received this book for free from in exchange for an honest review. This does not affect my opinion of the book or the content of my review.
This post contains affiliate links you can use to purchase the book. If you buy the book using that link, I will receive a small commission from the sale.
New York Times bestselling author Nalini Singh brings you a sinfully playful contemporary romance between two sworn enemies turned partners in crime...
Daniel Esera is a young god on the rugby field, a sexy and charming man who's got the world at his feet. There's just one problem: his sudden potent attraction to his number one nemesis--Catie River. No. Just no. Not happening.
Catie River is on her way to Paralympic gold, and she's not about to allow Danny "Hotshot" Esera to derail her plans. Too bad her body isn't cooperating. Even worse? Her heart might be coming along for the ride. No. Nope. Never.
The pair are united in their desire to remain enemies... until a stranger's reckless action threatens both their careers. Now, the only way out for Catie and Danny is to pretend to be in a relationship. How bad can it be? They're adults in full control of their hormones and their hearts. There will be no kissing. No PDA. And definitely no falling in love.
Let the games begin.
---
Sometimes a story is just so satisfying.  Catie and Danny are magnificent. I absolutely loved them.
Danny Esera and Catie River have know each other most of their lives being introduce when they were just kids.  They have spent those years needling each other.  They have each declared the other as their nemesis.  But when Danny is in trouble, Catie doesn't hesitate to step up and protect him.   Unfortunately, this causes a media frenzy that their frenemies is all a front for a hot, romantic relationship between the two of them.   Catie's ready to let the people know just how ridiculous that is but her publicist and agent both warn her that Danny is the public's golden boy and any negative press would land on her.  So Catie and Danny agree to a pretend romance for the next few months so they can quietly break up down the road.  They let their family in on the secret but even they are betting on whether Catie or Danny will break first and walk away before their deadline.
Except all this time in close quarters is creating some odd thoughts like how hot Danny's abs are or how sexy Catie looks in her workout gear.    No one expected their fake relationship would become something real, especially not Danny or Catie but it turns out that no one really knows you better than your former nemeses.
This was such a delightful story.   Of course we knew all along that someday those barbs that they constantly threw at each other would change, but what surprised me most was the fact that neither Danny nor Catie harbored any crushes on the other.  All this time, I thought Danny and Catie poked at each other to hide their more romantic feelings toward each other beginning in those awkward teen years.  I was surprised to learn that while they kind of enjoyed the mental one-upmanship game trying to out snark the other, and while they respected one another, they didn't look at each other with a romantic eye.  It was funny to see them kind of freak out when their inner thoughts turned sexual.  This kind of friends-to-lover story is so enjoyable because we already know their history and they already have such a strong connection so making the jump with them isn't hard.
Catie's father's abandonment taught Catie to be self-sufficient.   Maybe too self-sufficient.  Catie has a hard time asking for help. This is exacerbated by the fact that she doesn't want to be seen as handicapped or lesser because of her legs. She feels she needs to do everything by herself to prove that she is capable of anything.   But what Catie has to work her hardest to accomplish is letting herself trust in Danny to be there for her in a way that neither her father or her mother ever were.    When Danny transfers to another team, it isn't the physical distance tearing them apart, it is Catie's fear of abandonment that keeps getting in the way.
Danny and Catie fit. That's it. They just fit perfectly.  It was such a wonderful story.
---
Favorite Scene:
Sensing that they were making their way back to even ground, Danny felt some of the tension leave his body and he entered Catie's apartment in a far better mood than when he'd begun the drive.
He hadn't been here for a while–the last time had been when he'd helped Sailor carry up a small but heavy ornamental table Catie had inherited from a grand-aunt and couldn't bear to part with even though it didn't fit her usual rules for furniture. The chief rule being that she could move it around her apartment on her own.
The place was still as warm and as cozy as he remembered.
Catie had a thing for pillows and soft fabrics, so there were blankets thrown over sofa arms and cushions galore. Her sofa itself was a pale pink velvet with inset buttons covered in the fabric. While her four-person dining table was made of honey-toned wood, she'd upholstered the cozy seats of the chairs around it in the same shade of velvet. See-through curtains of gauzy white filtered the winter sunlight, helping to soften things even further.
The grand-aunt's ornately carved table–the top attached to a thick central leg that then flowed out into three curving supports–sat to one side of the doors that led out out to Catie's postage stamp of a balcony; on the table was a lovingly tended potted plant with leaves of a striking lime green.
The walls were a warm cream, the pictures she'd hung up on them of family and friends. Even Danny made an appearance–in a group shot with his brothers, all four of them muddy from a rainy-day game of rugby in the local park.
But she'd given the most space over to the kids. Framed photos, paintings they'd done for her, even little baby footprints that Ísa had given her sister after the birth of Catie's niece and nephew.
The kitchen was in the far corner of the open-plan space. The simple but well-built cabinetry was painted a creamy white to echo the walls, the bench a gray granite with veins of gold. Color came from Catie's mismatched collection of antique dishes, which weren't just for display but for daily use.
"Hey," he said, "you still have that mug I found you." Delighted, he walked over to pick up the blue mug with its golden trim and–the pièce de résistance–filigreed handle. He'd spotted the unique and pretty thing in a tiny antique shop in a rural town, grabbed it without thought. Because Catie mattered to him.
Oh fuck, his brain was on the wrong track again. He put down the mug in an effort to cut off that line of thought.
"It's my favorite for coffee in the morning."
Startled, her voice had come from so close behind him, he turned…and she was right there. He'd have apologized for almost slamming into her, but he'd lost his ability to talk–because she was taking his face between two warm, slender-fingered hands and tugging him down toward lips pink and lush.
The contact was an electric shock to his system, a bolt right down to his cock. Before he could get hung up the fact that he was thinking about his cock in relation to Catie, she licked her tongue over his lips and boom, his brain cells decided to stop functioning on any level but the most primal.
Grabbing her hips, he sank into the kiss, into the taste of her. She tasted as wild and as powerful as she was in every other aspect of life, a woman at home in her skin. Her hips were curved, the edges of her buttocks taut where his fingers brushed them, and when he hauled her even closer, his brain hazed at the round firmness of her breasts.
He own chest felt like granite against which his heart pounded hard as a drum. Wanting more, he opened his mouth over hers…and she opened hers in return before sliding her arms up his body to link her hands around his neck. Careful of her balance even in his addled state, he nudged her gently until her back hit the nearest wall.
Then he got down to the serious business of kissing his favorite nemesis.
Related Posts