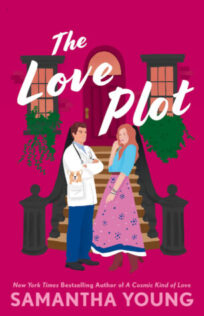 The Love Plot
by
Samantha Young

Published by
Berkley
on August 29, 2023
Genres:
Contemporary
Pages:
352
Format:
eBook
Source:
Netgalley



I received this book for free from Netgalley in exchange for an honest review. This does not affect my opinion of the book or the content of my review.
This post contains affiliate links you can use to purchase the book. If you buy the book using that link, I will receive a small commission from the sale.
There's a magnetic attraction when a happy-go-lucky gig worker agrees to a fake relationship with a rich, uptight New Yorker in this steamy romantic comedy from New York Times bestselling author Samantha Young.
Star Shine Meadows is all about freedom, thanks to the hippie parents who raised her. Juggling her jobs as a professional costume character actor and a line sitter, she believes in no expectations, no stressful ambitions, and no-strings-attached relationships. So when she meets a birthday girl's grumpy uncle while working a princess party, she can't help but needle him. She'll never see him again, and honestly, he's pretty hot.
Rafe Whitman may be a veterinarian with a great bedside manner, but that doesn't mean his patience extends to anyone with opposable thumbs. His family will not stop nagging him about finding "the one," so when he runs into obnoxiously cheery Star again, he makes her an offer: He'll pay her more than she would make doing her odd jobs if she'll pretend to be his girlfriend at family gatherings. She can stop sitting in line waiting for someone else's new phone, and he'll get his family off his back.
When the tension between them heats to a breaking point, Star's desire for "no strings" is tested against Rafe's staunch stability. They say opposites attract, after all....
---
Delightful! Such a fun, happy story.
It is probably not surprising to find out that Star Shine Meadows was raised the child of hippies.  They taught her that working a 9 to 5 leads to a life of unhappiness and that monogamy in relationships is unrealistic.    Star spends her time getting paid to line-sit for others or she makes money playing characters for kids parties.  Star isn't materialistic and these gigs allow her to make enough money to pay her bills and her rent for her studio apartment.   If she is interested in spending time with a man, she does so until she is no longer interested.  Simple as that.  Her life is simple and she is very, very happy, and she doesn't let someone like Rafe Whitman talk down to her just because he can't understand her glass-half-full attitude.
Rafe doesn't understand how Star can breeze through life without the desire to have a successful career, or heck, even a real job, but he also knows that he has had enough of his mother and his sister-in-law's constant attempts to set him up with women.  They feel his life lacks something because he isn't in a relationship right now.  They give out his number to every eligible bachelorette and even sends them into his veterinary clinic.  He is very happy growing his  clinic and spending quiet time alone.   He might not understand Star but he is willing to pay her to pretend to be his new girlfriend, one who is completely wrong for him and who his family will simply dislike.  Once they "breakup," he can pretend to be devastated, while they will be overjoyed, and Rafe can get a much needed break from matchmaking.
Only problem with that plan is the more time Rafe spends with Star, the more he enjoys her half-glass full attitude.  If only he can convince her to give him a chance and accept a real relationship.
THOUGHTS:
This is supposed to be a grumpy meets sunny story, but I didn't feel that Rafe was really a grumpy characters.  When he meets Star, he was in a bad mood and he apologizes several times, although we never find out exactly what put him in such a foul mood.
There are good secondary characters but we mostly focus on Rafe and Star.  Star is just so fun and delightful.  She is always happy.  She is a rainbow and puppy kind of character.  Like I said, Rafe is supposed to be Mr. Grumpy, but with the exception of their initial meetings, I never really found Rafe to be too grumpy.  Even after their first, slightly disastrous dinner with his family, he apologizes that he hadn't thought to ask Star anything about herself before their first "date" and acknowledges that that was very arrogant of him.
His family was lovely and very welcoming of Star even when things she would tell them about her life or her upbringing left them speechless.  It such a fun story and it made me laugh.
I simply enjoyed the time I spent with Star and Rafe and watching their HEA unfold.
---
Favorite Scene:
So there I was, my usually sunny disposition in the toilet. My hair stuck to my neck, my sundress to my skin, and my feet were covered in soot from the traffic from just standing there, waiting in line for free tickets to the opening launch of a new restaurant. Yeah, someone was paying me to wait for free tickets.
"I bet the food stinks," I muttered to myself.
A woman passed me with a huge to-go cup of coffee in her hand and despite the heat, I eyed her enviously. My last coffee was three hours ago, and I needed an energy boost.
Someone tapped me on the shoulder and I turned to find a young couple at my back. The line stretched out all the way down the sidewalk behind them. "Yeah?"
The guy leaned into me. "So…uh…what are we waiting for?"
I scowled. "You don't know what you're waiting in line for?"
They shook their heads.
Rolling my eyes, I turned around. "Morons."
"Did you just call someone a moron? How very un-Star-like." My head whipped up to the side at the familiar voice.
And there he was.
Rafe.
What?
His denim-blue eyes shone as he squinted against the sunlight. I drank in every inch of him like the thirsty, thirsty woman I was. He wore a green T-shirt, dark blue jeans, and a crisp pair of navy Converse that appeared as if they'd never been worn. In his hands were two tall cups of coffee. He held one out to me. "Thought you might need a pick-me-up, and apparently if you're calling people morons, I was right."
Mouth hanging open in surprise and confusion, I took the coffee on autopilot as he stepped right up next to me, his arm brushing mine. "So, what are we waiting for?"
Rafe was here.
Waiting in line with me.
"What are you doing here? How did you find me?"
His eyes searched my face as if committing every detail to memory. "Roger called me. And he told me where to find you."
Betrayed by my best friend.
I narrowed my eyes and shook my fist as I hissed, "Roger."
Rafe pivoted his body toward mine and spoke with laughter in his voice. "Did you just actually shake your fist like a cartoon character?"
"Maybe." I took an angry sip of coffee and watched the way Rafe stared at me as if I were the most wonderful human who ever lived. It was messing with my head! "Stop it."
"Stop what?"
"Looking at me like that."
"Like what?"
"Like you…like you like what you see."
"I can't help it. I do like what I see." He shrugged casually. "So much so that when Roger called me, I kicked my ass for letting this sit between us for two weeks." Rafe eyed me in all seriousness now. "I don't want to give up on this. On you. I had to come here and try one last time to convince you to give us a chance. No strings, no casual sex. A real relationship. If you agree to this, it's knowing that we're in a monogamous relationship that we're committed to making work. If you can't do that, I have to walk away. For good. Because I can't do casual with you. And before you decide, Roger told me about your unusually unsunny disposition these days. Think about every scowl you've worn in place of that beautiful smile, every person you've called a moron instead of seeing the best in said moron. You miss me. Like I miss you. If you think you're in a bad mood, you can only imagine what I've been like. For the sake of Owen and everyone who has to deal with me on a daily basis, please think carefully before making your decision."
(LATER IN THE SCENE)
"You want our first actual date to be with your friends?"
"They're my family here, Rafe. I've met yours and I want you to meet mine."
As if he understood what I wasn't saying, he nodded contemplatively. "Okay. What time?"
"Around eight. I'll text you the address."
"Sounds like a plan. But I'm not going anywhere. I still have a whole forty-five minutes to make you think about nothing but sex."
Cruel, cruel man. "Don't make me," I warned him.
He frowned. "Make you what?"
"Embarrass you into leaving."
"I can't be embarrassed."
Oh really. I reared back from him in mock horror and cried, "You want to do what to me?"
Rafe's expression flattened. "Star–"
"In your grandmother's bed?" I yelled.
He squeezed his eyes closed as people turned in line to look and the couple behind us choked on their laughter.
"You want me to wear her nightie?"
Rafe glowered at me, shaking his head. "You're evil."
Laughter trembled around my reply. "And what are the carrots for?"
Without a word, he marched away and I almost peed myself, I was laughing so hard. Yes, it was immature, but I loved messing with him.
Related Posts