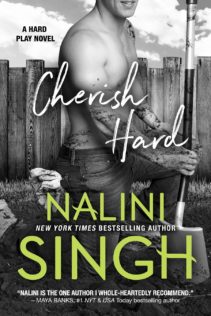 Cherish Hard (Hard Play, #1)
by
Nalini Singh

Series:
Hard Play #1
Published by
TKA Distribution
on November 14th 2017
Genres:
Blue Collar
,
Contemporary
Pages:
372
Format:
eBook



I received this book for free from in exchange for an honest review. This does not affect my opinion of the book or the content of my review.
This post contains affiliate links you can use to purchase the book. If you buy the book using that link, I will receive a small commission from the sale.
New York Times bestselling author Nalini Singh kicks off her new Hard Play contemporary romance series with a sizzling story that'll leave you smiling…

Sailor Bishop has only one goal for his future – to create a successful landscaping business. No distractions allowed. Then he comes face-to-face and lips-to-lips with a woman who blushes like an innocent… and kisses like pure sin.

Ísa Rain craves a man who will cherish her, aches to create a loving family of her own. Trading steamy kisses with a hot gardener in a parking lot? Not the way to true love. Then a deal with the devil (aka her CEO-mother) makes Ísa a corporate VP for the summer. Her main task? Working closely with a certain hot gardener.

And Sailor Bishop has wickedness on his mind.

As Ísa starts to fall for a man who makes her want to throttle and pounce on him at the same time, she knows she has to choose – play it safe and steady, or risk all her dreams and hope Sailor doesn't destroy her heart.
---




I love everything written by Nalini Singh.  Her stories are captivating and you just can't help but fall in love with her characters.
Building his landscaping business is all Sailor Bishop has focused on for the last few years.  He has plans and a goal which requires a lot of hard work in a short amount of time.  Sailor also needs to succeed all on his own.  His father was a taker.  Abandoning him, his brother and his mother when he was just a little boy, and leaving them with absolutely nothing and unable to fend for themselves.   Sailor refuses to ever be a taker.
So now is not the perfect time to meet the perfect woman.  Especially an exquisite, curvy redhead whose parents had no time for her growing up.  The first thing Sailor realized about Ísa is…okay to be honest, the first thing he noticed is her knockout curves, and then that gorgeous red hair that he wants to digs his hands into…so the third, yes, third thing that Sailor noticed was that Ísa takes care of everyone.  Her younger siblings turn to her, not their parents when something goes wrong.  Even Ísa's mother turns to Ísa when she needs help with her business.
Ísa is always caring for someone, but who is caring for Ísa?  Sailor wants to be the one to take care of Ísa.  He would give anything to hold onto his spitfire, but in order to have her, he might just have to give up everything.
His business plan will require him to work from dawn to dusk, 7 days a week for the next year in order to have the money to expand.   If he doesn't, he could lose the opportunity of a lifetime.  The problem is succeeding in his plans would leave Ísa feeling second best to Sailor's business success, just like her parents always treated her.
As a gardener, Sailor know how important it is to care for delicate new growth and how easily it can die without constant nourishment.   Asking Ísa to sit back and wait for him would kill the new and fragile feelings growing between them before they could truly take root.
To succeed with an opportunity of a lifetime, Sailor might have to give up a love of a lifetime.  Which will he walk away from?
I love Nalini Singh's characters and this story is no exception.  The romance is sweet, and the story balances nicely between fun and touching.
If you want a  little more of Sailor and Ísa once you are done, they pop up in brother, Gabriel's story, Rock Hard which was book 2 in the Rock Kiss series.
---
Favorite Scene:
She'd told Sailor they'd work up to nudity.
After kissing her until her toes curled, he'd said, "I'll enjoy unwrapping my redhead."
Her thighs clenched as she pulled on the large T-shirt she'd borrowed from her grinning sister, the soft fabric covering her panties and hitting her mid-thigh.
And she was dressed.
Ready to be unwrapped.
Stepping out of the bathroom, she caught Sailor in the process of throwing his jeans onto a chair that already held his T-shirt, his only covering white boxer briefs. That body…it made her want to whimper. He was all ridges and valleys and smooth golden skin and a tight butt that she wanted to bite. After she'd licked her way around his tattoos.
God, what was happening to her? Ísa Rain didn't have thoughts like that.
Except, it seemed, when it came to Sailor Bishop.
Turning around to face her, Sailor whistled. "Spitfire, you make that innocent T-shirt look indecent."
Ísa might've been unsure how to take thoe words if Sailor's body hadn't been makng it blatantly clear exactly what he thought of hers, the ridge of his erection pressing demandingly against the front of his briefs.
She sucked in a hungry breath.
And he began to stalk her.
Ísa couldn't help it. She stumbled backward and backward…until her back hit the wall.
Coming to a stop in front of her, Sailor placed his hands palm-down on either side of her head, blocking her in against the wall in a private prison. His smile was wolfish, hungry. "No way for you to cut and run this time around."
The warning made every tiny hair on her body rise to quivering attention, her nipples tight points.
"Too bad I didn't remember the handcuffs." A nipping kiss of her lower lip. "We'll save them for next time."
Her breath coming in shallow rasps, Ísa gripped futilely at the wall. Her skin was overheated. Her heart racing. And she wanted nothing more than to tumble him to the bed and tear off his briefs with her teeth. But if her mother's life had taught Isa one thing, it was to be aware of the consequences of her choices.
Wetting her throat, she managed to say, "Did you bring protection?"
Sailor froze. A second later, he groaned and dropped his head. "I hate myself right now," he said. "My cock hates me even more." Another pause. "Your ex-step–"
"No." Ísa shuddered. "We are not going looking in his bedside drawer. That's–" She shuddered again. "Just no."
"Right. Which means…"
Ísa wanted to cry. "I hate us both," she muttered, clawing at the wall in her frustration.
Sailor looked up, a gleam in his eye. "When," he said, "was the last time you made out like a teenager?"
Related Posts