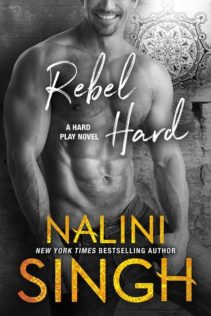 Rebel Hard (Hard Play, #3)
by
Nalini Singh

Series:
Hard Play #3
Published by
TKA Distribution
on September 18th 2018
Genres:
Blue Collar
,
Contemporary
Pages:
409
Format:
eBook



I received this book for free from in exchange for an honest review. This does not affect my opinion of the book or the content of my review.
This post contains affiliate links you can use to purchase the book. If you buy the book using that link, I will receive a small commission from the sale.
New York Times bestselling author Nalini Singh continues her Hard Play series with a sweet, sexy romance featuring big, fat, OTT weddings, a meddling grandma, and a too-serious hero who needs to be unbuttoned…

Nayna Sharma agreed to an arranged marriage in the hope it would heal the fractures in her beloved family… only to realize too late that a traditional marriage is her personal nightmare. Panicked, she throws caution to the winds, puts on the tiniest dress she can find, and ends up in the arms of a tall, rough-edged hunk of a man who has abs of steel—and who she manages to mortally insult between one kiss and the next.

Abandoned as a child, then adopted into a loving family, Raj Sen believes in tradition, in continuity. Some might call him stiff and old-fashioned, but he knows what he wants—and it's a life defined by rules… yet he can't stop thinking about the infuriating and sexy woman who kissed him in the moonlight then disappeared. When his parents spring an introduction on him, the last woman he expects is her. Beautiful. Maddening. A rulebreaker in the making.

He's all wrong for her. She's all wrong for him. And love is about to make rebels of them both.
---
I was so excited about Raj and Nayna's story and I loved the Pride & Prejudice twist. Unfortunately, this story needs illustrations or to be turned into a great Bollywood movie for full effect. I desperately wanted to see the outfits being described.
Nayna's sister broke her family's heart when she ran away with her college sweetheart and got married. Because of Madhuri's disappointment, Nayna was give stronger curfews and much less freedom.   After Madhuri's marriage failed and she returned to the family after her divorce, it is still up to Nayna to keep her family happy.  That's why Nayna had agreed to an arranged marriage, but after getting a look at the parade of losers who kept rejecting HER, she isn't so certain she can go through with it. Nayna has spent her entire life paying for her sister's lack of judgment. How can she go from her parent's strict household to being under the control of a husband?
Raj was unwanted and abandoned as a children. He was adopted and cherished by his new family but all he wants for himself is a traditional wife who will support him and raise his children with the love and affection he did not know from his birth parents.  He believes an arranged marriage will give him that stability with a woman who will understand the role he wants her to play in his life.
When Raj and Nayna meet at a house party for an important client, Nayna is hoping for one night of rebellion before she is subjected to marriage and Raj is wondering if he should hold off on matchmaking until he can see if the sparks between himself and Nayna could lead to more. Nayna ends up running away, more like Cinderella then Lizzy Bennet, but she and Raj meet up soon thereafter as their parents have already set up their next match.
There are definite sparks between Raj and Nayna but both fear the power the other could hold over them if they fell too hard. Raj's past has made him a bit of a control freak and while Nayna admits to herself that she has strong feelings for Raj and can see herself with him, anytime any of the parents utter the word "marriage," it's like trying to get your dog in the car when the know they are going to the vet.  Raj knows that if they push too much, he will loose Nayna forever but the well-meaning matchmakers don't understand what all the fuss is about and their attempts to push Nayna down the aisle, might just cause her to make a break for the door.
I thought I caught a Pride & Prejudice spin to the story but there was no question once a misunderstanding occurs and Raj shows up with a letter for Nayna and her response is…"What? Am I living Lizzy Bennet's life?" This also brings in the actual story since Raj has to find out who Lizzy Bennet is and it is funny to see Raj having discussions with the construction workers on his team about the nuances of Mr. Darcy and Lizzy's relationship.
I am not kidding when I say this book needed illustrations or for the ebook, links to pictures of the gorgeous outfits being described. When Nayna's sister is picking through possible wedding outfits, I really, really wanted to see what Nalini was describing.   I tried googling but it just wasn't coming up with anything as nice as what was being described.   That part was really disappointing. So I would like to put in my vote for a collector's edition with illustrations.
After reading snippets of Raj and Nayna's romantic chase going on in the background of Cherish Hard, I was really happy that they got their own story and we got to see what was really happening on their way to a HEA.
---
Favorite Scene:
Nayna froze.
It was him.
The beautiful man. The genuine hunk with the jaw he hadn't bothered to shave and the jeans that had a slight tear on the thigh. Not an artistic these-jeans-cost-five-hundred-dollars tear. No, the rest of his jeans were well loved but whole. It was simply that one spot that was worn away to the point that it had torn.
Why was that so sexy?
"Here." He gave her a flute of champagne with a moment of intense eye contact that had her butterflies swooning. "I'm Raj."
She shot Ísa a desperate look, but her traitorous best friend just gave her a small nod and a grin before melting back into the crowd. And that quickly, Nayna was alone with the hunk. She almost begged the waiter to stay, but he was moving off and then someone else slid past her, bumping her in the back.
Raj's arm came around her. "You won't be bumped here." Before she knew it, he'd moved her so her back was to a wall.
Dropping his hand from her back, he kept enough distance between them that she didn't feel boxed in. Except he had wide shoulders and he'd angled his body in a way that meant she couldn't be bumped by anyone else–or easily approached.
Like a lion cutting his prey out of the herd.
Nayna's thighs squeezed together.
She should've worn panties. Definitely. Things could get embarrassing if he kept on speaking to her and sending out those male pheromones that were playing havoc with her whimpering body. But of course he wouldn't keep on talking to her. Whatever had caused him to decide to approach her, he'd figure out soon enough that she was no sophisticated and experienced partier–even if she was faking it in this dress.
"What's your name?" His voice was like deep water cascading over her, caressing her in all sorts of impossible places.
"Nayna," she managed to get out past her bone-dry throat. "I'm an accountant." OH GOD, NAYNA! She winced inwardly at that silent scream from the part of her that wanted to clamber onto Raj and rub herself all over his extraordinarily gorgeous self. She might as well stamp NERD on her forehead.
That witch Suzanne had written the exact word in permanent marker on her forehead during a school camp–an act through which Nayna and Ísa had both somehow slept. Probably because they'd been exhausted by the compulsory hiking followed by obstacle course runs that ended with a scramble up a rope fence. As if all teenagers were superheroes who chewed steel for breakfast.
But instead of backing off in distaste or confusion, Raj nodded. "Have you done that test you have to do to become chartered? That's the word, right?"
Nayna blinked at the question that sounded far too serious for a casual party conversation–but at least he wasn't running away. "Yes," she said, and it was more air than sound. "Still so new I'm shiny." She was staring at his mouth, his lower lip fuller than this upper, so she saw that mouth curve.
Just a little. As if he wasn't a man who smiled much. Which made her want to crack his shell until his grin creased his cheeks. He'd go from gorgeous to flat-out heartbreaking, of that she was sure. Maybe he didn't smile on purpose. Must be hard to continuously move swooning women out of his path.
Skin heating when she got caught staring, she looked down…and got hooked on the pecs defined by his tee. "What about you? What kind of work do you do?"
"Construction," he answered shortly but didn't move away.
Nayna swallowed and tried to channel every rom-com and Bollywood romance she'd ever watched. What would one of the heroines do now? Probably not stumble around her tongue, saying, "You build things?" Smart, real smart, Nayna. You build things?! ARGH!
"Yeah." A shift in his body, the fresh scent of him washing over her.
As if he'd showered before the party.
He'd probably been all sweaty and dusty from being on a work site. And she really should've worn panties.
Related Posts