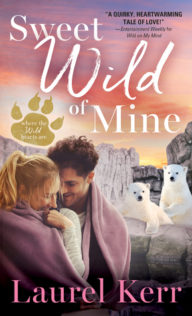 Sweet Wild of Mine (Where the Wild Hearts Are #2)
by
Laurel Kerr

Series:
Where the Wild Hearts Are #2
Published by
Sourcebooks Casablanca
on May 28, 2019
Genres:
Contemporary
Pages:
416



I received this book for free from in exchange for an honest review. This does not affect my opinion of the book or the content of my review.
This post contains affiliate links you can use to purchase the book. If you buy the book using that link, I will receive a small commission from the sale.
Love runs wild at the Sagebrush Flats Zoo...

In a bid to revitalize his career, bestselling author Magnus Gray has come to Sagebrush Flats to write about the local zoo's latest rescue―an orphaned baby polar bear. But Magnus dreads the drama of small towns and is bullishly determined to keep to himself.

June Winters is a people person, and delights in welcoming Magnus to Sagebrush Flats, though it seems unlikely she can get the handsome stranger to crack a smile. Then a mishap with an open gate forces Magnus and June to deal with a stampeding flock of fainting goats, an adorable but clingy polar bear cub, a cranky pregnant camel, and two star-crossed honey badgers. Never mind small town drama―the lively animals may just convince these two that opposites really do attract...
---
June Winters and Magnus Gray fit the bill of opposite attracts.
June Winters was raised as a true southern lady, always a smile on her face and a helping hand and a kind word for everyone. She is naturally bubbly and folks in the small town of Sagebush Flats gravitate toward her. Everyone that is other than the newcomer to town, author Magnus Gray.
Magnus is more a…total eclipse to June's sunny disposition. Magnus was raised on a small, isolated farm off the coast of Scotland. Alone with just the animals and his father, who had no interest in his child other than the help with the farm that he performed. Magnus likes being alone, even as a writer he spends most of his time alone. The only reason he came to Sagebush Flats Zoo is because his publisher wants his to get back to his writing roots where he talks about his time around animals.
But when Magnus's publisher wants him to create an online vlog to re-excite the audience, he knows that the one person whose help he needs to seek out is the same sunny person he has been avoiding since she tried to welcome him to the neighborhood.
June loves to help people solve their problems and is more than happy to help Magnus, all she asks is the one thing Magnus hates doing – talking about his childhood on that isolated farm. It is a place June's grandmother is familiar with from her own youth and her mind has been slipping lately. June notices how much she perks up when her grandmother sees Magnus and she makes him a deal, a makeover and help with this vlog for conversations with her granny.
Spending time at the Zoo and with June is growing on Magnus but is he really ready to step out of his shadows and solitary existence that he is so comfortable with and stay with the vivacious June and enjoy her small town life.
I really enjoyed June and Magnus. They are such polar opposites but bubbly June simply can't leave Magnus to sulk alone in the dark, and while June is bubbly, she can't accept when she can't solve all her own problems. Her granny is getting older and starting to deteriorate and quiet Magnus becomes the sturdy rock for June when she flounders with her failure to save her grandmother.
I also like how the author deals with Magnus's stutter issue. June's brother also has a stutter so she is very blase about it and let's Magnus work things out. She doesn't make him feel bad about it, like his father did, and tries to help him navigate his blocks better. It takes Magnus awhile to accept June's help but he does especially since he realizes that he doesn't stutter as much around June.
I am even warming up to the mischievous honey badgers. They do add a level of chaos to the story.
---
Favorite Scene:
Two days later, June realized she'd been wrong. Under all his shaggy hair, Magnus wasn't merely striking. No. He was even more devastatingly compelling than she'd suspected. The stylist she'd recommended in the nearby city had done wonders. Although Magnus still sported a full beard, it had been shaped and trimmed to highlight his rugged features, instead of obscuring them. The stylist had left enough of Magnus's unruly curls to balance out the harsh planes of his face, giving a charming twist to his new look.
Pausing in the middle of the zoo's path, June pressed her hand against her heart. "Don't you look like a long, tall glass of cool water."
Magnus blinked. His blue eyes seemed electric now that they no longer had to fight against all that hair. June felt a pang in her heart that sent desire spiraling through her body like a firecracker lighting up the July sky. My, my, but the man had a powerful effect on her senses.
"Is that a compliment or an insult, lass?"
"Compliment, at least from where my mama grew up. Ooo, your readers are going to looove your videos now!"
Magnus scowled. With his beard trimmed, he looked even fiercer. To June's surprise, a shiver slid through her, but it wasn't from fear. Goodness, her mind must be going as soft as taffy if she found his brooding attractive. Yet something deep and feminine inside her just thrilled at the sight of him in all his surliness.
"We should get started." Magnus ended the conversation as he pushed open the door to the maintenance facility. June followed, admiring the man's backside. She'd never paid attention to it before, which was a little surprising considering how many times he'd walked away from her. And, good heavenly days, did the man have a fine posterior! He might not be like her typical lovers, but June was starting to think she was more than ready for a change.
When Magnus entered the nursery, Sorcha froze, her black eyes studying him in confusion. She was obviously having difficulties reconciling his familiar scent with his new appearance. With a happy trill, she finally accepted him without his mass of hair. As quickly as her unsteady legs would allow, she slithered and crawled around her playpen, squeaking the whole time with utter joy. In response, Magnus's face broke into a welcoming grin as he crouched down to greet the little cub and Sylvia. June's heart went as soft and gooey as a melted chocolate bar.
"I think someone has a crush on you," June observed.
Now that Magnus's beard was trimmed, his fair Scottish complexion did little hide the fierce blush creeping over his skin. "Aye," he said, his voice a low rumble that reverberated through June, "that's what I hear."
June glanced at Magnus, not quite understanding his response. The heat in his blue eyes seared her. Her throat thickened as her body went pliant with molten desire. A mere look had never managed to kindle this much lust. Her lips parted, and Magnus's scorching gaze focused here. The fire flickering in his cobalt irises matched the one blazing inside her. He stood up slowly, and June's body went taut with anticipation. Her heart pumped faster, sending the flames higher. If he didn't kiss her soon she'd burn up like dry tinder in autumn.
Magnus's lips dipped close to hers, and she could feel the puff of his breath. Despite the warmth roaring through her, she shivered. His large hand reached up, cupping the back of her head in a a tender grasp. She inhaled, practically tasting his kiss.
Then, just as Magnus's mouth began to brush against her, a loud squeak ricocheted through the room. It was as effective as a fire hose. Magnus sprang back, and to June's surprise, a look of alarm flashed across his face. He hadn't wanted to kiss her, she realized with a shock as stinging and as unpleasant as a real one from an electrical outlet.
Related Posts