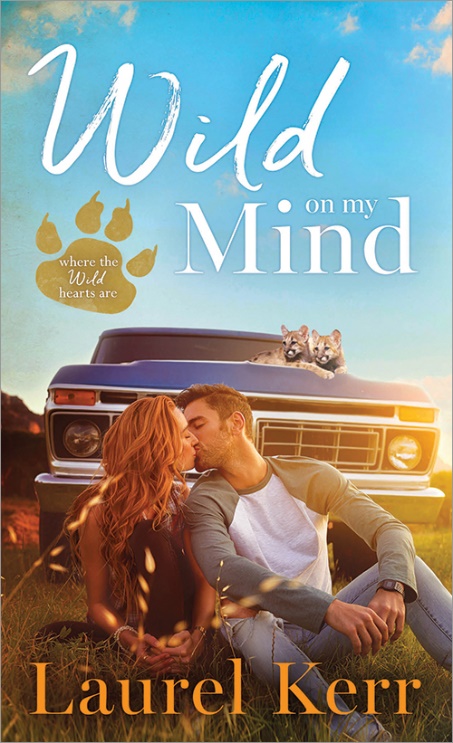 Wild on My Mind (Where the Wild Hearts Are #1)
by
Laurel Kerr

Series:
Where the Wild Hearts Are #1
Published by
Sourcebooks Casablanca
on September 25th 2018
Genres:
Contemporary
Pages:
416
Format:
eBook



I received this book for free from in exchange for an honest review. This does not affect my opinion of the book or the content of my review.
This post contains affiliate links you can use to purchase the book. If you buy the book using that link, I will receive a small commission from the sale.
Love runs wild at the Sagebrush Flats Zoo, where a motley crew of big-hearted animals helps the most unlikely couples find love.

When Katie Underwood discovers a litter of newborn cougar cubs, the last person she expects to come to the rescue is her former crush―and high school nemesis―Bowie Wilson. The worst part? He doesn't seem to remember the trouble he caused her.

As a single father and owner of a cash-strapped zoo, Bowie struggles to balance budgets while raising his pre-teen daughter and a host of rascally animals. He considers himself lucky when Katie agrees to lend her talents to a publicity campaign in support of the zoo's animal rehabilitation programs―until he learns just what she's planning...

This time, Katie is determined to resist Bowie's charm. But a lovelorn camel, a matchmaking honey badger, and a nursemaid capybara have different plans. Can they and the rest of the zoo's menagerie help Bowie break through the barriers surrounding Katie's heart?
---
This is a story of second chances, redemption and overcoming your past.
Katie Underwood spent her last two and a half years of high school being tormented and bullied by popular girl, Sawyer, and her boyfriend, Bowie Wilson. They were the worst two and half years of her life and included moments so humiliating that she never confessed them to her family. But she went on to college to make some wonderful friends and maybe that painful time helped Katie grow into the women she is today. She has gotten past that hurt or so she thought until Bowie Wilson walked back into her life and didn't even recognize her! Yes, it was ten years ago and Katie has tamed her wild hair and has more fashion sense, but he tormented her for more than two years and he doesn't recognize her?
Bowie runs the local animal rescue park and zoo and he comes out to Katie's property to rescue some orphaned mountain lion cubs.
Since Katie never told her family about her torment by Bowie, her frustration is furthered by her mother who is taking it upon herself to play matchmaker between Katie and Bowie and volunteered both Katie's webdesign services and Katie's free time volunteering to help feed and care for the orphaned cubs.
Katie really isn't happy to see Bowie again, especially since he still looks as attractive as he did in high school, but worse yet, he doesn't even have the decency to still be an asshole so she can go on hating him! Some people.
Bowie had abusive, drug-addicted parents who ignored him (at best) or verbally abused him (at worse) but when they both died, Bowie was tossed into the system and into a string of foster homes where he was nothing but a burden and a paycheck. Being tossed out of his foster house on his 18the birthday should have been the worse thing that happened to him but hearing that his high school  girlfriend was pregnant and wanted to abort his baby, just like his parents always told him they should have done with him, made Bowie fight for what was most important–being a good father to his baby. He was lucky to be taken in by Lou and Gretchen who taught him how to be the father his daughter needed and how to take care of the animals in their small zoo. For the first time in his life, Bowie had a life he could be proud of.
He doesn't recognize Katie at first. She changed so much since high school, he only saw an attractive redhead who seemed strangely angry at him but that he wouldn't mind getting to know better. It is when Bowie finally realizes who Katie is and he remembers exactly what he did to her, that shame fills him.  Katie even agrees to help him and struggle zoo including a list of stunts to draw attention.  Bowie more than owes Katie and readily agreed to do whatever humiliating thing she needs from him, especially when all her ideas are sparking a renewed interest in the zoo and bringing in much needed funds.
Now the only problem is whether Katie is going to walk out of Bowie and his daughter's lives now that she has become so important to them.  Can Bowie prove that he isn't the same man that once hurt Katie so badly?  Can Katie put aside their past because Bowie knows that she's everything he needs for the future.
When I started this story, I was waiting to find out that Bowie was never responsible for all the horrible things done to Katie, and that he was only given credit for the antics.  I was quite surprised once Bowie realized who Katie is, that he admits to the cruel torture.  Really, how do you get past that and find a HEA with your tormentor? 
Well, it wasn't too hard to add Bowie into my favorite grouping of wounded hero after we learn about Bowie's awful childhood and that tormenting Katie to the delight of his girlfriend was the first time he found acceptance anywhere and wasn't treated like unwanted trash.  At the time, he could only see that he was finally looked up to and accepted.  Katie never let them see how their torment affected her, so Bowie never saw the devastation that his actions caused.   Now he realizes how much different his life would have been if he had chosen Katie in high school rather than Sawyer.    Sawyer supported Bowie's torture of another student, while Katie would have supported Bowie in becoming a better man.
Katie wanted to get back at Bowie, but she couldn't help admiring the man he has become, especially what a good and caring father he is to his daughter.  She quickly gave up on her revenge stunts and truly worked with Bowie to breathe new life into the zoo.  And while she admires the man Bowie has become, his treatment long ago taught her never to trust her heart to someone else.
I am still not certain if I am charmed or annoyed by the sections of the story narrated by Fluffy, the honey badger.  I usually find animal narratives (unless they are paranormal shifters) to be too cutsy but the grumpy Fluffy was very funny in his desire to get Bowie and Katie together so that they would have more wee ones who would give him more treats.
Overall I enjoyed the storytelling and seeing the changes in Bowie and Katie as they establish their grown up relationship.
---
Favorite Scene:
The matchmaking honey badger thinks that Bowie is having a hard time finding Katie's "burrow" so they can starting making babies so he decides to help the poor human out.
When Bowie started down the stairs from his back porch, he stopped.  A piece of nude-colored fabric lay on the bottom step. Curious, he picked it up. It was a lady's sock and too big to be Abby's.
Odd.
About a yard later, he discovered its mate. Then a pair of black bikini bottoms. On the bush outside the animal hospital, he discovered a woman's lacy black push-up bra hanging from the branches. What the hell?
Suddenly, realization struck him. Only one creature in the zoo would leave a trail like this–Fluffy. The furry devil!
Bowie glanced down at the clothing in his hands. Where would Fluffy have found them? Despite all the honey badger's nocturnal adventures, he never strayed from the confines of the zoo. The little rascal probably knew how good he had it.
A cold sensation slid through Bowie. It couldn't be. Could it?
But he had told Katie to bring an extra set of clothes. Working at a zoo, especially with baby animals, meant anything could happen. Animals made a variety of messes all the time. Or, he thought glumly, a honey badger could steal someone's undergarments and deposit them throughout the zoo.
Bowie groaned again. He was not looking forward to returning the clothing to Katie. Although he supposed it was better that he'd found her stuff before another staff member or volunteer did, she was going to think he was either a perv or back to his old prankster ways.
He had to bring Fluffy along. Katie would never believe him otherwise. Even with the actual culprit in tow, Bowie had no idea how he'd explain the situation. Luckily, Abby had not left for school Putting Katie's stuff into a plastic grocery bag, Bowie left it in the maintenance facility and returned to the house where his daughter was finishing breakfast with Lou. It didn't take her much time to catch Fluffy. The wild creature lay complacent in her arms, but as soon as Abby handed Bowie the mustelid, the little devil began to twist and snarl.
Fortunately, Bowie knew how to dodge Fluffy's sharp teeth and claws.
He quickly carried the irate honey badger through the zoo and into the maintenance facility where he'd left Katie's belongings. As he grabbed the bag of clothes, he glanced down at the struggling animal. "You wouldn't know anything about this, would you?"
Bowie swore the little devil grinned. Broadly.
Related Posts