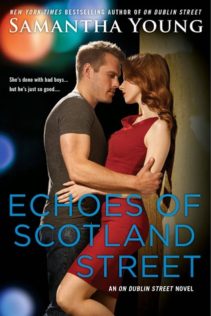 Echoes of Scotland Street (On Dublin Street, #5)
by
Samantha Young

Series:
On Dublin Street #5
Published by
NAL
on October 7th 2014
Genres:
Contemporary
,
Small Town
Pages:
336
Format:
eBook



I received this book for free from in exchange for an honest review. This does not affect my opinion of the book or the content of my review.
This post contains affiliate links you can use to purchase the book. If you buy the book using that link, I will receive a small commission from the sale.
---
You couldn't help but fall in love with young Cole in Down London Road. Now Cole Walker is all grown up and it's time for him to find true love. In an interesting twist, the story is told by Shannon as she overcomes past traumas and re-learns how to trust the man in her life.
<
---
At first, I thought that this book should have been told by Cole, but telling this story from the point of view of Shannon was an interesting choice since we were already familiar with Cole and this gave us an insight in the mind of Cole's love interest.   Yet, I did find myself constantly thinking, "But it's Cole. Cole is amazing. Don't be stupid."
Shannon MacLeod knew that the turning point in her life occurred when she was only 15 and she took the wrong turn. Instead of staying to talk to the boy who lived next door to her grandmother's house, she got in the car with her then boyfriend which lead her on a journey of losers and abusers. His name even sounded like the name of a hero, Cole Walker.
We flash forward nine years and Shannon has to get away from her family in Glascow and she decides to return to Edinburgh where she had spent time with her Grandparents long ago. She walked into INKarnate to apply for the receptionist position and never expected to once again be face to face with Cole Walker, or that he would have grown up to be so incredibly hot. But the one thing that Shannon is determined to do right this time is to avoid tattooed bad boys at all costs. The last one she dated was the worst of all. He abused her physically and mentally.
Cole comes off as cocky and aggressively flirtatious to the wounded Shannon, but from prior books we know that Cole's role models are all confident men who were outrageously flirtatious with their women. He will of course learn to be overly demonstrative to a woman he is interested in.  But not knowing Cole the way we do, Shannon is turned off by his focused attention.
After several hours of heightened sexual tension, Shannon fears that she new found willpower will breakdown and she goes on the attack letting Cole know that she isn't interested in being with a player like him. Her verbal attack brings back memories for Cole echoing the years of verbal abuse he was subjected to by his own mother.
Intervention on Cole's behalf by Hannah, Shannon's coworker/roommate Rae, and just about every other character we've met so far convinces  Shannon just how wrong she is about Cole.
Except by the time Shannon realizes that she has misjudged Cole, he has decided that no matter how attracted he is to Shannon, Cole refuses to ever be subjected to verbal abuse again and he won't entertain a relationship with a woman who would be just like his mother.  In this story, it is Shannon who is going to have to work hard to reclaim Cole's affection.  If Shannon wants any chance at a relationship with Cole, she is going to have to spill all the secrets she has carefully hidden away.
THOUGHTS:
I really enjoy this series, and you can't help but love Cole.
In Fall from India Place, I had a little issue seeing young Hannah all grown up and having sex and being a bit of a bitch. It might also be that Hannah's story jumped back and forth from child Hannah to adult Hannah. Maybe it was because we were used to grown up Cole from Fall from India Place who is now BFF with Hannah so we were eased into grown up Cole being all sexy and sweet. All I know is that I was all in on Cole having his HEA.
We like Shannon because she's a nice person who has been hurt many times. We hate Shannon because after a string of losers, of course she decides when she meets Cole that she's going to use her brain instead her heart. But she in fact hides behind her fear and treats our Cole badly.
I highly recommend the whole On Dublin Street series.   Some of the stories are better than others, but Cole's story is one of the top of the list.
Received an ARC from the publisher in exchange for an honest review.
---
Favorite Scene:
I'd only been standing at the bar a few seconds when a bartender freed up and took my drinks order. I was in the middle of trying to think of ways to resist the attraction to Cole when I felt eyes on me. I turned my head to the right and found two guys around my age, maybe a little older, smiling at me. Although I glanced away quickly, my noticing them seemed to invite their attention.
They slide their drinks down the bar and came to a stop at my side. I very deliberately ignored them. It didn't deter them.
"Having a nice night?" the one closest to me said.
"Yeah, thanks."
"I'm Gordon. This is my mate Barry. What's your name?"
I didn't answer because I didn't want to encourage them. As it was I could feel their eyes crawling all over me. I was wearing jeans and my olive green cami and matching cardy. My makeup was subtle, and I was wearing flat-heeled boots. There was nothing about my appearance that screamed I was out on the town. I had no idea why I'd attracted their attention, and frankly I didn't care. There was nothing that turned me off more than guys who sat at bars and constantly hit on anything that moved. There was a desperation about it, a soullessness, that the romantic in me revolted against.
"Oh, come on, we're harmless, sweetheart," the other one said.
I frowned. "I'm not interested."
The one farther away shrugged and began to retreat, but his friend actually moved close to me. "Sounds like you're having a bad day. I'm a really good listener."
Eh…apparently not.
I snorted. "All evidence to the contrary."
"What does that mean?"
"It means I'm not interested."
He laughed, like I'd said something funny. My eyebrows drew together in confusion.
"You look like that actress," he said, shifting even closer. "That Australian actress. You look like her when she was younger. I had the biggest hard-on for her."
Really?
Before I could follow up my look of disgust with a verbal "get lost," a sudden heat engulfed me and a shadow fell over me. Two strong, tattooed arms caged me in as they came to rest on the bar at either side of mine, and a hard chest pressed against my back.
I relaxed immediately and glanced up over my shoulder at Cole's handsome face. Currently it was turned away from me as he glowered at the persistent barfly.
Although the friend instantly backed up even farther than he already had done, the "good listener" just stared dumbly at Cole.
Cole raised an eyebrow at him. "What part of this doesn't say 'fuck off' to you?"
The idiot studied Cole for a moment as if he was considering ignoring him, and then his brain finally seemed to compute what his eyes were telling him. Cole was bigger and much, much scarier than he was. He lowered his gaze. "Sorry, mate. Didn't know she was taken."
He shuffled off down the bar, already searching the pub for a new target.
Cole bent his head, his lips brushing my ear. "You okay?"
Unable to form a coherent sentence with him pressed up against me, I nodded.
Seeming to sense that, Cole hesitated a second. "Am I making you uncomfortable?"
My pulse raced with that feeling of anticipation I'd had earlier. "Yes. But not like you think."
I heard his sharp intake of breath and braced myself.
His lips were at my ear again. "Do you want me, Shannon?"
My legs began to tremble. "Yes."
Cole exhaled, as though he was relieved, and to my surprise he buried his nose in the crook of my neck, relaxing into me. The scratch of the bristle on his cheeks against my skin caused tingling in all my feminine places. He breathed me in and lifted his head just as the bartender served up the drinks.
It broke the moment between us.
Cole stepped away from me and I shivered at the loss of his heat.
Related Posts