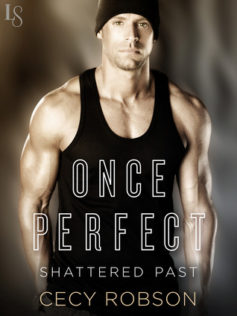 Once Perfect
by
Cecy Robson

Series:
Shattered Past #1
Published by
Loveswept
on October 7th 2014
Genres:
Contemporary
Pages:
272
Format:
eBook



I received this book for free from in exchange for an honest review. This does not affect my opinion of the book or the content of my review.
This post contains affiliate links you can use to purchase the book. If you buy the book using that link, I will receive a small commission from the sale.
---
A week after I finished this story, I am still not sure how I feel about it. I was definitely intrigued by the characters and the story line, but I haven't made up my mind yet how much I liked the characters and what my interest would be to read any other books in the series. Cecy Robson tells a slightly dark tale where neither wealth, poverty nor social standing determine the person you are.
---
Orphaned and abandoned after her father commits suicide over an embezzlement scandal, former rich girl Evelyn Preston now has to struggle to make ends meet while waitressing at a local college bar and studying to get a degree in nursing.
Evelyn seems to be very introverted and sheltered for a girl who grew up mega rich. She has a hard time making friends because she spent most of her youth with the type of friends who want to be with you because of who you are, not because they like you. She also had a boyfriend pre-selected by her father and his parents as a good social match. Donovan and his family also abandoned Evelyn after the scandal. We get all this in dribs and drabs until a big reveal of all the secrets that Evelyn is hiding at the end of the story.
To begin the story, Evelyn doesn't really socialize with her co-workers and she keeps herself apart from them. She is intrigued yet afraid of the attractive and built Mateo who is the head bouncer at the club. She knows that Mateo was in prison for a time for beating a man. So although she is intrigued, she avoids contact, even eye contact, with Mateo even though he is kind to Evelyn and the other people in the bar. It isn't until his friend explains that Mateo went to prison for beating the man who raped his baby sister does Evelyn look past his conviction to see the man behind tattoos, and give herself an opportunity to get to know him. Even though Mateo and Evelyn begin to date, I kept feeling like she was holding herself back from the relationship. A feeling that even Mateo felt since he kept wondering if she wanted to walk away.
Mateo and Evie definitely came from different economic worlds.  Mateo withdraws a bit from Evie when he sees the mansion that she grow up in.  He sees the wealth she once knew but forgets the simple fact that Evelyn is remaking herself and forging her own way and she seems to be okay with that.  Not only is there a financial difference in their lives but they also had different cultural upbringings. Because of this, Evie (and myself) didn't understand why Mateo allowed his father to beat on his sisters and himself. Mateo is a trained MMA fighter.  He could have fought back and the father would have thought twice before getting violent.  The explanation in the story is that Cubans never hit their elders. Apparently, it was accepted that their father who all but abandoned them could get drunk or stoned and beat them bloody, but not to protect yourself from this abuse.  No fighting back.  No Order of Protection.  No calling the police.  This leads to both Mateo and his sister pushing away their significant others so they didn't need to be subjected to their family violence.
Mateo was very much the gentle giant, when he is not fighting in the ring.  He was very attracted to Evelyn but he understood that she had some issues and acted very gentlemanly with her and didn't push the relationship with her and was always willing to pull back if he overwhelmed her. He was thoughtful and protective of his sister and Evie which just leads to more confusion as to why he was so accepting of his father's violence.
THOUGHTS:
I enjoyed the story, but I feel that Cecy Robson skimmed over a lot of questions and didn't let us get to know all about these characters.  I don't know whether there are answers we will get in future stories.
When Evelyn finally gives us all the details of her past, it creates a gap between her and Mateo and I never felt 100 percent right about them after that.  We never get the whole story behind his sister's rape or anything about Mateo being in prison. There was a lot of "I don't want to talk about it" moments.   I felt like they all held some part of themselves back.
There was something about this story that kept me from connecting with these characters and I am all about the characters in a story.
Overall, it was an absorbing story and I liked it but I just didn't love it.
Received an ARC from the author in exchange for an honest review.
---
Favorite Scene:
Evelyn isn't much of a cook but she attempted to make Mateo a thank you batch of cookies for his help.
Mateo stopped smiling when he saw me approach, barely managing a nod. "Evie."
He wasn't happy to see me. Awesome. Everything in me screamed to run and hide. But it was too late now.
Ant smirked. "Hey, sweet thing. What're you up to?"
"Nothing."
"Nothing" appeared to be the operative word.  They stood there, waiting for more. I struggled with what to say until my gaze fell on Mateo's Wrath tattoo. I motioned to his forearm with my plate. "D-did you get that when you were…you know, in the big house?"
Their stunned pause gave my face time to warm, but that was nothing compared to the scorching blush Ant's sudden cackle caused. "The big house?" He laughed again, this time doubling over and slapping his leg. "Evelyn, you are the whitest person on the planet. You have no business saying "big house."
Mateo's chest and shoulders shook and he struggled to keep his lips pressed tight. He didn't laugh out loud exactly, but when he gave me his back I figured it was a very bad sign. He placed his hands on his hips and lowered his head, taking a few breaths while I waited like a moron with the friggin' cookies in my hands. When he turned, I was shocked to see all traces of humor had dissolved from his face. Meanwhile Ant continued to laugh his ass off. Mateo cleared his throat. "Ant, go ask Sam if the new T-shirts are in."
And wiped his tear-streaked eyes. "Are you sure you want me to leave you alone with this badass broad?"
Mateo's head jerked toward the wall. He swiped his mouth with his hand and took another deep sigh, regaining his composure. "Just ask him."
He gave him a shove when Ant opened his mouth to say something more. What the eff? I just wanted to die. Mateo tilted his chin toward the cookies. "You like baking?"
"No. Yes. No." Gawd. I held out the plate. "I made them for you. You helped me last week and i never had the chance to do, well, say…" I released a breath when he just stared. "Thank you. I'm just trying to thank you."
The next few seconds were the longest of my life, and it took everything I had not to bolt. I was glad I stayed. The edges of Mateo's full lips curved into a smile. He locked eyes with me, and I forgot everything: Ant's laugh, my humiliation, my regret. I knew I was in trouble when I realized I never wanted to look away.
"You're welcome, Evie." he murmured, his voice deeper. He reached for the plate, breaking our connection as he placed it on the bar. He removed the flimsy plastic wrap. With a wink and a grin, he reached for a cookie.
It was all so magical.
Until he took a bite.
The moment his teeth clenched down, something changed his expression. Was it shock freezing the strong angles of his face? Pain? No…
He continued to munch with embarrassingly great difficulty just as Ant returned. "Sam says the shirts should be in by Monday. Oh, cookies."
Mateo reached out a hand, trying to stop Ant from swiping one, but he was too busy choking on my mutant creation to be of any use. Ant took a bite and immediately spit it out. "What the—?" He pointed accusingly at the cookie. "Did you make this shit?"
I answered the only way I knew how. "Ah, no?"
Mateo wiped his mouth with the back of his hand, chunks of crumbs and chocolate smearing his mouth and jaw. This time he couldn't kill his laughter. His body splayed across the bar as he forced down the last of my 'thank-you.'
There were moments in my life I could have clung to forever. This was not one of them. I was mortified.
It couldn't get any worse—or so I thought—until a few of the bouncers strolled in and found their fearless leader slumped across the bar in hysterics. I inched away, ready to race away, screaming. Ant, of course, just couldn't let it die.
"Listen up, peeps. If anyone, and I mean anyone, pulls the dealing shit tonight. I want you to bash their skulls in with one of these." He lifted one of my cookies over his head. "These bitches will knock a motherfucker out."
Related Posts