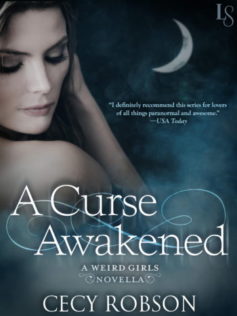 A Curse Awakened: A Weird Girls Novella
by
Cecy Robson

Series:
Weird Girls #0.4
Published by
Loveswept
on August 19th 2014
Genres:
Paranormal/Urban Fantasy
Pages:
95
Format:
eBook



I received this book for free from in exchange for an honest review. This does not affect my opinion of the book or the content of my review.
This post contains affiliate links you can use to purchase the book. If you buy the book using that link, I will receive a small commission from the sale.
---
Discover Cecy Robson's sensational Weird Girls series—or return to where the magic first began—with this eBook original prequel novella about four sisters coming to grips with their unique supernatural powers.

Celia Wird shouldn't possess the ability to transform into a tigress. Her three sisters should never be able to burst into flames, heal wounds, or transform common objects into deadly weapons. And yet they do.

Before they were born, the Wird Sisters were cursed by a spell that was intended to destroy them, not endow them with extraordinary powers. The sisters' magic is untamed and explosive at best, and time is running out for them to take command.

Vampires have targeted Celia's sweet, tragically human ex-boyfriend Danny. The sisters rush to his aid, but in order to take down the vamps, first they must face their dark past and break a spell that's screwing up their powers. Except this curse wasn't meant to be broken . . . and the witch who cast it isn't done toying with them yet.
---
When Celia receives a phone call from her ex-boyfriend Danny that he and his father are being attacked by vampires, Celia's need to protect won't let her walk away from them. But getting into a war with a crazy vampire mistress who has claimed Danny's father as her new pet, isn't what she needs right now on top of packing up to move to their new home.
Yet it is Danny who realizes that the sisters' powers have been bound by a witch and if they can locate and destroy the witch's alter, they will be able to control their gifts, rather than having them always backfire.
Knowing they need all their strengths to go up against a powerful family of vampires, their first stop is to their old neighborhood to find Tia Griselda's alter and break the spell. If they can take on a powerful witch and survive, maybe they will have what it takes to take on a mad vampire, or maybe it would be just smarter to get out of town before they make some very powerful enemies.
THOUGHTS:
I enjoyed this novella which focused more on the sisters together. Although all of the Weird Girl stories are enjoyable, they are told in the first person and in the last few stories Celia is spending more time with either Misha or Aric. While those plots bring their own enjoyment, it is fun to see the sisters working, or in this case fighting, together.
This novella also gives us a better understanding of the curse which gives the sisters their powers.
This is an enjoyable series and I am looking forward to the next installment.
Received an ARC from the author in exchange for an honest review.
---
Favorite Scene:
(Tiny scene. It made me laugh.)
I leaped from the elevated lot and landed in a deep crouch in the sand, perfectly poised and ready to haul tail across the beach.
Until my sisters and Danny landed in a heap on top of me and I ate about half a cup of sand.
They rolled off me, moaning while I hacked out the nasty mess. I scraped the excess with my nails while drooling like a dumbass. "Oops. Sorry, Celia." Emme mumbled.
Related Posts