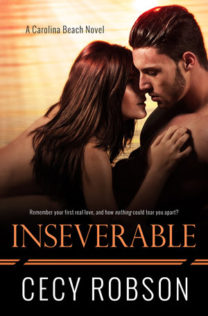 Inseverable (Carolina Beach, #1)
by
Cecy Robson

Series:
Carolina Beach #1
Published by
Self-Published
on June 21st 2016
Genres:
Contemporary
,
Small Town
Pages:
238
Format:
eBook


I received this book for free from in exchange for an honest review. This does not affect my opinion of the book or the content of my review.
This post contains affiliate links you can use to purchase the book. If you buy the book using that link, I will receive a small commission from the sale.
How can you imagine forever with someone who's leaving everything behind?
Callahan, a former army sniper, wants to make an escape from his past and everything he experienced at war, but most of all, just not feel. Feeling leads to pain and he's suffered enough. When he inherits a house on South Carolina's Kiawah Island, he packs his bags, lured by the peace and seclusion he thinks it will bring. But, Callahan never counted on meeting anyone like Trinity . . .
Trinity has always been the cute, and funny one, who most guys overlook in pursuit of her "hot" friends. She became used to being everyone's pal, until the day the young man she was attracted to, was drawn to her in return. He became her first great love, and first crushing heartbreak when she found him in bed with one of her closest friends.
To move forward, and to carry out her commitment to helping those in need, Trinity enlists in the Peace Corps, but not before returning to Kiawah for one last memorable summer. She just never imagined it would be so unforgettable.
Callahan doesn't want to get close to anyone—let alone Trinity. He finds her perkiness insufferable and her attempts to entice a smile distracting. After all, he's in Kiawah to leave all feelings behind. But when it comes to Trinity, who feels everything, it's hard not to feel something.
Neither expected to fall in love. And no one could have predicted how inseverable they'd become.
---




[box style="rounded" border="full"]What a perfect summer read.   Sun, fun and college friends having one more summer together before they join the real world.   Trinity Summers is just the bubbly, happy girl to help Calahan get passed his PTSD and learn to live again.  [/box]
Trinity Summers has no boundaries, and apparently no filters. While I might find a woman like Trinity to be hard to take in real life, here she is exactly what Callahan needs to come out of his self-imposed seclusion.
Trinity and her four best friends since grade school have all returned to Kaiwah, South Carolina for one last summer of life guard duty before striking out into the big bad world. College is over and these close friends will each be heading out to new adventures. Hale is taking a job in New York City, Mason will be starting law school in Georgetown and Trinity has joined the peace corp and will be leaving in September on a two-year contract.
It is shortly after returning home, that Trinity sees Callahan working as a bartender where her and her friends like to hang out after work.  Trinity can't resist trying to get surly Callahan to smile.  Where most people back off when Callahan either ignores them or glares at them, Trinity just sees a challenge she needs to work harder at.
Callahan is annoyed when Trinity starts to join him for his morning run but eventually he begins to look for her along his route.  Where her chatty, friendliness originally annoyed him, he starts to…well, look forward to it might be a little too generous, but Callahan starts to become used to Trinity's sunny disposition.
Like most soldiers returning from Iraq, Callahan has seen and done some things that have changed him and many of those things make him feel unworthy of someone like Trinity.  Callahan is going through a tremendous amount of guilt for what he has done and for simply surviving when there are too many friends who won't be coming home.
It is a wonderful story of how Trinity fights for Callahan to let her in and the relationship that develops between them.
THOUGHTS:
I enjoy Cecy's writing but her stories usually leave me fighting a feeling of dread because I know something very, very bad is going to happen.   In this story, the "dread" would be that Trinity is shipping out to be in the peace corp at the end of the summer, but she doesn't exactly share that information with Callahan.  As the story unfolds, you can understand why she holds back.  Trinity has to fight for every step forward with Callahan and once he finally opens up to her and starts to believe they can have a relationship, she knows that the moment she tells him that she is leaving at the end of the summer, he will withdraw from her.  Every time she goes to say something, he opens up more and more so she holds her tongue.  Why I didn't have that usual feeling of dread is because I felt by the time Callahan finds out, he has fallen so hard for Trinity that no matter what the outcome was going to be, Callahan would not let Trinity get away.
This story was not without some ups and downs as Callahan and Trinity work through their relationship, but it lacks a lot of the angst that her previous series have dragged us through and the whole setting put me in a summer mood.  I think this would make a great beach read to pick up this summer.
---
Favorite Scene:
Trinity starts to break down Callahan's walls by jogging with him each morning even though he doesn't want her there.
"Were you the quarterback? I can picture you as a quarterback." I toss him a wink. "A mighty, mighty quarterback."
And lookee here. There's that almost grin, again.
"I was a first string lineman," he admits.
"Oh, yeah?" I ask. "Hmmm. I bet all the pretty girls were just lining up so you could deflower them, huh?"
His head ever so slowly rotates my way, but then he catches himself resumes his attention ahead. "No. I think the quarterback took care of all that."
It occurs to me then how much I love messing with him. "Did it bother you, not having all those girls to deflower? You can tell me seeing how we're BFFs and all."
He smirks, but mostly I think to squelch his widening grin. "Believe it or not, I didn't care," he answers.
He slows to a stop as my post comes into view. But I'm not ready to let him go.
"We can keep going if you'd like," I offer. "I don't have anywhere to be." He frowns, appearing either confused or unsure so I add, "Besides, that man in my bed is shackled good and tight, he's not going anywhere till I set him free." I throw out a hand. "Don't worry. I left the remote in his hand and plenty of water so he's fine."
The way Callahan straightens, makes me think that maybe I pushed the joke too far. But then he shakes his head. "There's something wrong with you," he mumbles.
"I think you might have mentioned that once or twice," I reminded him.
I wave to my boys as we sprint past the station, ignoring the growing twinge in my thighs. But the further we run, the more that twinge develops into a stead burn. I was always a runner, and participated in cross-country all through high school. I kept up my stamina by running every other day while I was in college, but after Hunter and I broke up, I hiked up plenty of miles dealing with the stress and the depression that followed–so many in fact, I was able to participate in my first half marathon this past Spring.
I pride myself on keeping fit, but by now, Callahan and I are a few miles in, and in my haste to meet him, I never bothered with breakfast. So instead of teasing Callahan a little more, like I'd really like to, I focus on steadying my breathing and pushing through the ache.
"You all right?" Callahan asks.
"Yes. I've gone longer."
We glide across the sand, our strides purposeful and even, both of us working harder to maintain our pace. He seems to want to ask more, but doesn't.
When I'm sure he won't ever speak again without being prompted he asks, "How long?"
"Twelve miles." I crinkle my forehead. "We are talking about running, right?"
He loses his footing, but then catches himself, and semi-smoothly resumes his gait. My muscles are tightening so bad I should focus on breathing. But watching Callahan lose his footing and his composure is too much to resist. No. He's too much to resist.
"Ever have a one-night stand?" I ask.
"What?–Jesus."
I breathe deeply so I can keep talking because hey, Trinity Summers is on a roll.
"I won't think less of you if you have," I tell him. "You're young, these things happen."
He says nothing so of course now I have to. "So the times that you have, were they like a lot? Or was it more like one here, one there–Oh, but don't tell me if it involves more than one girl, or a man, or crazy shit like on a roller coaster. That sort of thing is personal."
"And this isn't?" he fires back.
"I'm just saying–"
"All right, you want to go there. Have you ever had a one-night stand?"
He means to shut me up. If so, he needs to invest in duct tape.
Related Posts